Applying and reapplying your sunscreen is kinda like hydrating yourself in the scorching summer. It is really that simple and that important. And if you're someone who doesn't like reapplying greasy, oily, and heavy sunscreens, we have just what you need. Sunscreen sticks are taking over summer skincare routines as they provide sun protection on the go and are so easy to reapply. Here are some of the best sunscreen sticks available in India for all skin types.
1. The Derma Co. Hyaluronic Sunscreen Stick with SPF 60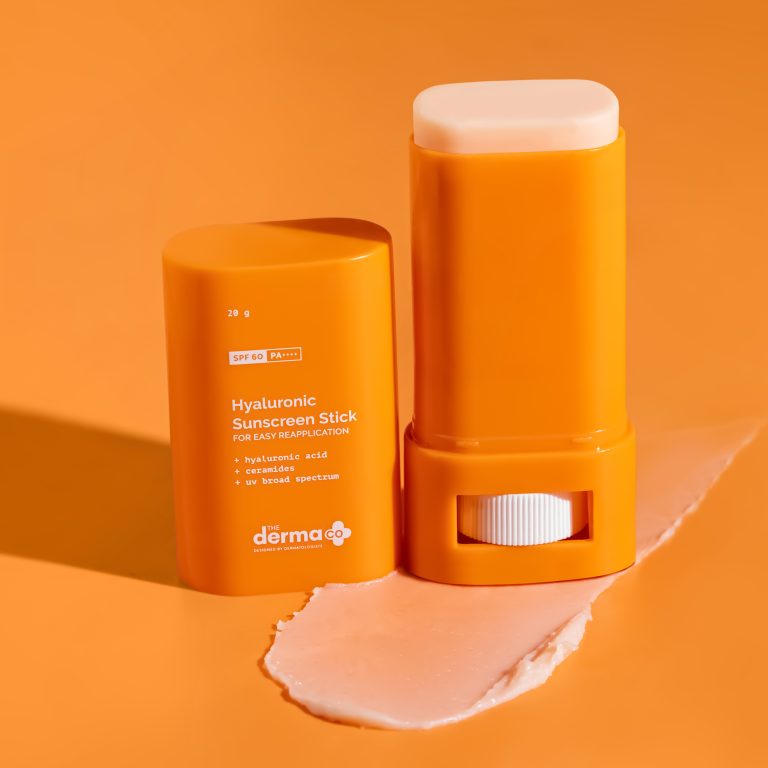 The Derma Co's Sunscreen is a power-packed formula with hyaluronic acid and ceramides. It keeps the skin smooth and absorbs excess oil leaving no chalky cast or greasiness. And this PA++++ sunscreen stick makes reapplication super easy, convenient, and mess-free.
2. Beauty of Joseon Matte Sun Stick with SPF 50+ and PA++++
Beauty of Joseon's Sun Stick is a matte formula that doesn't get clumpy and doesn't feel sticky or greasy even when reapplied several times over makeup. This sunscreen stick has green tea extracts that give you smooth skin while maintaining moisture throughout the day.
3.
Minimalist SPF 50 Sunscreen Stick with PA++++
Minimalist SPF 50 Sunscreen Stick is a lightweight formula that leaves absolutely no white cast and doesn't feel oily or greasy on the skin. It is formulated with effective, new-age UV filters to provide protection from UVA & UVB rays. This stick also contains potent antioxidants that protect and heal the skin, giving you sun protection on the go.
4.
Sotrue SPF 50+ Daily Sunscreen Stick
Sotrue SPF 50+ Daily Sunscreen Stick is a silicone-based formula that gives you a matte finish after every reapplication. It is a budget-friendly sunscreen, so you really have no excuse to skip sun protection anymore. This sunscreen is lightweight and quickly absorbs into the skin without leaving any white cast. 
5.
Happier Sunscreen Stick SPF 50 PA+++
For everyone who is a fan of a light dewy glow, Happier Sunscreen Stick SPF 50 PA+++ is just what you're looking for. It is a hydrating formula that glides smoothly onto the skin and absorbs in an instant without leaving any greasiness behind.
6.
Earth Rhythm Sunstick SPF 60 PA++++
If you want something you can easily reapply after a few hours on top of your makeup, Earth Rhythm Sunstick is your best bet! It is an invisible formula that is great for dry skin as it moisturises the skin with every application. And it leaves a soft glow that makes your skin look radiant and dewy.
7.
ISNTREE Hyaluronic Acid Airy Sun Stick SPF 50+ PA++++ 
ISNTREE Hyaluronic Acid Airy Sun Stick SPF 50+ PA++++ is the perfect sunscreen stick for all skin types and definitely needs to be in your summer stack. It is quite lightweight and has soothing ingredients that keep your skin hydrated and prevent any redness or inflammation.
Related: The Best Mineral Sunscreens To Add To Your Summer Skincare Kit
Featured Image Source