If you are someone with curly hair, in search of remedies to your hair woes, you might have come across the term 'co-washing'. It's become quite the rage these days. But do you know what exactly it is? Well, we are here to give you all the deets on co-washing and how to get the most out of it.
What is co-washing?
Co-washing is a method of washing your hair using only conditioners. The 'co' stands for conditioner. Shampoos often contain parabens and sulphates which strip the hair of its natural oils. This often leaves the hair dry and frizzy, especially if it's curly. In co-washing, instead of a shampoo, you use a cleansing conditioner to wash your hair. These specific conditioners are formulated to clean your scalp as well as work as a conditioner.
Co-washing is the method most suitable for curly hair. As naturally curly hair tends to look dry and frizzy, finding the right moisturising conditioner can do wonders. Skipping the shampoo and embracing the conditioner ensures you are left with soft and manageable hair. Co-washing though is not advisable for fine hair as it can make the hair look weighed down.
How to co-wash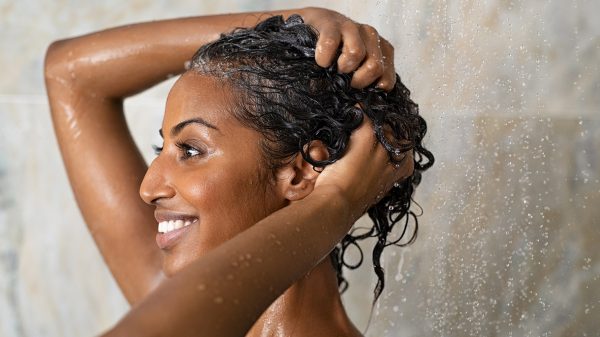 Co-washing is an easy technique to follow, but the devil is in the details. And if you keep them in mind, you'll get the best results.
Step 1: Choose the right product
Before you start practising co-washing, it is important to find the right conditioner based on your curl type. Make sure it is a moisturising product that will go well with your hair type.
Step 2: Rinse your hair
Don't load your head with a conditioner just yet. First, rinse your hair to remove all the build-up and make the cleansing process easier. Only use conditioning products after you have rinsed your hair.
Step 3: Choose the right amount
Co-wash products are moisturising and curly hair needs a lot of moisture. But anything in excess can be a pain which is also the case with co-wash products. Don't overdo it! Squeeze out the right amount based on the hair length and curl type. Then, start co-washing. Make sure you have enough product to completely coat your hair as well as detangle the hair with your fingers.
Step 4: Massage the scalp
Use the co-wash to work the scalp and the roots. In a shampoo, the chemicals do the job of cleaning all the dirt. In the case of a conditioner, you need to put in a bit of a manual effort to get rid of all the dirt and build-up. Massage your scalp thoroughly to cleanse your hair. It'll be easier if you work in sections. Use your fingertips and put some friction behind the massage. Let the co-wash sit on your head for a minute or two after the massage.
Step 5: Rinse your hair again
Rinse your hair thoroughly to get all the conditioner off your hair.
Step 6: Start the second round of co-wash
Your first round of co-wash was meant to cleanse your scalp and the second round is to condition your hair. This time, you can skip the scalp and apply the conditioner only to the hair. Start from the tips of your hair and work your way up to the top. As you apply the conditioner, also detangle your hair gently.
Step 7: Rinse thoroughly
Rinse your hair thoroughly. Make sure you get rid of all the product in your hair. You don't want any of it left behind. Once you are done rinsing, you can either call it a day or use styling products like a leave-in cream or a gel.
While certain hair types need to be co-washed only once a week, other hair types may require you to co-wash daily. So, based on your hair type, set your co-washing schedule.
Featured Image Source
Related: To Wash Or Not To Wash: How Often Should You Be Washing Your Hair In The Winter?