If you are a true blue desi, you know that a hot and crispy samosa is no less than utter bliss! So this festive season, whether you are celebrating it with your family or all by yourself, this easy and delicious recipe for samosa is going to come quite handy. So, start heating up the oil, because you should definitely make a practice batch beforehand and enjoy it with some piping hot tea.
Image Source
Related: Paneer Tikka Recipe: Here's What You Need To Make This Delicious Appetiser At Home
Ingredients:
For the dough:
2 cups all-purpose flour (maida)
3/4th tsp salt
3/4th tsp ajwain
4 tbsp oil or ghee
1/2 cup water (add more, if required)
For the stuffing:
3-4 potatoes
1 tbsp oil or ghee
3/4th tsp cumin seeds
1 tbsp minced ginger
1-2 chopped green chillies
A pinch of hing
1/2 tsp chilli powder
1 tsp garam masala
1/2 tsp cumin powder
1 tsp salt
1/2 tsp amchur or chaat masala
A handful of green peas
1/2 cup chopped coriander leaves
Method:
Begin with washing, peeling, and cutting the potatoes in half. Add them to a pressure cooker or an instant pot, and fill it with enough water that the potatoes are submerged nicely. Next, place over a medium flame and boil them for one whistle or about 5-7 minutes. Once the potatoes have boiled, mash them and set them aside to cool.
1. Making the dough
Till the potatoes cool down, start working on the dough. For this, take the maida, salt, ajwain, oil, or ghee, and combine everything using your hands. Do this slowly for about a minute or two so all the ingredients are mixed well and the flour looks crumbly. To check if it is at the right consistency, take some mixture in your hand and see that it holds well and does not crumble. The next step is to start kneading the dough by slowly incorporating the water into it. Keep going till the dough feels firm, non-sticky, and then cover and set aside for about 30 minutes.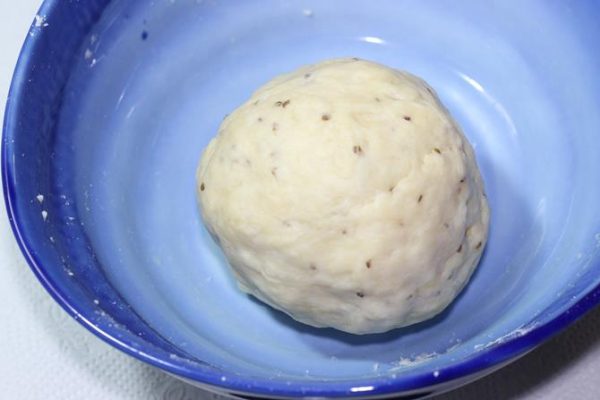 Image Source
2. Making the stuffing
Now while the dough is resting, get back to the potato stuffing. Take a flat pan, add 1 tbsp oil or ghee to it, and add the cumin seeds. Give it a minute, and when the seeds start to sputter, add minced garlic and chillies and let it saute for another minute. Next, add hing and all the other spices and again, saute for about 30 seconds. Add in the peas, saute for 2 minutes, then add the potatoes, and mix everything well. Let the stuffing cook for 2 minutes and garnish it with coriander leaves. You can adjust the spices according to your taste, remove the stuffing from the flame, and set it aside to cool. Remember, a good stuffing is the key to a great samosa recipe.
Image Source
3. Making the samosas
After resting the dough for 30 minutes, uncover and knead it again for about 3-4 minutes till it becomes a little stiff. Divide the dough equally into balls, cover the rolling board with 1-2 drops of oil, and roll the balls out in oval shapes, like you would roll out chapatis. Make sure that the rolled out dough is not too thin. Cut it into half from the centre, making 2 semi-circles. Next, apply a little water all over the edges and fold both the edges inside to make a cone shape. Be careful and stick the edges well, so the dough doesn't burst open while frying.
Now, take 1 tbsp of the potato stuffing and fill it in the cone, sealing the edges properly. Don't overfill the cone and leave a little space in between. Repeat this same step with the rest of the balls, and make sure that the edges are sealed properly by applying water and pinching them together.
Image Source
The final step now is frying or baking the samosas. If you bake them, preheat the oven at 180F for 20 minutes. Brush the samosas with a little oil and bake them for 30-40 minutes, flipping every 15 minutes. If you are frying the samosas, take a deep frying pan, add oil, and place it over medium heat. Let it heat up for about 5 minutes. Once the oil is hot, take a tiny ball of dough and put it in to test the heat. When you see tiny bubbles and the ball rising to turn golden, you are good to go. Slowly, slide in your samosas and let them cook. Don't keep turning and let them cook for a few minutes on each side. Once the crust starts to get golden, increase the flame and let it cook till it looks golden brown and crispy.
Now, take out your delicious samosas and serve them with tomato sauce or green chutney. Enjoy with some hot masala tea and impress your guests with this delicious recipe for samosa.
Image Source
Related: Everyday Kitchen Ingredients To Spice Up Your Masala Tea At Home