Who doesn't love a spacious and luxurious bathroom? It is one of the most important spaces in our homes, and good decor can make it one of the prettiest too. But not everyone has the luxury of space in their bathrooms. Getting dressed, taking a shower, or just clicking selfies can get really annoying when you have barely any room to move around. Don't let that hamper your spirit of redoing and enhancing your space. Here are some small bathroom decor ideas that will help you get more storage, movement, and a million-dollar look.
Related: Kitchen Decor Ideas: Quick And Easy DIYs To Brighten Up Your Home
1. Add a vintage touch
Florals are the best way to add a little vintage touch to your bathroom. And we are not saying big bright yellow daisies all over your walls. We suggest keeping it minimal. Add a contrasting wallpaper to a single wall in the centre and let others be a monotone shade. This will highlight the florals without making them look too much.
Image Source
2. Make way for the mirrors
Mirrors are an essential part of any room, not just bathrooms. So, to make your small bathroom appear bigger and reflect more light, try multiple mirrors. Try putting them face to face as that creates an infinity effect. This will make the area look larger with more space.
Image Source
3. Add some greenery
Everyone loves a small kitchen garden, but that is not the only place you can add some greenery. If you have a small corner in your bathroom, add some hanging plants. They will balance the humidity levels and purify the air. Plants also add a chic and modern look to your space.
Image Source
Related: Easy To Grow Herbs In Your Kitchen Garden
4. Create some space with shelves
It is very easy to clutter a small space in the name of decorating it. So, to save yourself from the trouble, add some shelves to your bathroom. You can keep your toiletries, towels, vanity kits, and more on these, and have some extra space with no clutter.
Image Source
5. DIY a designer toilet paper holder
If you have pets, you understand the struggle of torn toilet paper all over the floor. But don't worry, you can easily create a cool toilet paper holder. This will keep your bathroom neat and your pets away from the toilet paper. Also, it adds value as a really cool piece for your bathroom decor.
Image Source
6. Add some wall art for a quirky look
One of the easiest bathroom decor ideas is to fill up an empty wall with some really quirky, mix-and-match wall art. From portraits to quotes, anything fun, bright, and abstract will give your space a cool, new look. Experiment with a few pieces for your bathroom this week.
Image Source 
7. Add gold and metallic elements
Nothing looks more elegant than gold and metallic elements on a white backdrop. They add that much-needed chic look without looking too extra. So, if you want to add some character to your space, gold and metallic pieces are the way to go.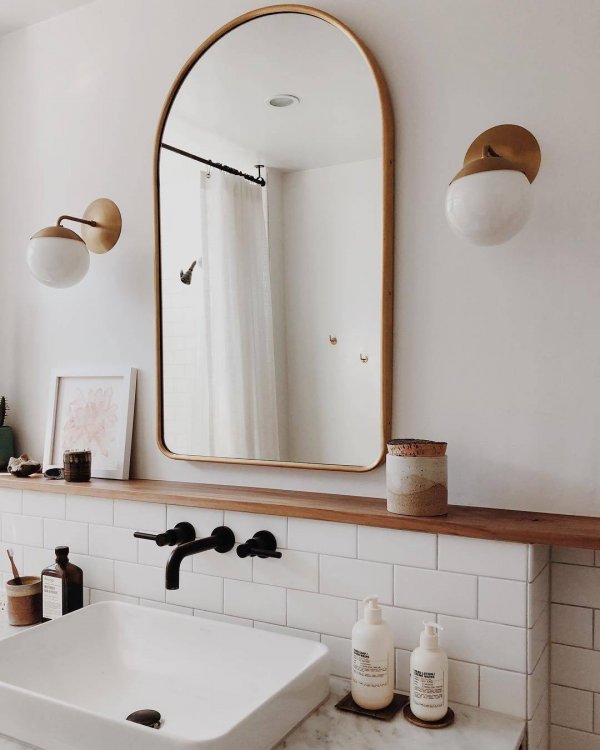 Image Source
8. Bring in some baskets
It's okay if you don't have a built-in cabinet in your bathroom. The easiest hack to save space and store items like your hair appliances, towels, and more, is using baskets. You can put them under your sink and keep your products in there, so nothing is sprawled across the counter. Opt for similar baskets and match them to the theme or colour palette of your bathroom. Easy and very chic!
Image Source
Looking for more ideas to redo your space? Here are some decor ideas for small balconies which will liven up your home.