Are hotel rooms clean? Like, really clean? They sure look like it, but what far too many traveller stories have told us, there is a secret lurking beneath the white linen. If you think hard about it, hotel rooms are difficult to clean, especially if they are big and part of a large hotel. The number and sizes of rooms, the amenities in these room, and the perennial lack of sufficient staff makes it nearly impossible to clean each room thoroughly.
That's a fascinating thought right now, but an utterly disgusting one when you're checking into a hotel. Were the sheets replaced? How clean or dirty were the previous guests in this room? What was the kettle used for last? Did they wash their hands after using the toilet and before touching the door handles?
A Reddit thread asked hotel cleaning staff, current and former, what people should avoid touching in hotel rooms to stay away from germs. The answers are shocking, to say the least, but they make perfect sense.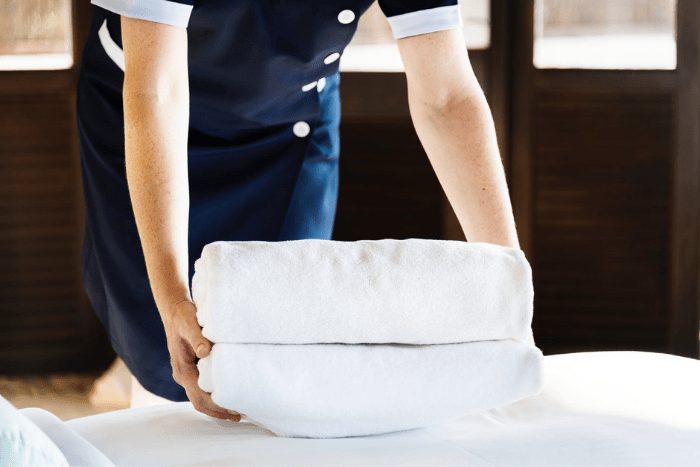 Image Source
Things that are never cleaned in hotel rooms:
According to this Reddit thread, there are a few things in hotel rooms which are almost never cleaned thoroughly. These include:
TV remotes
This is what a Redditor, who has been part of the hospitality industry, had to say:
"None of the hotel brands that I worked for included cleaning the remote as part of the room cleaning steps. It only had to be 'visually clean' to pass. So, as long as someone didn't shit on it, then it would pass the visual inspection."
Makes sense. How many times do you clean your TV remotes at home? But when you check into a hotel next time, wipe down the remote. For your own peace of mind.
Door handles
Unless there's visible dirt on them, door handles are hardly ever cleaned. And they're touched by everyone who stays in that particular room. Because housekeeping staff in most hotels is pressed for time, especially during peak season, door handles are the least of their concerns. While we're on that subject, here's a string of Quora answers confirming that hotel key cards are almost never cleaned.
Image Source
Glasses
Forget about what we have to say. Just read what these people who have worked in hotels say:
"When I was hired as a maid in a reputable hotel chain, the manager who trained me once used a chiffon that she had just used to clean other parts of the bathroom to wipe a dirty-looking glass before putting it back there. No soap or anything."
"Even a really high-end place won't spend more than 30 min cleaning a room (and many places spend way less time). What this means is that they become experts in shortcuts and making a room look clean without actually cleaning it. Those glasses by the sink? They're probably not fresh. Housekeeping most likely rinsed them out in the sink then wiped them down."
When asked what guests should not touch in a hotel room, this is what an ex-cleaner had to say:
"Ex cleaner in a four stars here: remote, any paper pamphlet, and for the love of life never EVER drink from the glasses. The paper or plastic cups are fine though."
Comforters
Those big, fluffy, white comforters on hotel beds look so cozy, don't they? Here's why they're best avoided on your next trip out of town. This is what a former hotel cleaner had to say about washing comforters:
"When I worked at a hotel, the rule was every three months or so, when the hotel was almost completely empty we would do it. So basically never.
Not really surprising. That stuff is huge and washing and drying it would take forever, especially for all the rooms on site. And they don't fold as neatly as sheets and towels, so it wasn't feasible to have enough spares to replace all the rooms and cycle through it like that.
Pretty much whatever is on the hotel cleaner's cart is what gets used, and you'll note that they do not have comforters and wool blankets on those carts.
Sheets get changed, and if there's an obvious stain or something the hotel bites the bullet and changes out the comforter and blanket. They had a few spares for emergencies like that, but for the most part it stays."
Image Source
The TL:DR version:
Another Redditor, also a former cleaner, summed it up for every germaphobic traveller out there.
"I've worked as a chambermaid at the Ramada, a place called the Red Coach and a 'five star' resort. Every place was dealt with exactly the same:
the blanket under the comforter, is only washed if there's something visually disgusting on it.
comforter only washed a couple times a year.
coffee pot and cups sprayed with toxic general cleaner then rinsed.
shower sprayed with vinegar so it shines and looks clean.
vacuum gets skipped if floors look clean."
Now that you know how filthy a hotel room can be, even if it looks clean, we'll ease up on you a bit. Instead of leaving you with a sense of dread, we will tell you a few quick tips on how to spot a clean room and how to protect yourself.
Check out the kettle
According to this account on Business Insider, you should always check out the kettle in a room. If it's sparkling clean, you know that the housekeeping staff would have paid attention to the other areas of the room too. If it doesn't look clean, you will know that the attention to detail in cleaning is lacking in this hotel. Kettles often develop rust or mold because of moisture levels in them. That, however, won't happen if they're cleaned thoroughly and regularly.
Fingerprints on the mirror
It'll make you look weird but try to see the mirror from all angles. If you spot fingerprints, that's another warning sign of the lack of attention to hygiene from the housekeeping staff. If you spot fingerprints, ask for a change of room and state the reason why. The hotel will know that it needs to pull up its socks.
Strip down the bed and check the sheets
If you spot a stain, that's a big no-no. Either get your sheets changed, or move to a different room. Leaving a stained sheet on a bed shows terrible hygiene standards.
How to stay away from germs at hotels:
At least as far as is humanly possible.
Take slippers from home
Use the pillows in the cupboard and don't use the decorative pillows
Get rid of the comforter (for reasons stated above) and use the sheet to cover yourself while you sleep
Ask for fresh sheets as soon as you check in to make sure they've been replaced. Even if you don't see anything wrong with them.
Avoid using the kettle if it seems even slightly off. You can do without a hot beverage for a day or two.
Give your room a slight dusting before you settle in.
We don't mean to freak you out completely. You can't possibly stay away from every dirty surface for the rest of your life. But you can try to stay far away from the avoidable filth. Keep yourself informed, keep yourself protected.