Spring and summer sarees are always special. The light fabrics, flowing silhouettes that come in florals and bright shades leave you wishing you had lots of weddings to attend. Here are 20 designer sarees that are our favourite picks for this season.
1. A Lesson In Art
Designer: Aarti Vijay Gupta
Aarti's fun-loving prints will take you back in time to the school art class. She uses breathable fabrics like lightweight cotton and silk that will be perfect if you are planning to attend a spring wedding.
2. An Ode To Swadeshi Movement
Designer: Anju Modi
Her take on the Swadesi movement focusses on asymmetric jackets layered with saris in washed-out tones of ivory, mustard yellow and indigo.
3. All Black
Designer: Meena Bazaar
Black is the colour of all seasons and we are in awe of this hot pick from Meena Bazaar. This black lace saree is a total slayer for night time functions.
4. A Beach Affair
Designers: Shivaan and Naresh
Inspired by Nobuyoshi Araki's affinity for lush flower arrangements and quirky prints on breezy silhouettes, Shivaan and Naresh's collection will have you dreaming of a beach wedding.
5. Effortless Glam
Designer: Pooja Rajpal Jaggi
Let your look speak for you with this Pooja Rajpal Jaggi stitched saree. Too glam to give a damn, are we right?
6. Bengali Vibes
Designer: Madhu Jain
Madhu's sarees are a paean to the Jamdani weavers of Bengal. The versatile collection that is made of organic handloom cotton comes in elegant colours of ivory and gold and will keep you cool and chic at the same moment.
7. Fusion Wear
Designer: Charu Parashar
Fashion is an ever evolving sphere and designer Charu Parashar captures its spirit beautifully in her champagne pink fusion saree. She swapped the petticoat for pants with stitched pleats, which makes a world of a difference when you are too busy dancing at your bestie's cocktail.
8. When You Mean Business
Designers: Abraham and Thakore
If you had to interpret the formal, business suit into a saree, this is what it would look like. Monochrome with a pinstriped jacket as an addition, this Abraham & Thakore saree means serious business.
9. Go Metallic
Designer: Rimzim Dadu
Rimzim Dadu is known for creating sarees with unusual textures. Her latest collection features the "molten wire" technique where metal yarn as thin as human hair is sewn together to create sarees that look both structured and fluid.
10. A Colour For All Seasons
Designer: Meena Bazaar
Fresh, vibrant and bold – make a statement in this green Meena Bazaar saree. You can even carry this versatile colour right into the next season and appear just as stunning!
11. The Saree Suit
Designer: JJ Valaya
JJ Valaya's fusion of an anarkali with a saree is definitely something worth trying!
12. Cape It
Designer: Pratimaa Pandey
Capes and jackets seem to be everywhere this season. Layer this Pratimaa Pandey saree with an embellished jacket or cape – and make it last from day to night.
13. Pristine White
Designer: Rina Dhaka
Rina Dhaka's pristine white saree with a bikini blouse and a white shirt layered on, is as effortless and comfortable as it gets.
14. 6 Yards of Elegance
Designer: Ekaya
Ekaya has been regaling women with its exclusive handwoven Banarasi sarees for many years now. The detailing of their embroidery renders an extravagant feel to the six-yard fabric.
15. A Touch Of Gold
Designers: Swati and Sunaina
An ivory tissue sari with gold zari work cascading down is what you need to be a head turner at any party. Pair it with big jhumkis or temple jewellery to create a sensual look.
16. The Multipurpose Shirt Saree
Designer: Anupamaa Dayal
Upgrade your blouse for a multipurpose shirt that can be worn with jeans too. doesn't have to be boring. Pretty cool, right?
17. Graceful Banarasi
Designer: Tilfi Banaras
Never underestimate the grace of eternally beautiful Banarasis. Some of Tilfi's collection uses real silver threads for zari that can take upward of 6 months to complete.
18. Fringe Fashion
Designer: Pooja Rajpal Jaggi
Take the fringe fashion trend to another level in this saree by Pooja Rajpal Jaggi. The green and baby pink combination looks exquisite and pretty to flaunt at any party.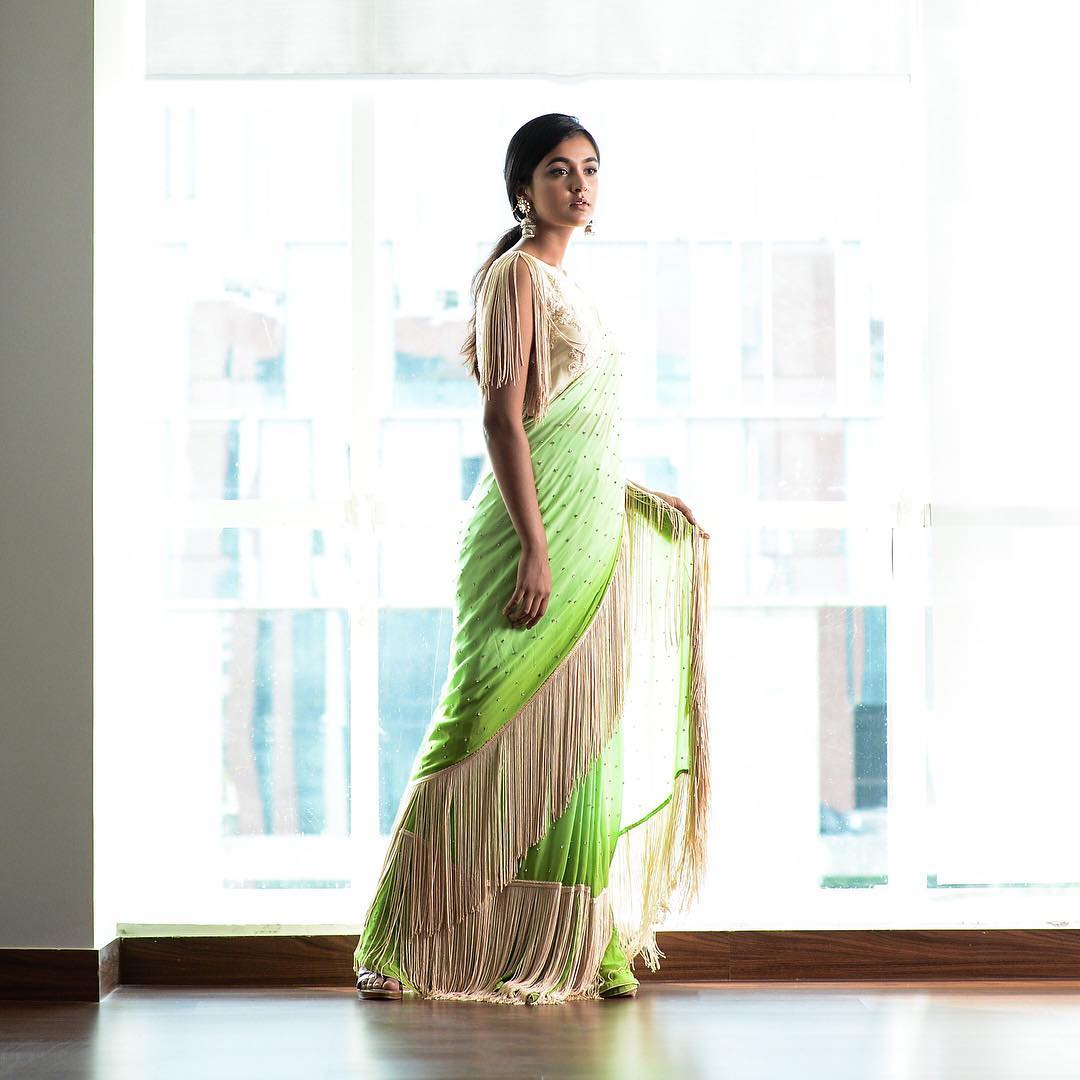 19. The No-Pleats Saree
Designer: Gaurav Gupta
An eye-catching saree trend this year is the no-pleats style. Easy to wear and easy to maintain.
20. Kota Magic
Designer: Vidhi Singhania
Over the last 21 years, Vidhi has revived Rajasthan's Kota weaves and given them a new lease of life. Her designs are renowned for the intricate karigari that goes into transforming the weave into a piece of art complete with meticulous embroidery, hand painting, and motifs.