Wondering what to pack in your bridal trousseau? It should be a mix of dressy, elegant and classy that represents the real you. Since sarees will form a bulk of your wardrobe initially, make sure you pick fine fabrics and heirlooms such as Banarasi sarees for a refined and stunning look. If you are yet to begin your shopping spree, bookmark Tilfi Banaras sarees for your next outing.
A Timeless Heirloom
Never underestimate the grace of eternally beautiful Banarasis made with the finest silk thread known to man. "Banarasi is the finest handcrafted fabric. I don't think there is any other such a highly complex handwoven fabric that exists anywhere else in the world," says Udit Khanna, founder of Tilfi Banaras.
Along with the fine silk, the intricate zari work makes it a timeless heirloom piece that is a wedding trousseau must-have. Some of Tilfi's collection uses real silver threads for zari that can take upward of 6 months to complete.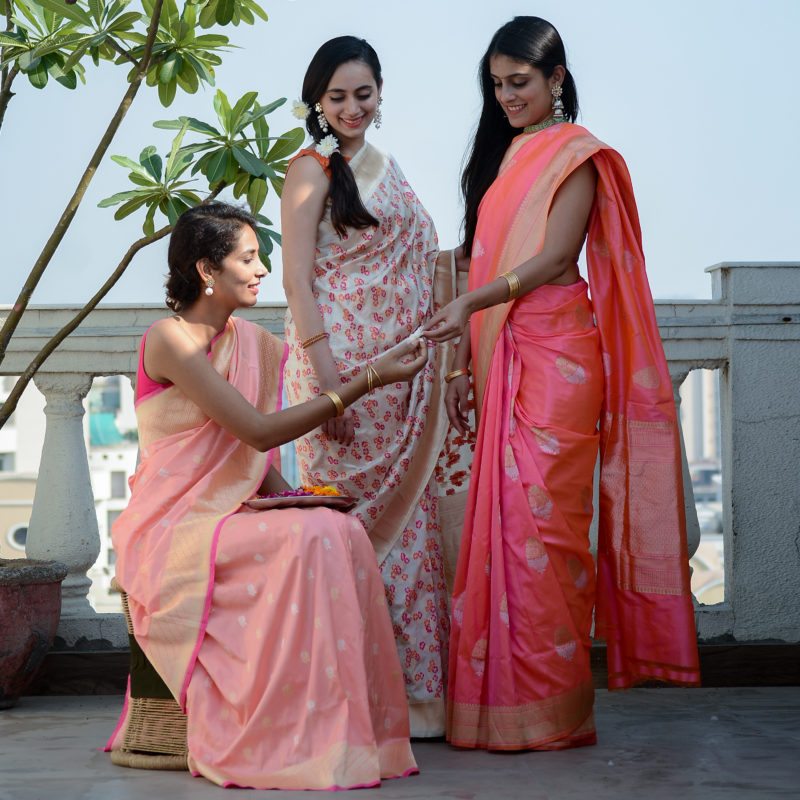 An Ode to Banaras
If someone were to study the history of Banaras, they need only look at the evolution of the Banarasi saree that forms such a vital part of the identity of this holy town. From depicting the ghats to elegant paisleys and motifs, the city finds its expression in the intricate work that goes into making these sarees.
Tilfi works with more than 100 local weavers to keep the tradition alive. "We are trying to bring authentic Banarsis with motifs that are time honoured. We specialize in the kadhua and jangla art where each motif is painstakingly woven into the saree. Very few weavers are left that know this art today," he adds.
The Route To Six Yards
Udit, along with his brother and wife took over the reins of a five-decade-old family business and launched Tilfi last year to reinvent the brand for the new generation. "Since the last few years, the patronage of authentic Banarasi was dying as cheaper imitations and powerloom-made sarees took it place. Thankfully, it's on a revival path now with patrons appreciating the true value of the craft," he says.
"Our core audience are ones who consume less but consume good. They understand the value of timeless pieces and like to preserve it for the next generations," he adds.
Before You Buy…
Before you set out to buy your prized Banarasis, keep a few things in mind. Look for the geographical indication (GI) tag to ensure you are buying authentic product. You can identify handmade sarees from the powerloom ones by closely examining the design patterns. Intricate designs such as kadhua are possible only on handmade sarees. Also, check the authenticity of silk fabric by feeling it on your fingers. If it feels soft and lustrous then it is real.
"We work with only the finest fabrics and bring the sarees directly from the weavers to the consumers so there is no middleman involved," says Udit.
The Takeaway
The Banarasi saree is an iconic piece of garment that deserves a place in your trousseau. Tilfi's sarees are fairly priced ranging between Rs 8,000 and Rs 100,000, while you can buy Banarasi dupattas ranging between Rs 5,000 and Rs 30,000.
Contact Tilfi