Now that travel has opened up and people are getting used to new safety norms, where are you planning to take a trip? While international travel may sound like the dream, a weekend staycation within the country is much more relaxing. And one such gorgeous place to plan your next trip to is Jaipur, the famous pink city. From historical forts, safaris, and rich culture, to lip-smacking authentic cuisine, this city has a lot to offer. So, we've curated a handy guide of things to do in Jaipur including places to stay, spots to visit, where to shop, and where to eat. The places and properties mentioned here have been following all safety and hygiene protocols since they've opened up.
Places to stay in Jaipur
From five star hotels to guest houses, we picked some of the best places to stay in Jaipur. Whether you are looking for a luxurious, authentic, or budget-friendly stay, here are some options to try.
1. 28 Kothi
Image Source
28 Kothi is a boutique guest-house in the heart of Jaipur. It is located within Civil Lines, a quiet and centrally located neighbourhood. This property only has five rooms, so booking well in advance is always a good idea. It is a stunning, comfortable, and spacious place to relax after doing all things touristy in Jaipur.
2. Hilton, Jaipur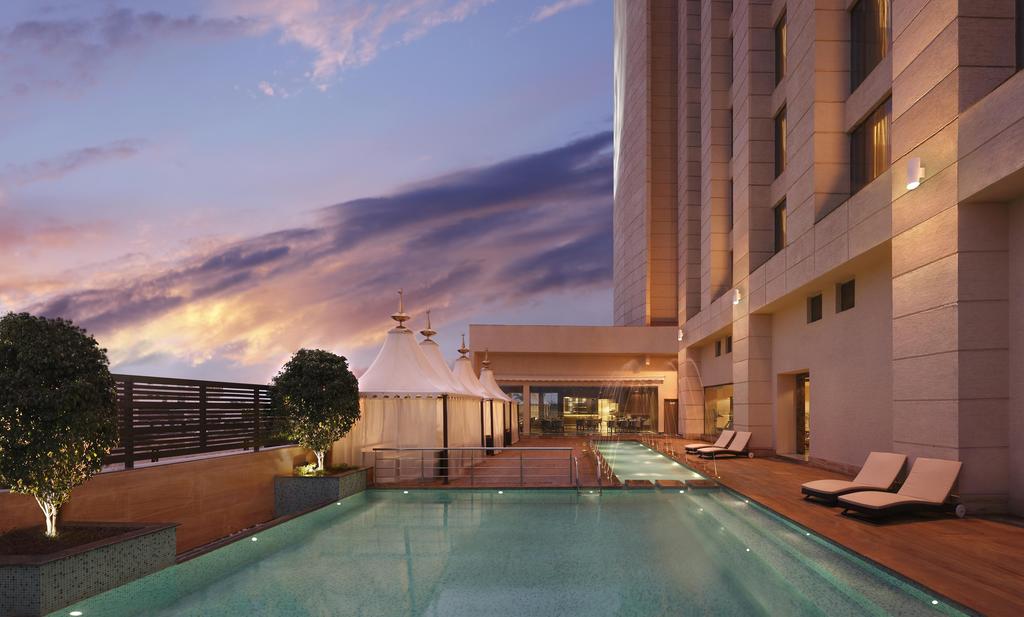 Image Source
The gorgeous Hilton hotel is one of the best properties in Jaipur. It offers a luxurious stay and fine dining to give you the best experience. And the hotel is following regular hygiene and safety practices to provide you with a clean and healthy stay. So, if you want a luxury holiday after being stuck at home for so long, go for it.
3. Umaid Haveli
Image Source
Umaid Haveli is a slice of Rajasthan's stunning heritage architecture mixed with modern, state of the art accommodation. It is handcrafted and painted by expert artisans and stands beautifully between the Aravalli hills. And it is the perfect place for a getaway as it also offers a relaxing spa, indoor activities, and poolside activities.
4. Pearl Palace Heritage Boutique Hotel
Image Source
Pearl Palace Heritage Boutique Hotel is a unique way to experience Jaipur, one of India's most vibrant and exotic destinations. This hotel blends the classic Rajputana heritage with contemporary elegance to give you the best experience. So, if you are looking for authenticity, this boutique hotel is just perfect!
5. Samode Haveli
Image Source
Samode Haveli has an old-world charm with all the modern amenities. Built almost 200 years ago, this haveli has seen many changes in order to offer the most luxurious and comfortable stay to their guests. It has a series of traditional chowks, or courtyards, that let you live and feel just like a royal in Rajasthan.
6. Camellia
Image Source
Camellia is a homestay in Civil lines, one of the poshest areas in Jaipur. It is a charming, vibrant, and quaint villa, perfect for an escape from your daily life. Wrapped with lawns and gardens around it, Camellia has all the luxuries and amenities to make your stay memorable.
Places to visit in Jaipur
Jaipur has a lot to offer in terms of sightseeing and adventure. So, make sure you take out enough time for the most exciting part of the trip. Here are some of the best places to visit in Jaipur and experience the city's rich culture and heritage.
1. Jal Mahal
Image Source
One of the most stunning tourist spots, Jal Mahal is a beauty to behold. The five-storey architectural marvel is buried deep in water and only the fifth floor is visible. And even though tourists are not allowed inside the Jal Mahal, a boat ride takes you around to show you the whole palace from outside. So, if you are looking for some Instagram-worthy pictures, make a trip to this spot.
2. Nahargarh Fort Cycling Expedition
Image Source
Let out your adventurous side and try the Nahargarh Fort cycling expedition. It is a great way of exploring the fort and starting your day early in the city. It includes breakfast and refreshments along the way and is the perfect way to do a little sightseeing. So, book a slot to experience Jaipur in a whole new way right here.
Related: Cycling Routes That Will Make You Fall In Love With Delhi
3. Enjoy a little astronomy at Jantar Mantar
Image Source
Jantar Mantar is one of the most interesting spots to visit in Jaipur. Built in the 18th century, this place has the world's largest sundial and is a part of the World Heritage Sites by UNESCO. This monument can measure time, predict eclipses, and track major stars around our planet. So, if you are in the mood to enjoy some really cool astronomy facts, this place should be on your list.
4. Jhalana Safari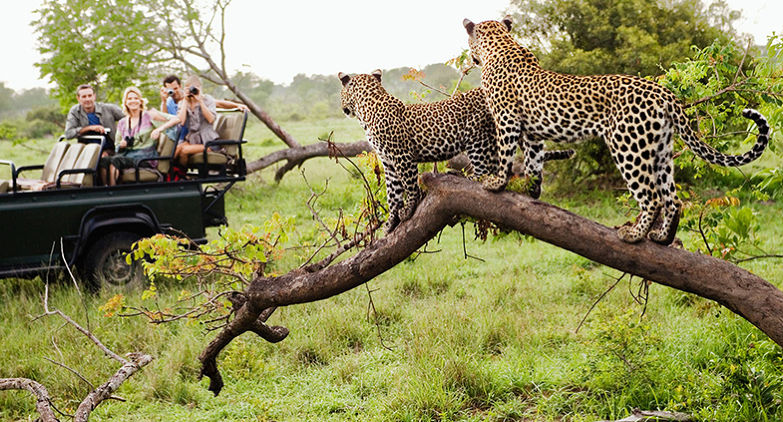 Image Source
Jaipur is home to many animals and exotic species that you can observe. And one way to experience the wildlife is going on a safari. Jhalana Safari is a famous tour around the Jhalana Leopard Conservation reserve. Here, you can spot big cats like leopards and cheetahs up close. So, are you ready for a little tour of the wildlife? Check out the details of the safari here.
5. Amber Fort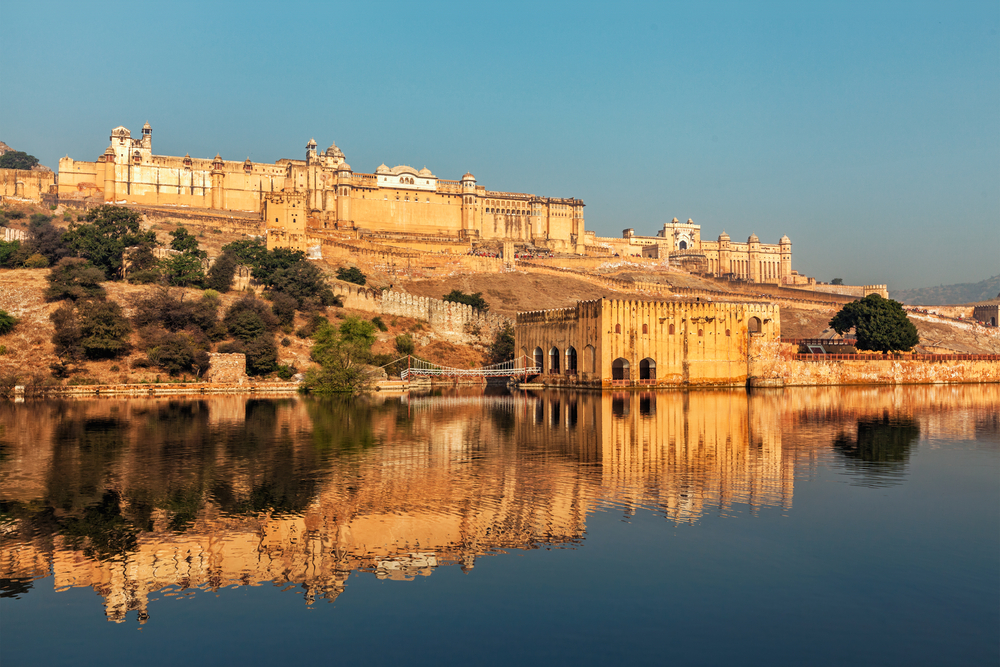 Image Source
Located in the Aravali Hills, Amber Fort is an iconic tourist spot in the city of Jaipur. You can take a jeep safari or make your experience more memorable with an elephant ride all the way up. The gorgeous place is always a pleasant sight due to the Maota Lake nearby and the foothills of the Aravallis. You can also catch a fun light and music show on the premises of the fort every evening.
Places to eat in Jaipur
From street food to proper three-course meals, Jaipur offers lip-smacking cuisine. You can try authentic Rajasthani dishes like lal maas, dal bati churma, ghevar, and a lot more. Here are some of the best places to eat in Jaipur.
1. Chokhi Dhani
Image Source
Chokhi Dhani is a spectacular resort built in the true style and rustic settings of Rajasthan. It offers the old hospitality of the Rajputs and captures the essence of the state. With activities like camel riding, puppet shows, folk dances, and delicious cuisine, this place will make your evening really memorable.
2. Caffe Palladio
Image Source
Caffe Palladio by Bar Palladio is one of the most beautiful places to eat in Jaipur. The open area with vivid paintings creates a magical atmosphere and offers classic Italian cuisine to serve your taste buds. The peacocks, lush greenery, and a vast menu add to the charm of this place.
3. The Rajput Room
Image Source
Situated in the Rambagh Palace, The Rajput Room offers a taste of the royal and traditional cuisine of Rajasthan. And it also has an Asian and Continental menu to pamper your taste buds. Enjoy a meal in the serene setting of Rambagh Palace along with some live music to keep you entertained.
4. Tapri Central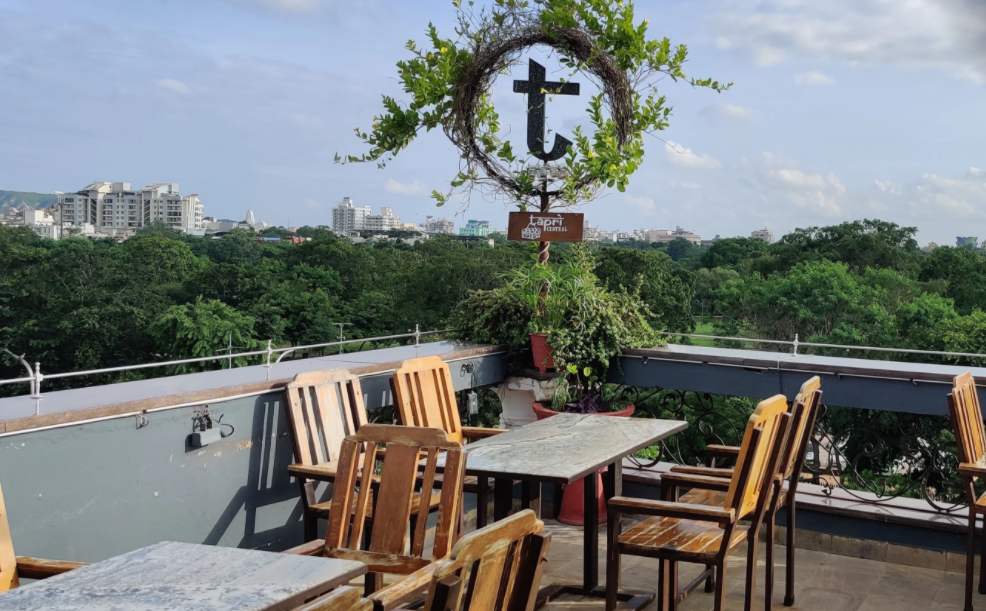 Image Source
Jaipur may be the city of royals, but nothing beats a cutting chai with bun maska. And if you are craving some vada pav, Maggi, samosa, and more street food with a cup of chai/coffee, Tapri Central will serve you well. It is a chill place to hang out with your friends and family and unwind.
5. The Forresta Kitchen & Bar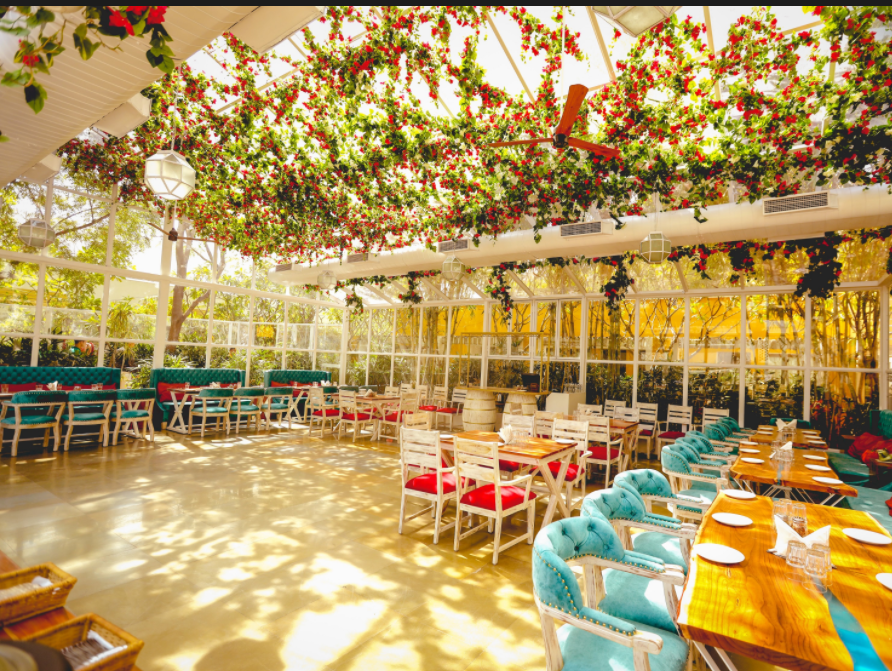 Image Source
The Forresta Kitchen & Bar is a delightful forest-themed cafe in Jaipur. It allows you to take a break from the historical setting and step into lush greenery. The ambience, music, and vibe of the place will uplift your mood, and, of course, the scrumptious food will help.
Places to shop in Jaipur
No trip is ever complete without taking a walk in the local markets of the city and doing some shopping. Whether it's a souvenir you are looking for or something specific for yourself, take a trip down to the local market. Here are some of the best places to shop in Jaipur.
1. Bapu Bazaar
Image Source
Located within the old city, Bapu Bazaar is the best market to get camel leather products in Jaipur. From wallets, belts, bags, and lampshades, to gorgeous mojris, you can find some really good stuff here. The design and quality of products are top-notch, so don't worry about value for money here.
2. Johari Bazaar
Image Source
Johari Bazaar is one of the biggest marketplaces in Jaipur. It offers a variety of items, but one thing that you will find here more than others is jewellery. Precious gems, silver jewellery, and rare stones can be found at almost all the shops in Johari Bazaar. If you're looking for authentic Rajasthani jewellery with beautiful craftsmanship, this is the place where you will find it.
3. Anokhi
Image Source
One of the main textile boutiques in Jaipur, Anokhi has a lot to offer under one roof. From gorgeous textiles, handicrafts, and precious gems, to much more, this place is famous for the best products in Jaipur. And even though it is more expensive than the other markets, the quality and standard of the products are unmatched.
4. Tripolia Bazaar
Image Source
Tripolia Bazaar is one of the most famous markets for colourful bangles, metal handicrafts, and vintage items. You can also find a variety of handcrafted bags with intricate and colourful threadwork in this market. You can also score some really cool antique and vintage pieces in Tripolia Bazaar.
Related: A Little Luxury Never Hurt Anyone – Check Out these Glamping Spots In India