We all dream of trekking in the mountains, escaping our city routines, and soaking in spectacular views of undisturbed nature. But the thought of sleeping in tents, with no comforts like temperature control or protection from bugs, can strike fear in the bravest of hearts. 'Roughing it out' is not for everybody. But with the rise of glamping in India, you can get the best of both worlds.
Glamping, or glamorous camping, is a wonderful way to travel. You can enjoy the raw appeal of camping, while staying in the lap of luxury and lavishness. You can choose from a luxury camp in the sand dunes, a tree resort in the jungle, or comfortable accommodation high up in the mountains. Here are our favourite destinations to get a taste of luxury camping in India.
1. Jaisalmer
Located in the heart of the Thar desert, Jaisalmer is one of the best places to go glamping in India. Experience camping under the surreal night sky in The Serai. It has 21 large canvas tents built on a base of Jaisalmer stone with an outdoor area to relax, covered sitting room, and a spacious bedroom to enhance your luxurious experience.
Apart from that, you can also enjoy a desert safari on a camel-driven cart, sunset in the dunes, live folk dance, cultural exhibits, and authentic local cuisine.
Best time to visit Jaisalmer: November to February
Image Source
2. Ranthambore National Park
Situated in Sawai Madhopur district of Rajasthan, Ranthambore is well known for its jungle safaris and tiger spotting. Giving you a luxurious glamping experience, The Oberoi Vanyavilas has 25 tents with polished hardwood floors, four-poster beds, and freestanding bathtubs. Khem Villas, Sher Bagh, Aman-i-Khas, Ranthambore Bagh, Tiger Machan Camp, Jungle Niwas, and Jungle View provide luxury tented accommodation as well.
Apart from jungle safari and tiger spotting, you can feast your eyes on the stunning natural beauty that surrounds Ranthambore, spot endangered birds and animals, and visit the age-old Ranthambore fort.
Best time to visit Ranthambore: October to February
Image Source
3. Goa
Glamping on the beach? Always fun! One of the most beautiful and romantic glamping spots, Goa offers surreal beaches and endless seas. The gorgeous Amarya Shamiyana offers an uber-luxurious experience which is hard to resist. Otter Creek Tents offers three luxury tents, alongside a picturesque creek near the beach, and both are located on Ashwem beach. In south Goa, Cola Beach tented resort has seven luxury tents that have been decorated with Rajasthani handicrafts, and H20 provides luxury tents on Agonda Beach.
Other than that, you can also enjoy beach activities, water sports, campfires, and spa and wellness facilities.
Best time to visit Goa for glamping: October to January
Image Source
4. Kanha National Park
With its lush green flora and fauna, this is one of the best spots to enjoy nature. Similar to Ranthambore National Park, you can find many luxurious tents to glam up your stay. One of the most popular ones, Shergarh Tented Camp, has six luxury tents located adjacent to the Mukki entrance of the park. Banjar Tola Kanha Tented Camp is a Taj safari property with 18 luxury tented suites, all with wide glass doors that open onto private decks with a river flowing just outside the premises.
Moreover, you can also experience jungle safaris, tiger and leopard spotting, pre-installed romantic lamps, outdoor seating arrangements, and a luxurious ambience.
Best time to visit Kanha: October to March
Image Source
5. Wayanad
With streams and mountains surrounding this beautiful place, Wayanad is the perfect spot to experience one of the finest glamping experiences. With greenery, tea plantations and luxury tents, it has a calm and relaxing vibe. Grassroots in the lush Wayanad district consists of five luxury tents that are set on a three-acre coffee and pepper plantation and overlook the famous tea plantations in the area.
Besides glamping, you can also try trekking, angling, swimming, open-air barbecue, rafting, and Ayurvedic treatments here.
Best time to visit Wayanad: October to May
Image Source
6. Bundi
Bundi, the blue city of eastern Rajasthan, located in the Aravalli hills is known for its charming landscapes. Ummaid Bagh, located a couple of kilometres from Bundi, has 15 air-conditioned luxury tents on a farm owned by Maharaja Rajendra Singhji of Dugari. Originally, the property was used as a royal rest house but is now a tranquil hideaway for tourists. The tents overlook a lake and are surrounded by a landscaped garden and mountains.
In Bundi, activities like bird watching, nature trails, visiting forts and shrines are popular among tourists.
Best time to visit Bundi: October to February
Image Source
7. Ladakh
A gorgeous winter wonderland, and one of the most beautiful spots in India for sports activities, Ladakh should be on your glamping list. The luxury tents here enhance the experience of Ladakh and let you enjoy your stay to the fullest. Double Humped Camp in the Nubra Valley, around four hours from Leh, offers camel safaris. The Ladakh Sarai, which is just a 10-minute drive from Leh, offers yurt-style accommodation in a beautiful grove of willow, poplar, apricot, and apple trees.
Best time to visit Ladakh: March to September
Image Source
8. Binsar Wildlife Sanctuary
With the pristine beauty of its forests, Binsar is a popular tourist spot in Uttarakhand. The secluded camps in the area give you an offbeat experience like no other. The Binsar Retreat is located at an altitude of 7,600 feet in Binsar Wildlife Sanctuary. This property is a 10-hour drive from Delhi, or an overnight train journey plus a three-hour drive. The place is powered by solar energy and has five tents with attached bathrooms.
Best time to visit Binsar: March to September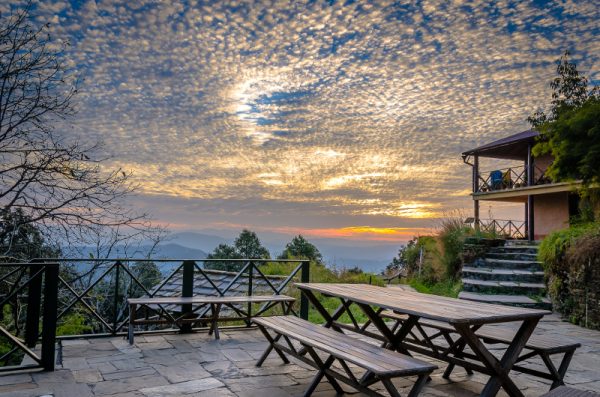 Image Source
9. Punjab
Get to experience the rural life of Punjab in the endless farms and quaint villages of this state. Punjab offers an exciting experience away from your busy lives and is an amazing spot for glamping. Citrus County, located in the Hoshiarpur district, has four rooms and nine luxury tents. It includes a swimming pool, cafe, and bar. Prakriti Farms, located around an hour from Chandigarh, offers two types of tents – safari tents with common bathrooms or Swiss tents with attached bathrooms.
Best time to visit Punjab: October to March
Image Source
10. Rishikesh
One of the most tranquil and calm places in Uttarakhand, Rishikesh is known for its adventure sports. Sarovar Camp, Snow Leopard, and Ganga Valley Adventure not only offer modern amenities for a super comfortable stay, but they also provide the thrill of spending the night close to nature.
Riverside volleyball, white water rafting, kayaking, campfire, and many more activities attract tourists every year to Rishikesh.
Best time to visit Rishikesh: March to May and October to January
Image Source
Have you picked your glamping spot yet? If you are more of a traditional camper and would rather rough it out without the luxury of glamping, click here for a list of the top five camping sites in India.