Summer is just kicking in, and if you are planning a vacation away from the sweltering heat, we have just the place you're looking for. Ditch your regular hill stations for a much more exciting and scenic location–Shillong. A beautiful city with mountains, waterfalls, clear lakes, nightlife, and great food, Shillong has a lot to offer. And this is the perfect time to plan a trip to Shillong as the pleasant weather of this city is a great escape from the heat. So, check out our city guide on where to stay, eat, shop, and things to do in Shillong to experience the city at its best.
Related: Hidden Gems Of Shillong: 6 Spots That Showcase The Beauty And History Of The City
Places to stay in Shillong
Your stay can totally make or break your whole vacation. So, don't wait till the last minute to book your accommodation. To make the best of your trip to Shillong, pick one of these gorgeous stays with views that will take your breath away. Here are some of the best places to stay in Shillong.
1. Tripura Castle
Tripura Castle is a gorgeous summer retreat that was created for the Royal family of Tripura in the 1920s and is maintained to retain the essence of the place. It is located high up in the hills and has a gorgeous view of the alpine hills and valley. If you are looking for a heritage property, you should definitely check this place out.
2. Courtyard By Marriott
If you're looking for a luxury property to make your trip memorable, Courtyard By Marriott is the perfect pick for you. It is a spacious hotel to enjoy a relaxing vacation in the midst of the scenic beauty of Shillong. And it is a great pick if you are going with your family or as a couple.
3. Vivanta
Another luxurious pick for your vacay in the beautiful city of Shillong is Vivanta. This is a five-star property located in the heart of nature and is surrounded by beautiful rolling hills. So, if you're looking for something that allows you to be close to nature and spend your nights under the starry sky, Vivanta is a great place to stay in Shillong.
4. Cafe Shillong Bed And Breakfast
If you are looking for a pocket-friendly stay, Cafe Shillong Bed And Breakfast is a great option to consider. It has a nice antique vibe and also has an on-site golf course for sports enthusiasts. This property is pretty close to the main market, so travelling back and forth won't be a hassle.
5. Zostel
Planning a solo trip to Shillong this summer season? Well, don't worry because you can find a very pocket-friendly and comfortable stay at Zostel, Shillong. It is perfect for solo travellers, not too far from the main city or market, and it also has in-house restaurants with delicious dining options. Zostel also offers a bunch of indoor activities and games to keep you entertained during your stay.
Places to eat in Shillong
Shillong has amazing street food to offer, including everyone's favourite momos, smoked meats, and much more. But to go beyond snacking options, the city also has some great restaurants for big, delicious meals. So, check out some of the must-visit places to eat in Shillong that will be the highlight of your trip.
1. Dylan's Cafe
If you're a Bob Dylan fan, then Dylan's Cafe has to be on your list of places to eat in Shillong. It is one of the most famous themed cafes here that has a great variety of comfort food. From waffles in cute shapes to sinfully delicious thick shakes, you have to try it all.
2. Deja Vu
Deja Vu is one of the best places to have a lip-smacking Chinese meal accompanied by some boozy concoctions. It has a cosy and warm ambience and is a great spot to try with your friends and family or on a date. They often host live music sessions too.
3. Cafe Shillong Heritage
Heritage Club is one of the two restaurants in Tripura Castle offering some really amazing food that will leave you licking your fingers. It is in the courtyard of the castle and the views make your meals even better. So, if you're looking for a great place to dine with your family and also enjoy a little royal feel, you can definitely check it out. Their exotic wine menu is worth a try.
4. Sky Grill
If you're looking for some open seating right under the sky to enjoy the scenic beauty of Shillong, Sky Grill is just perfect. It offers a great BBQ menu with mouth-watering dishes and has the most sinful desserts to binge on. So, book this place beforehand for the perfect date night in Shillong.
5. Irish Pub
Irish Pub is a cosy and quaint place to grab some drinks and unwind after a long day of shopping, strolling, and sightseeing. It is one of the most popular places in Shillong and offers a great experience with music, karaoke, amazing food, and cocktails.
Places to shop in Shillong
Any vacation or trip is incomplete without a little stroll through the local market to get some souvenirs. So, if you're looking for places to shop in Shillong, you should add these spots to your list. You can get everything from antique pieces to vintage thrift pieces and much more.
1. Bara Bazar or Lewduh Market
Bara Bazaar is one of the oldest and biggest markets in Meghalaya run by local women vendors. You can get a variety of stuff from here including tribal pieces, vegetables and fruits, handloom articles, and much more. And it is the perfect market if you're looking for some souvenir shopping as you can get really good products in one place.
2. Police Bazar
Popularly known as PB by the locals, Police Bazar is one of the most famous markets in Shillong. It offers a variety of handicraft products and showpieces and the prices can be pocket friendly if you have good bargaining skills. You will also find winter clothing in this market. Also, don't forget to snack on some delicious street food while you're there.
3.
Purbashree Emporium
If you're looking for something unique that showcases the culture and traditions of Meghalaya, you have to visit Purbashree Emporium on your shopping trip. It houses some of the best traditional handloom products including sarees, bamboo products, and jewellery. But the prices here are fixed as it is a government enterprise.
4.
Khasi Emporium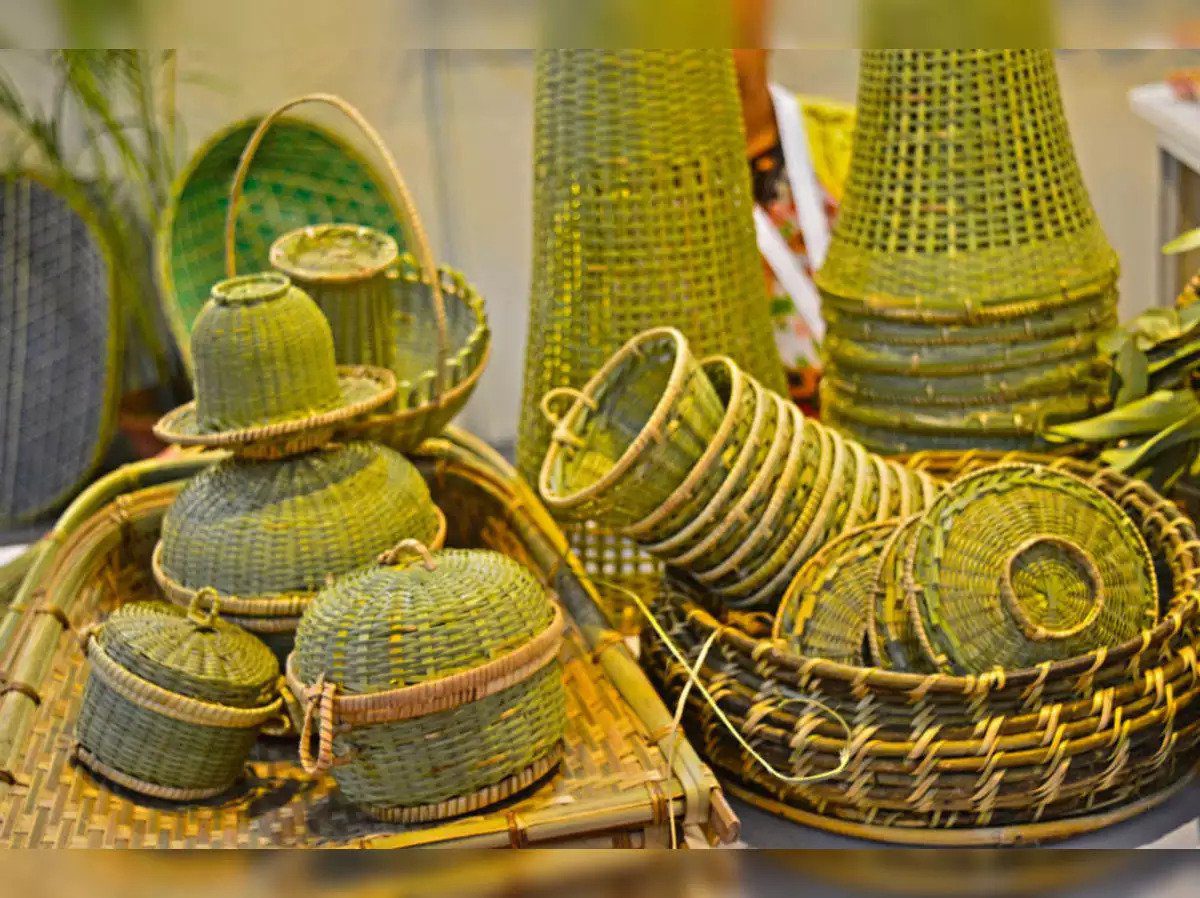 If you're looking for some great quality souvenirs, look no further. Khasi Emporium is one of the most well-known shopping places in Shillong among tourists. It has a great variety of bamboo handicrafts and traditional clothing. You can buy bags and baskets made from bamboo by local artisans at a very reasonable price.
5.
Rebecca's Thrift Store
Fan of vintage, antique items? Well, Rebecca's Thrift Store is one place in Shillong where you can get the most amazing pieces. From fashionable thrift buys to statement antique pieces for your home, you've got to bookmark this place for some great finds.
Featured Image Source
Related: Things To Do In Jaipur: Bookmark This Guide To Make The Most Of Your Trip To The Pink City