As the mercury goes higher and higher, you need to think about your wardrobe. And we don't mean just your clothes. You also need to have a collection of summer footwear that is both beautiful and practical. Since it's the season of vibrant colours, your footwear should reflect that. Take your style game up a notch with these gorgeous and stylish juttis and shoes.
To help small businesses tide over the inevitable financial fallout of the COVID-19 pandemic, All About Eve has started a unique campaign. The #SmallBizBigInfluence movement aims to promote small businesses and help them reach out to more customers. We've been asking small businesses and homegrown brands to get in touch with us to use our reach to their advantage. And in our efforts, we've come across some local brands that have stunning juttis and other footwear that will totally upgrade your summer style. So go ahead, and get yourselves a pair or two!
Related: Comfortable Cottons And More: Check Out These Brands For Chic, Affordable Summer Clothes
1. Weaving Threads
Weaving Threads offers beautifully handcrafted leather footwear. The quality and craftsmanship are both top notch, and this shows in the final product. Their gorgeous juttis are super vibrant and comfortable, and we are completely crushing over them! Add these to your shopping list right away because they are a total steal and can be worn with Indian as well as western outfits.
2. Juttix
Juttix has one of the most stunning collections of juttis that we came across during our campaign. Every single pair is so beautifully designed and crafted that it's no less than perfection. From intricate thread work, gorgeous prints, to stunning beads and mirror work, they have something for every occasion. Apart from juttis, the brand also offers clutches that can be customised per your preference.
3. Label Deepti Bajaj
Label Deepti Bajaj is a line of fine footwear and has a unique collection of juttis that have the elegance of classic craftsmanship mixed with modern designs. The hues, the fabric, the prints, ornaments, and embellishments offer a wide variety and will leave you spoilt for choice. Apart from their unique designs, they also offer customised footwear.
4. जूtte
जूtte (Jutte) brings you a fun and edgy take on formal shoes and footwear. This brand does handcrafted leather shoes for both men and women, and like us, you might start bookmarking as soon as you glance at their collection. Their shoes for women are particularly unique and can be worn with any outfit to make a statement.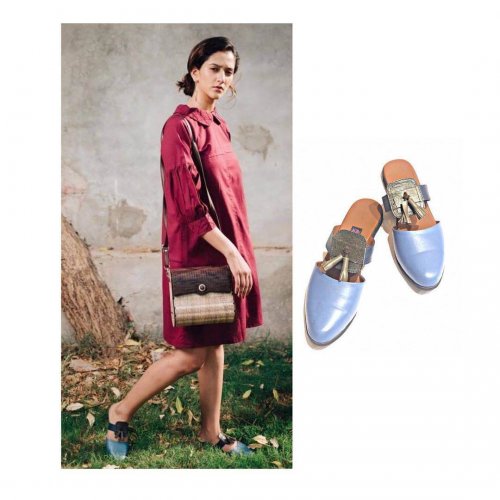 Related: Boring Shoes No More: Get Your Own Handpainted, Customised Shoes With This Brand
With our #SmallBizBigInfluence campaign, we are doing our bit to help all the small and local businesses that have been affected by the COVID-19 pandemic. Follow us through our campaign on Instagram, and watch this space for more features. Do your bit by supporting them and shopping from local brands.