Relationship guru and expert matchmaker Sima Taparia has spoken again, people. And this time, the subject of discussion is why women are the real reason for increasing divorces. Ladies, it's high time you learn your boundaries and stick to them. In a conversation with Siddhaarth Aalambayan on The Bombay Journey, Sima Taparia got candid about how Indian Matchmaking shot her to fame overnight, how she enjoys all the memes made about her, and shared how none of her matches has ended in a divorce.
"Women are too educated"
When asked about the rising rate of divorces, Sima Aunty said, "Divorces happen because there is no patience at all. People are divorcing because there is no patience, no adjustment, egoism. Ladkiya itna padh likh leti hain toh they say why should I listen to anybody?" She further added, "Those I have matched haven't divorced yet. But if it happens, it is because they lack patience and flexibility, are egoistic, and don't want to adjust. That's how problems are created. They lack values of giving, sharing, and caring."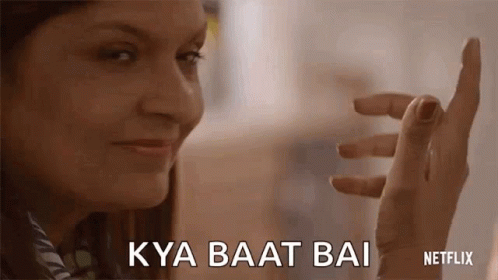 While relationships do require a certain amount of patience and shared values, putting the entire blame on a woman's education is blasphemous at best. Because, of course, education is the root of all evil. And what would a woman do by getting a good education? It's not like she is going to make any scientific discoveries or change the world. As long as a woman's education allows her to conform to the dated rules of society, it's fine. But the moment a woman takes charge of her life and starts being ambitious, tauba tauba.
In a very contradictory statement, Sima Aunty blames women's growing ambitions for failed relationships, while she agrees she herself is a very ambitious woman.
Education is what teaches people to differentiate between right and wrong, what empowers them to make difficult choices. So, dear Sima ji, if a woman is being abused by her husband, no amount of patience and flexibility will save her marriage or her life. If a woman is unhappy in a relationship because her values don't match those of her partner, putting her ego aside is not going to solve anything. Besides, relationships aren't like delayed flights, Sima Aunty. If a flight gets delayed, you only have to wait a few hours while compromising and "adjusting" in a bad, unhappy marriage is a commitment of a lifetime.
In another contradictory statement, Sima Aunty reprimands a woman whose daughter is a fitness freak for rejecting a man who is overweight. Sima ji's client mentions how her daughter is good-looking and won't be physically suited to a man whose proposal Sima Aunty has brought. Sima Aunty, though, talks about how the man isn't stopping that girl from doing her fitness. Since he is from a good family and disposition, he should be given a chance. In a sudden twist, Sima Aunty also talks about a dark South Indian boy whose family was rejecting rishtas because the girl wasn't pretty enough. Sima Aunty goes on to add that everyone wishes for a pretty bride for their son. Why such double standards, Sima ji?
Highly educated women don't break relationships. They just know better than to sit around and accept the mediocrity that is handed to them. It's time for you to update yourself if you want to stay relevant!
Featured Image Source
Related: Why Same-Sex Marriages Could Save The World: Aunty Eve Speaks Her Mind