Being a man must be a very interesting experience, and one would think it a highly unfair one too. After all, men often don't get what they deserve. Especially when what they deserve is a stint in prison for sexually assaulting women, and taking accountability for their actions. But alas, all one can do is cry about the unfairness of life and pretend as if nothing major happened. That's exactly what this renowned celebrity is like as well. He is a celebrated director who is well known for his comedic movies, even if the comedy is typically disparaging towards women. He is also one of the names that have repeatedly come up in the Indian #MeToo discussion. Multiple women have accused him of sexually assaulting them, but like most men of wealth and privilege, he was let off with a slap on the wrist.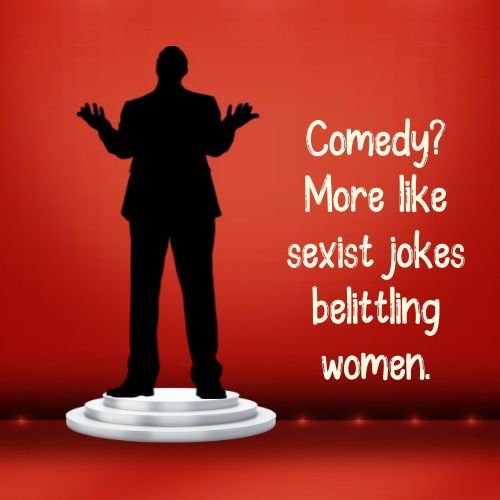 Recently, this upstanding citizen found a chance to turn his life around and whitewash his image on a national platform. But it seemed like the host of the show didn't have much to say about our esteemed guest, so the man had to introduce himself. And like a true man who lacks accountability, he made a joke about some people having a sense of humour and others having a "sense of rumour". It doesn't take a genius to figure out that the "sense of rumour" joke was a vague allusion to the numerous allegations of sexual assault against the man. Despite that, his real downfall was not the allegations against him, but two back-to-back flop movies. Or so he claims.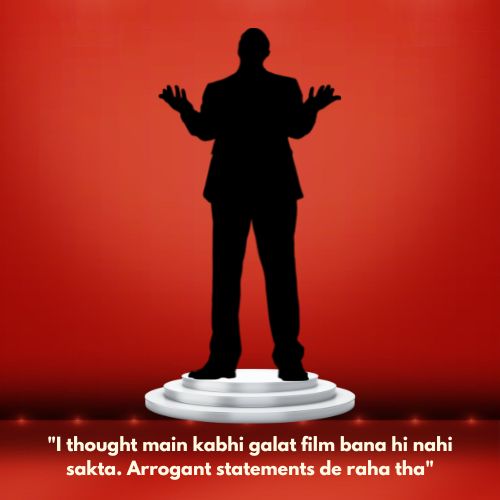 According to him, "success destroyed me", his arrogance after multiple hits is what led to his god complex. But did that also turn him into a monster, one wonders? If you thought a word of apology might have left his lips, you thought wrong. He was busy crying woe is me and how he was kicked out of his movie on the morning of filming and had to sit at home for four years. Oh well, money can excuse some crimes, but can't guarantee success. Was that the lesson they were going for?
"He told me to strip in front of him just to get a role"
Indian model Dimple Paul accused this director of sexually assaulting her when she was a minor. According to Dimple, the man touched her inappropriately, talked dirty to her, and even asked her to strip in front of him, when she was 17 years old, with a promise of getting her a role in his movie. A stand-up guy, wouldn't you say?
"He asked my breast size and frequency of intercourse"
The workings of a man's mind are as strange as the workings of the universe. And the workings of a sexual assaulter's mind are even stranger. Bhojpuri actor Rani Chatterjee had the misfortune of meeting with this director for work. While she met the man in good faith, hoping for good, honest work, what she faced is a monster who harassed her. For a formal meeting, Rani was asked not to bring her manager or PR. She was also asked to show her legs because she would be dancing in a short skirt. The director further went on to ask about her breast size and sex life and even touched her inappropriately, staying true to his nature. While the actor was scared to talk about the traumatising incident earlier, learning about the perpetrator's intention to go on living his life without any consequences encouraged Rani to bring her story forward.
"Do you like to masturbate? How many times a week?"
These are the questions that can get you a job, according to this sexual assault accused. Actor and assistant director Saloni Chopra worked with this noble man and these are the kind of questions she was asked. The nightmare didn't end here though. The man went on to constantly debase her, pick on her, harass her, and attempt to sexually exploit her by making unwanted advances and asking for sexual favours. The mental and emotional torture that Saloni went through is unimaginable, but hey, the director gets a second chance because two of his movies flopped and he felt like a failure. Aww!
"Would you have sex with a dog if I gave you ₹100 crores?"
By now, you might have understood there are two things this honourable man has in abundance–money and an interest in other women's sex lives. Actor Aahana Kumra met with this director despite his shadiness. And the first thing he did is take her to a dark room to conduct a meeting. Why, you wonder? Because he didn't want to disturb his mother who was sitting there. Yet, the presence of his mother didn't stop him from asking questions like, "Would you have sex with a dog if I gave you ₹100 crores?" And his mother most definitely wasn't a hindrance to the man telling Aahana Kumra how she needed to laugh at his sexist jokes to be a mainstream actor in his films.
"Seduce me in 5 minutes and the role is yours"
This man has also used his mother as a convenient excuse to lure unsuspecting women into his home. Actor Rachel White went through the same. She was invited to his home for a meeting, and when she expressed discomfort over meeting at his house, she was told that the man's mother is at home too. White recounted how the conversation started with the guy asking about her breasts because that's where a woman's true talents lie. She was further asked to parade around in her underwear because the movie had bikini scenes.
"He walked out of the room with his penis out"
Journalist Karishma Upadhyay, who was asked to interview this well-known director, was sexually harassed by the man. He was boasting about the size of his dick and even went on to flaunt it, uninvited, mind you. If that wasn't bad enough, he went on to shove his tongue down the journalist's throat, forcing himself on her. The man has failed to even acknowledge his actions, let alone apologise for them, so one can only wonder how much he has changed in all these years.
"He made me touch his genitals"
Like the other women he preyed on, actor Sherlyn Chopra too was traumatised by his penis flaunting. In true heroic fashion, he whipped out his penis and asked her to touch him. While the incident took place in 2005, Sherlyn was scared of speaking out against a prominent figure in society back then. Today, with the numerous women who have come out against the man, she too gathered the courage to speak up. What is also worth noting is that the man was let go with a slap on the wrist and a one-year ban four years ago, and today, he stands on a national platform without remorse.
Why does he deserve a second chance?
The question you need to ask is, why does this man deserve a second chance? There have been people who have come out in support of the filmmaker, talking about how he is trying to learn from his mistakes and trying to change himself. But, can you really learn from a mistake you never even acknowledged, let alone apologised for or repented?
The man, who was accused of sexual assault by multiple women, came on to a long-running TV show, on a national channel to "learn about himself and learn some humility". But all everyone has seen is nastiness and arrogance. Here are some pearls of wisdom given by the man himself on the show he is currently gracing with his presence. And mind you, all these statements are directed towards or said for a woman.
"Main sab ka baap hu"
"Show mein rehna hai toh mujhse panga mat le"
"Tu unko bol ya toh mujhe nikaale ya tujhe. Dekhte hain channel kya bolta hai."
"Tu jawaab deni lag gayi hai. You are wrong ab."
"Raddi bhar ki aukaat nahi hai iski. Raddi ki aukaat isse zyada hai."
It doesn't matter whom you chose!
All the men mentioned above have been accused by various women in the #MeToo movement. And all these men are back to their business like nothing happened!
Oh, let's not forget, despite his actions, the man is paid a whopping ₹5,00,000 per week to whitewash his image on national television.
Related: 10 Powerful Quotes By Women Who Are Becoming The Faces Of The #MeToo Movement In India