There is something inherently exciting about being someone else for a little while, especially in the bedroom. Giving yourself a break from being you can lead to a lot of pleasurable things. That's where roleplaying comes into play (pun intended). Bringing together your fantasies while letting your imagination run wild can lead to lots of flirtation, sex, and orgasms. If that's not the good life, what is? If you are wondering how to go about roleplaying as a beginner, don't worry, we've got your back.
Roleplaying allows you to switch characters completely. Be something entirely different from who you are in reality. It doesn't just let you explore something new in the bedroom, but it also allows you to find a different version of yourself. And roleplaying might just help you become more confident in and out of the bedroom. But, before you start bringing your fantasies to life, there are a few things you need to be aware of. Here are six tips to keep in mind, especially if you are a roleplaying beginner.
Related: Resurrect Your Sex Life: 8 Ways To Bring It Back From The Dead
1. Talk about it
Now, this is definitely the most important thing to tackle if you are interested in roleplaying. Talk about it extensively with your partner. Ask them for consent and then move on to how you want to approach the scene. Talk about your fantasies and which ones you want to act out. Discuss what's feasible and what's not. Communicate how you want to set the scene. If you want props, then what props? Figure out the how, what, and when of the act.
2. Set your boundaries
Everybody has certain limits that they are unwilling to cross. So, set your boundaries. If there is a particular scene or act either of you is uncomfortable with, talk about it. While one partner might want some form of physical violence during roleplay, the other partner might not be up for it. So, now's the time to talk it all out and define your boundaries.
3. Choose your fantasy
A major detail you need to take care of is to choose your fantasy. Don't hesitate to talk about the wildest, weirdest fantasy you have. List out your fantasies, and ask your partner to share theirs. Then, you can sit and choose one. As a beginner, it would be ideal to choose something basic and simple.
4. Don't give up if you feel silly
The entire thing might seem silly, especially if you are a beginner at roleplaying. But, don't let that stop you and definitely don't be afraid to laugh. Even if you are stumbling your way through recreating a fantasy, while giggling non-stop, that's perfectly alright.
5. Put on your acting hats
Don't hesitate to go all out and bring out the big guns. Act your arse off. It's your fantasy after all. The whole point is to be someone else. You may end up liking something unexpected or hating it. But, that's the fun of exploring roleplays.
6. Have a safe word
Choose a safe word and stick to it. While safe words are quite common, especially if you are into BDSM, it is important even for roleplaying. Safe words are a good way to let your partner know you are overwhelmed and need to take a step back.
Now that you have established certain ground rules to play out your fantasies, it's time to figure out what scenes you can roleplay. Here are some popular scenes to roleplay with your partner especially if you are a beginner.
1. Boss and employee
One of the most common scenes to play out, a boss and employee trope is as sexy as it gets. It's all about the power dynamics and the taboo associated with having a relationship with someone in a position of power. Don the boss suit while your partner plays the employee. Make it completely realistic by getting out of the bedroom and moving the scene to your study. That sturdy table you got will come in handy. Don't forget to move the sharp and pointy objects out of the way.
Related: Power That Leads You To Pleasure: All You Need To Know About Dominance And Submission In BDSM
2. Strangers in a bar
The thrill that comes with being hit on by or hitting on a stranger is unmatched. It gives you an instant confidence boost. Walk into a bar separately, get settled, and once you do, approach your partner as if they are strangers. Don't bring in any familiarity in your conversation, stick to the stranger role you have chosen. Flirt shamelessly and bring them back home and go in with all the frenzied lust.
3. Massage therapist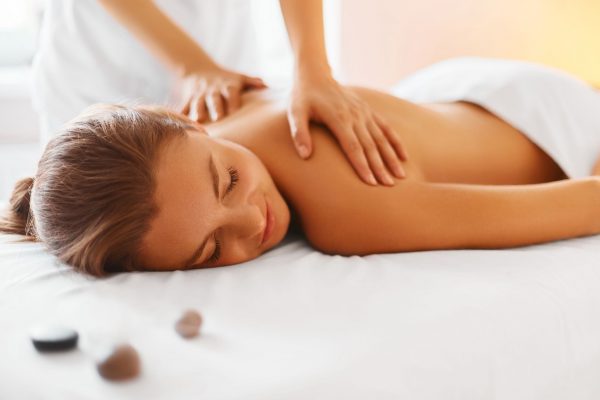 Relaxation and orgasms in one go? There's nothing better. An erotic massage won't just turn you on, but it will also guarantee a happy ending. Get your tools ready and start by giving your partner a good massage. Hit all the sweet spots on the body, and once they are all revved up, go for the kill.
Related: Ladies, If You're Struggling With Orgasms, You Need A Good Yoni Massage
4. Maid or butler
This is another taboo fantasy that's quite prominent even in porn. It plays into the power dynamics because a maid or butler would be working for the other party. Get sexy costumes if needed or go with the raunchiest piece of clothing you own that fits the scene. Have your partner pretend to do some household chores as you walk in behind them and get handsy. And if you play it smart, you can actually get them to do some household chores.
5. Men in uniform
There's nothing hotter than seeing a man in a uniform. Be it a pilot, cop, armed forces, or something else altogether, this is one fantasy on almost every woman's checklist. Rent a uniform if needed or just give in and buy one. After all, who says you can play out this fantasy only once? Get flirtatious and tell them exactly how well they can be of service to you.
6. Stripper
Always wanted to hit a strip club but you don't feel comfortable doing it? Bring the strip club home. Be the stripper or the voyeur, it's your choice. Put some mood music on, sway your body, and get started with removing your clothes. Give your partner a lap dance just to drive them crazy. And if being the audience is what interests you, enjoy the show being put on by your partner. Give them some instructions on how exactly you want them to strip and watch them combust.
It's time to give a twist to your bedroom games. Choose your fantasy and go grab your pleasure by the horns.
Featured Image Source