Hello, bachche! Your dear aunty is super excited right now! And that's because this is my favourite time of the year. A brand new year is beginning and you're all getting a brand new aunty. No, no. Don't gasp in horror. I'm not going anywhere. But everyone loves an upgrade, right? So, just like your iPhones, I am also new and improved but basically the same. To help me on this new journey, I have decided to make a few resolutions for 2023.
If you'd like to "borrow" one of my amazing resolutions, please do. I aim to please, bachche.
No more fear of buri nazar!
In one of the biggest breaking news moments of the decade, I am finally taking off my charcoal mask. I have decided to start 2023 without the fear of Mrs Duggal's buri nazar. Why so shocked, bachche? Didn't you realise that this was the sole purpose of my black mask? What kind of sanskaar do you have? Please add "learning more about our culture" to your resolutions for 2023.
Stop murdering plants
Old habits die hard, but my plants die if I look away from them for a minute. So, this year, I have promised myself to keep at least three plants alive through every season. Even if I must run around with them chasing the sun (or running away from it) all over my colony, I will do it. Because upgraded Aunty Eve is no murderer!
Avoid the gym, no matter what
Even if I put on 23 kilos in '23, I am going to resist the gym. Don't get me wrong, I sort of like the place. You know, I'm a regular at the local gym. I go once every month, religiously. Still, they insist on charging me for all 30 days. Like, who goes to the gym every day? It's such a scam and they're just getting away with cheating innocent people like me. No more!
Plan more weddings
I mean rishtas, not the actual weddings. Dear lord! That's just too much work to have good dal makhni and gulab jamun. Aunty Eve does love managing a good rishta though. More rishtas mean more wedding invitations, and as the most honoured chief guest, I get to tell people off in my signature style when their dal makhni is substandard. And that brings me to my next resolution for 2023…
Eat better
If there's one thing the pandemic has taught us, it is to take care of ourselves and put our health first. So, I'm cleaning out my fridge and throwing out all green vegetables and fruits and all that junk to make space for good, clean food…like butter chicken. And of course, dal makhni. Let's just aim for more butter in food in 2023.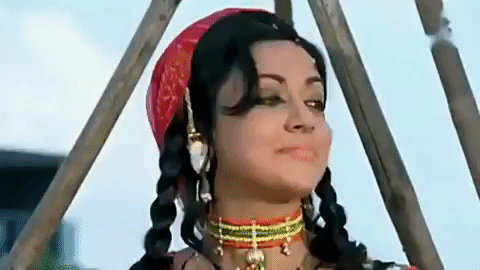 Interact more with my dear bachchas
Don't worry, I am not going to abandon you just because the world will now know who I am. You need me, and I need you (not really but okay). In the spirit of being a more beautiful person (inside, I don't need any work outside), I will devote all my time and resources to making your life easy. So, if there's any problem you have (the more scandalous, the better), write to me at hello@allabouteve.co.in.
Make your own resolutions for 2023 and share them with me so that I can improve them. Okay? Okay.
Related: 7 Resolutions That Will Change My Life In 2023…Maybe
GIFs Source