As another month sets in, most of us are running out of things to keep ourselves entertained while staying home. From cooking like a chef to redoing your interiors multiple times, you have probably exhausted your pool of ideas by now. But don't worry, we at All About Eve have curated a month-long calendar full of fun, creativity, and DIY activities which you can do at home. Our DIY October 2020 calendar has activities for everyone in the family for every single day of the month. From a manicure at home to curating a look book for upcoming festivals, this is going to be an exciting October!
Here are some of our favourite picks from the calendar. For the full October 2020 calendar, click on the download button at the end of the article.
1.

Invent your own coffee recipe
This International Coffee Day, let your creativity shine with a new coffee recipe. Load your coffee with chocolate, caramel, hazelnuts, spices, cocoa, vanilla essence, and more, and create your own signature style.
Image Source
Related: Coffee Flavours And More: Ways To Spice Up Your Daily Caffeine Fix
2.

Stitch your own

 cotton mask
A necessity doesn't have to be plain and boring. Get your sewing kit and some cute printed cotton cloth and stitch your own mask. Add beads, paint it, or go as wild as you want. And why make one? Make a bunch to match with your outfits. #OOTD on point!
Image Source
3. Paint an old lampshade in quirky colours
Pick up that boring old lamp lying in the corner of your room and give it a quick makeover. Get your paints out because it is time to show your creativity. Paint the old lamp with fun designs, caricatures, or slang, and make a masterpiece out of it. The activity is fun, and the final product can work as a statement piece for your bedroom.
Image Source
4. Follow an online DIY manicure at home
Gone are the days when we casually went to a nail salon to get our nails done. But that doesn't mean you should completely neglect them. Pick up your trusty at-home manicure kit and make some good use of it. If you don't have one, you will find an ocean of DIY tutorials online. Pamper your nails and have a DIY manicure day at home. You deserve it.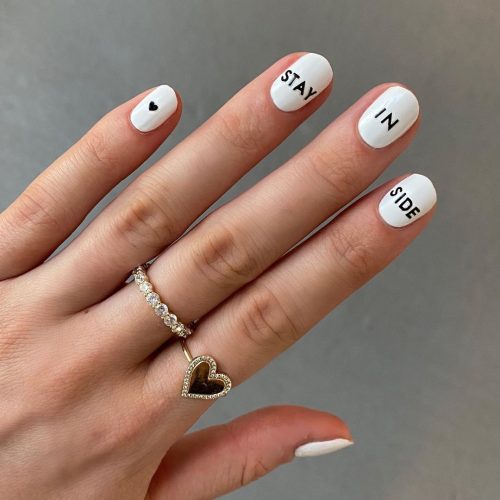 Image Source
5. Go KonMari on your closet
So what if it's not spring? You can always do some fall cleaning. Look up tutorials by KonMari and organise your messy closet. Take a day out of your schedule and spend it tidying up your closet by using quick tips and hacks. To make things more fun, get your sibling or partner to help you out. You can always have a thrift sale or donate all the clothes that you don't use anymore.
Image Source
Related: Storage Ideas For Your Indian Couture
6. Give a mid-week twist to your regular cocktail
Fixing yourself a cocktail in the middle of the week is called self-care. So this week, don't just fix yourself a regular martini. Go a little extra. Try experimenting with your cocktail, and add some new ingredients and mix a bunch of liquor together. Go crazy because a mid-week cocktail brings the weekend closer.
Image Source
Related: Spice Up Your Weekend: Fun Whisky Cocktails With A Desi Twist
7. Whip up your own DIY face masks and relax
While you are sipping that martini, sit back and pamper your skin with a quick DIY face mask. You might not be able to make a trip down to the salon, but you can always go to the kitchen and pick your ingredients. Give your skin some TLC with a homemade face mask that is completely natural and won't harm your skin.
Image Source
Related: Go Natural: Ayurvedic Homemade Face Packs To Repair And Rejuvenate Your Skin
8. Go Masterchef with homemade chocolate chip cookies
Who doesn't love gooey, soft, and super delicious chocolate chip cookies? Is your mouth watering already? Well then, get up and make a batch of heavenly chocolate chip cookies. And really, you don't have to be an expert to bake a batch of cookies. Just make sure to add extra chocolate for extra fun. You deserve a sweet treat, and you might as well learn a thing or two!
Image Source
9. Make an ethnic lookbook for 2020 festivals
Festival season is just around the corner, and this pandemic year needs some brightening up! Start planning, and curate an ethnic lookbook for all the festivals coming up. Whether you will be joining your family on video call or celebrating the festival with your roommate, dress up and have fun!
Image Source
10. Learn basic video editing and make your own content
Since you have some time on your hands now, why not make good use of it? Learning a new skill like video editing can be quite helpful. You can look up plenty of free courses that will help you learn the basics. This way, you can create your own content, learn a new skill, and practise it on free tools and apps.
Image Source
Make the most of this month with our October 2020 calendar. Download it now