Coffee. Even as a chai-crazed nation, coffee has come to be one of our favourite pick-me-ups.
"I can't stop drinking the coffee. I stop drinking the coffee, I stop doing the standing, and the walking, and the words-putting-into-sentences doing."

Lorelai Gilmore, Gilmore Girls
Whether you're someone with a healthy coffee routine, a decaf fan, or an obsessive addict like me and Lorelai, experimenting with coffee flavours can make for a pleasant surprise. Luckily for you, a coffee run to the nearest java shop isn't a necessity. Here's how you can add some flavourful zing to your daily caffeine fix:
Spice it up!
The Starbucks Pumpkin Spice Latte is iconic. And their not-so-secret secret is in the spices. A pinch of nutmeg, cinnamon, and clove, can go a long way in enhancing the flavour of your coffee. In fact, while cardamom and ginger are understood as top picks for tea lovers, they work wonders with coffee as well. You can add these as whole spices to your coffee grounds before brewing, or sprinkle some spice powder on your coffee as a topper.
Milk matters
If you're someone who drinks coffee with milk, know that your choice of milk makes a huge difference when it comes to flavour. While skimmed milk tastes sweeter owing to its higher lactose content, full cream milk can add some creamy richness to make a perfect latte.
You can also mix it up a bit with some whipped cream or ice cream. The Italian word affogato translates to "drowned", and it is also the name of a popular espresso variant that essentially "drowns" vanilla ice cream into a piping hot shot of espresso. If you're looking for non-dairy alternatives, many coffee lovers swear by oat milk and some even prefer it over regular milk.
Also, remember that each milk variant steams and froths differently, and your coffee flavours can vary as a result.
Slurp it with syrup and sugar substitutes
No, we're not talking about the store-bought flavoured syrups that are often riddled with artificial flavouring substances. We're talking homemade, burnt salted caramel, all-natural maple syrup, honey, and even melted chocolate. In addition to sweetening your caffeine cup, these syrups also lend some unique flavours. Other delicious alternatives to regular sugar include coconut sugar, jaggery, and brown sugar. Trust me, this is a bittersweet experience you'll want to try!
Did someone say citrus?
Who would've thought that "bitter" and "sour" could be used together to define a beautiful coffee experience? But it's true, and we can vouch for it. Some grated lemon zest and/or homemade orange syrup in your morning coffee can make for a refreshing change. I personally suggest pairing these with some cinnamon powder, brown sugar, and cream for the perfect blend.
Image Source
Related: Iconic Coffee Houses In India That Date Back 50-100 Years
Add that extract
Adding just a dash of concentrated vanilla extract to your cup of cappuccino is one of the simplest ways to get creative with your coffee flavours. If you're looking to experiment with floral notes, you may add a few drops of lavender essence or rose water to your fresh brew. Alternatively, you can use edible essential oils like peppermint and hazelnut as well.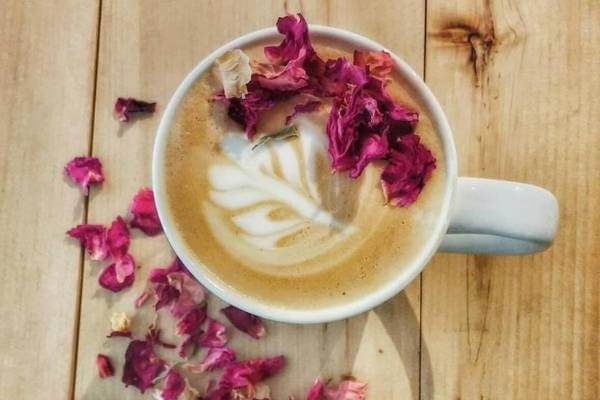 Image Source
Hooch hits different
Coffee cocktails are an all-time hit. Though whiskey-laced Irish coffee and the classic Baileys Irish Cream liqueur are the most well-known in this category, it doesn't stop there. Dashes of rum, bourbon, or single malt scotch can make for some exquisite coffee flavours. In fact, a speck of any liqueur of choice can enhance your coffee ten-fold. Amaretto is a personal favourite.
Image Source
Choco-latte
A chocolate fanatic? You can brew yourself an irresistible mocha by adding some unsweetened cocoa powder or cocoa nibs to your coffee grounds. If you want a stronger chocolate flavour, consider adding some semi-sweet or dark chocolate morsels or shavings to your cup.
Tweak textures and toppers
Last but not the least, coffee flavours are significantly influenced by the blend of textures. Using a whipped cream topper with some caramelised nuts or butterscotch can make for a lip-smacking caffeine delight. Feel free to mix and match your flavours and toppers according to your preferences.
Featured Image Source
Related: Coffee Could Be Extinct By 2050 And We Are Not Ready For This Disaster