The best part of a sweltering Indian summer is the huge variety of mangoes that comes with it. And while digging into the juicy slices of this delightful fruit is a treat in itself, we've got some mango drink recipes that promise to refresh with every sip. So, grab those safedas, langras, sindooris, and chaunsas, and get right to it.
1. Mango Ginger Lemonade
When life gives you lemons, add some mango and ginger to the mix and make this delicious lemonade.
Image Source 
Ingredients:
1/4 cup chopped mango
1/4 tsp fresh ginger juice extract
1/2 tbsp lemon juice
3/4 cup water
1 tsp sugar (optional)
1-2 ice cubes
Method:
Puree the chopped mango in a blender and add the ginger, lemon juice, and sugar to the mix. Blend well and finally add the water. Pour the mango lemonade into your favourite mason jar, plop in some ice, and enjoy.
Related: Beat The Heat: 3 Ways To Make Refreshing Lemonade At Home
2. Mango Iced Tea
Why go for those sugar-loaded packaged iced teas when you can make your own at home? This refreshing mango cooler is perfect to beat the summer heat and will keep you coming back for more.
Image Source 
Ingredients:
1/4 cup pureed mango
2 tbsp fresh mint leaves
2 black tea bags
Water, as required
Ice cubes, as required
Method:
Boil 2 cups of water and let the tea brew for 5 minutes. Now, add the mint leaves and let the concoction cool until it reaches room temperature. In a separate bowl, add the mango puree along with some chilled water and mix well. Once the tea has cooled down, refrigerate both the tea and the mango puree separately. Finally, once the temperature is right, strain the tea in a pitcher and mix in the mango puree. Garnish with some mint and serve chilled. Feel free to add some vodka to the mix if you're in the mood for a delicious cocktail.
3. Mango Vanilla Smoothie
This mango drink recipe has emerged from a vault of successful kitchen experiments conducted by yours truly. It makes for a comforting and quick breakfast fix that can be enjoyed with a side of crunchy granola and chopped nuts.
Image Source 
Ingredients:
1 cup frozen mango wedges
3/4 cup Greek yoghurt
1/4 cup unsweetened almond milk
1/2 tsp vanilla extract
1 tsp honey
1/2 cup granola and nuts mix
Method:
Add the frozen mango wedges and Greek yoghurt to a blender and blend until it reaches a smooth and creamy consistency. Pour in the almond milk, vanilla extract, and honey, and churn it all up. Now, pour this creamy smoothie into a tall glass and top it up with the granola mix. You can either munch on the granola with a spoon or stir it up and enjoy the crunch in your drink.
Related: 10 Easy, Fruity Cocktails And Mocktails Which You Should Try This Summer
4. Mango Colada
Looking for a mango drink that will transport you to a tropical paradise away from all the WFH drudgery? We've got you covered. This fruity mango colada is bound to win over your heart and your tastebuds as well.
Image Source
Ingredients:
1 cup chopped pineapple
1 cup chopped mango
3/4 cup thick coconut milk
2-3 tbsp sugar
4-6 ice cubes
Method:
Dump the mango and pineapple wedges into a blender jar and add the sugar. Blend well until you get a fruit puree without any chunks. Now, add the coconut milk and ice cubes and blend until smooth. You can adjust the consistency with some water or coconut water, if available. And if you're chasing after that evening buzz, a dash or more of white rum will do the trick.
5. Mango Mint Lassi
What's better than a good old glass of sweet lassi? Mango lassi! This mango drink recipe is a personal favourite and satiates like none other. In fact, you can use it as the base for a lip-smacking smoothie bowl as well.
Image Source 
Ingredients:
2 fully ripe medium-sized mangoes
2 cups fresh yoghurt
1/2 cup cold milk
2 cups ice cubes
3-4 tbsp mint leaves
1 tbsp honey
1 tsp cardamom powder
Method:
Peel and slice the mangoes and add them to a large blender jar. Now, add the yoghurt, milk, ice, mint, honey, and cardamom powder, and blend well until smooth. If the consistency seems thicker than what you desire, add some more milk and adjust the sweetness with honey. Pour the creamy lassi into a tall glass and serve it up fresh.
Related: 10 Desi Summer Drinks To Spice Up Your Hydration
6. Aam Panna
How could we possibly skip this all-time desi classic while counting our favourite mango drink recipes? If you're one to wash down your golgappe with some extra teekha pani, you'll love this tangy aam panna recipe. And hey, this one works as a delicious digestive aid as well.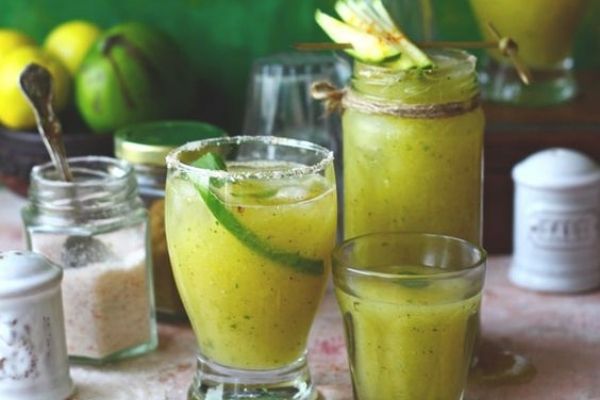 Image Source
Ingredients:
2 medium-sized raw mangoes
1 and 1/2 cups jaggery powder
1 tsp cardamom powder
1 tsp cumin powder
1/4 tsp black pepper powder
2 tsp black salt
1-2 tbsp chopped mint leaves
Water, as required
Method:
Start by pressure cooking the raw mangoes in 2 cups of water for 2 whistles on a medium flame. Next up, strain the remaining water in a bowl and let the mangoes cool at room temperature. Once cool enough to touch, peel the mangoes and scrape off the cooked pulp in a separate bowl. Now, add the jaggery and other spices and blend well. What you have with you now is essentially your aam panna concentrate that you will use to make the drink. Add 2-3 tbsp of the concentrate to a glass, top it up with some chilled water, and stir well. Garnish with chopped mint leaves and sip away.
Loved these mango drink recipes? It doesn't have to end. Check out more mango-based recipes right here.
Featured Image Source