In our society, sex has always been seen through the male gaze, even in the case of two women. 'Lesbian porn' and 'lesbian sex' are two of the most searched terms online, and the results make it obvious that the content has been made for a male viewer, not a woman. You will rarely find any lesbian porn that caters to women. So, finding helpful tips in porn is absolutely out of the question. But, don't worry, ladies. We've got your back. Here's everything you need to know if you're a woman who has sex with other women.
1. Know your own body
Every body is different and the best way to know and understand the female anatomy is by starting with your own body. Touch yourself and discover the pleasure points in your body. Try different techniques and find out what gets you going. If you are enjoying certain touches, there's a good chance another woman might enjoy it too.
Related: Indulge In Self Love: 10 Female Masturbation Tips To Spice Up Your Alone Time
2. Communicate with your partner
This is a universal tip, not just limited to lesbian sex. Communication is the key in any kind of sexual relationship. Talk to your partner about what feels good to them. Tell them what turns you on. You can talk dirty with your partner to find out what they would or wouldn't like. Establish clear boundaries before you get intimate. And even during sex, if you or your partner are uncomfortable about something, talk about it and take the appropriate action.
3. Trim your nails
Now, this might seem like a weird sex tip, but trust us, it's an important one. The tissues of the vulva and vagina are highly delicate, and hence, they need to be treated with care. Since digital penetration, or fingering as it's commonly known, is a key aspect of lesbian sexual relationships, it's important to keep your nails trimmed. You only want to make your partner scream in pleasure, not in pain.
4. Explore your partner's body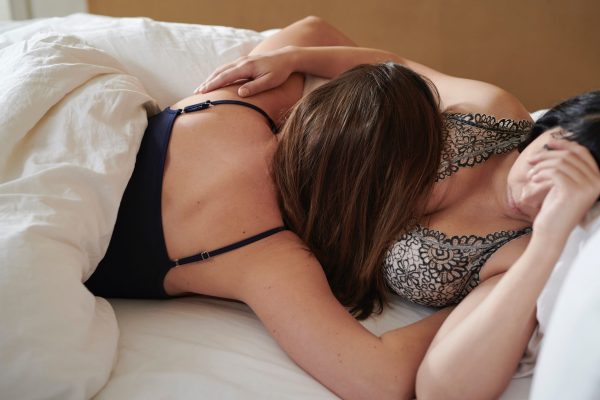 Take some time to explore your partner's body and their erogenous zones. Figure out what makes them moan in pleasure and what has them grabbing the sheets. Touch your partner, kiss them across the body, and play with the breasts and nipples. This will help you realise what brings maximum pleasure to your partner.
Related: 7 Erogenous Zones In The Body That You Need To Explore For Maximum Pleasure
5. Indulge in some oral sex
Oral sex doesn't necessarily have to stay limited to the vagina. Play around the area as well, like the inner thigh, the part closest to the vagina. Don't just use your tongue, use your entire mouth. You can lick and blow around the area to have your partner begging for a climax. Add a finger to penetrate your partner along with some tongue action and you'll have them begging for a release in no time.
6. Keep protection handy
Just because two women are having sex doesn't mean that there is no risk of an STI transmission. Taking care of your sexual health is super important. Screen yourself regularly for STIs, use a dental dam or other barriers while indulging in oral sex, and use a condom when sharing sex toys.
Related: Chlamydia: What Is It, How To Prevent It, And Everything Else You Need To Know About It
7. Be realistic in your expectations
Sex of any kind can be awkward sometimes, more so the first time. Unlike in the movies, sex is not going to be all rainbows and orgasms every single time. You are most likely not going to see stars after your first sexual experience. So, don't set your expectations too high. Be realistic and know that sex is a learning curve.
All Images Source