Running late for a party again? Aren't you always? Keep an arsenal of fail-safe pieces in your wardrobe so that you never have to worry about attending another event again. These last-minute styling ideas are all that you need to take on the festive season in style.
1. Make an instant statement with bold jewellery
If you didn't go for festive shopping and are only left with a plain outfit, you can add an instant burst of colour to your look with big, bold jewellery. Take inspiration from these vibrant pieces.
Do it right: Don't worry about matching the colour of your jewellery to the outfit. Contrast is good in this case.

2. Carry a bling clutch
If you wish to sparkle in your circle, bling it on with a clutch. They pair perfectly with monochrome outfits and LBDs.
Do it right: Although your clutch doesn't have to match your dress, make sure it is from the same colour family. If you are wearing big jewellery pieces, don't carry an embellished or studded purse as it can make you look too 'blingy'.

3. Add instant drama to your outfit with an embellished jacket
So you thought of wearing last year's lehenga but turns out that the choli is too tight? It happens when you are not prepared. Don't worry and wear an embellished jacket over your lehenga. This is a perfect ethno-modern fusion that will make you stand out at gatherings.
Do it right: Wear an ethnic belt over the jacket. Here are some more ideas to style your jacket right with different kinds of outfits.

4. Make a fashion statement with a cocktail ring
Cocktail rings add the right amount of style and sex appeal. They look great with festive clothes that seem to be missing the final touch.
Do it right: Your hand is going to draw a lot of attention, so make sure your nails are perfectly groomed.

5. Cape it
Add flair to your outfit with a cape. These versatile pieces are easy to wear and go with any kind of outfit from pants to skirts. Get a cape choli made with an old lehenga to make it look instantly dressy.
Do it right: Coordinate your accessories carefully with a cape. Long necklaces go really well with it.

6. A big matha tika when you have no time to do your hair
Got no time for an elaborate hairstyle? If you are running late to a party, simply tie up your hair in a bun and add a matha tika.
Do it right: Follow these matha tika styles for every occasion.
7. Wear a stitched saree
Ain't nobody got time to drape the whole nine yards. Simply put on a stitched saree and you are ready to step out in style.
Do it right: Accessorising too much with a saree is a cardinal sin. There's too much going on with your saree already (if it is printed or embellished). And also, go easy on piling those bangles, will you?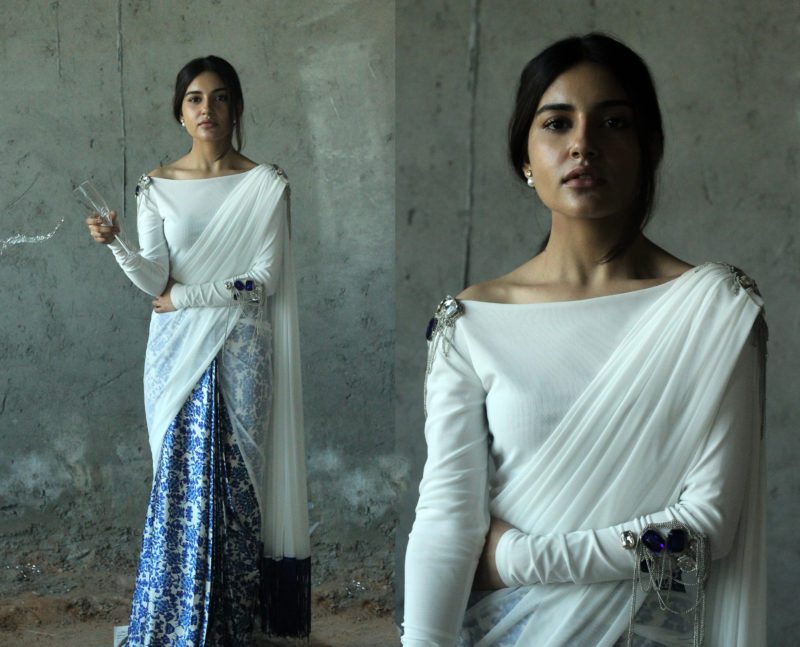 Contact vendors:
Vaitaanika | Facebook | Website | Instagram |
Malasa | Facebook | Instagram |
Pooja Rajpal Jaggi | Website  |
Divya Chugh | Instagram