The one thing you spend the most time with, apart from your phone, has to be your laptop. From working on it for long hours to streaming your favourite movie or binge-watching the latest Netflix release, you log in a lot of time on your laptop. This means your laptop needs all the care in the world. Here's a carefully curated list of Amazon products under ₹2,500 that are essentials for your laptop.
1. Adjustable Laptop Stand for Desk
This ergonomic aluminium, foldable stand is a laptop essential for everyone. Whether you are working from home or working from the office, this laptop stand is a must-have in your bag. Made with strong aluminium alloy, this stand can not only be used for your laptops but also for your tablets, phones, and books.
2. Laptop Desk for Bed
Since many offices are still remote or hybrid, a lot of you spend your day working from your beds. That can't be good for the back or your posture, so a good solution is to get a laptop desk for your bed. This adjustable stand has six angles that help improve your body posture. It also has dedicated slots for your phone, tablet, and your trusty coffee cup.
3. Webcam Privacy Cover
Worried about accidentally switching on the webcam in the middle of a Zoom meeting at the most unfortunate time? Fret not, get a sliding webcam privacy cover and you won't have to worry again. For laptops, tablets or phones, the privacy cover works on all devices. This adds security to your devices by restricting hackers from spying on you. A webcam privacy cover is one laptop essential you can add to your cart right away.
4. Anti-Theft Laptop Backpack
A great choice to keep your laptop and other valuables safe is the anti-theft backpack. It not only has a combination lock but also has an RFID pocket to keep your cards and wallet safe. The backpack also has a USB port, so you can charge your devices on the go. The backpack has a multi-utility organiser to store all your essentials.
5. Keyboard Cleaning Brush Kit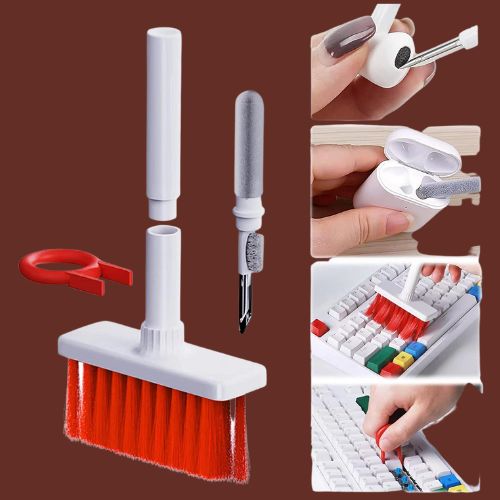 This multi-function cleaning brush can reach into the nooks and crannies of your keyboard and clean it out. If you have an external keyboard, you also get a key puller that would allow you to take the keys out and clean inside the keyboard. This multi-use cleaning brush can also be used to clean your earphones, wireless charging case, and even the little openings in your mobile phone.
6. Padded Laptop Sleeve
Carrying a laptop to work often means you have to put aside your fancy handbag and carry a laptop bag to protect it. With a padded laptop sleeve, you get to protect your laptop and be as stylish as you want. If you keep your laptop in the same compartment as your water, or if your bag doesn't have enough cushioning, a padded sleeve is a great buy and a laptop essential.
7. Bluetooth Mouse
If your touchpad is causing unnecessary stress and delay in work, get a wireless mouse for an easy working experience. It has over 90 per cent noise reduction on the click sound, so you won't be bothered by the constant clicking of the mouse. One of the best parts about the wireless mouse is that it puts itself in sleep mode if it's not in use.
8. Multiport USB-C Adapter
A multiport USB adaptor that's compatible with your Macbook or Windows laptop as well as your phone is a smart addition to your laptop essentials. This seven-port adaptor is easily compatible with your tablets and smartphones, and it can read hard disks, micro SD cards, SD cards, keyboards, and even cameras. With a 4K HDMI output support, the adaptor can also be connected to an external monitor to view your videos at maximum resolution.
9. Anti-Peep Privacy Guard
Scrolling through a Buzzfeed quiz during office hours and worried about your boss finding out? An anti-peep privacy guard is exactly what you need. The privacy guard gives you complete vision when your device is straight but prevents peeping Toms when eyeing from the side. The guard is also anti-scratch and protects your screen from scratches, dust, and fingerprint marks. It also provides UV protection up to 70-80 per cent.
These items are individually selected by the team and we may earn a commission from your purchase.
Featured Image Source
Related: No Clutter, No Stress: 9 Amazon Finds Under ₹1,500 To Keep Your Home Organised