Do you love seeing your nails perfectly manicured all the time? So do we! But what we don't love is making the effort to go to the salon for a manicure every time. To help you and ourselves, we have put together a quick DIY manicure guide which will save you the effort of going to the salon so often and will probably turn out cheaper in the long run.
Try this detailed guide to pamper your hands at home.
1. Remove any previous nail paint
Image Source
Before you begin the manicure, you need to remove the nail paint you're already wearing. You can remove it with the help of a nail paint remover and a cotton pad. Make sure to get rid of any nail paint residue as well. If you don't have any nail paint on, just go over your nails once with a nail paint remover to get rid of any dirt or oil.
2. Soak your hands
Image Source
Get a bowl of warm water, add some cleanser or shampoo, and mix it properly. After mixing, soak your hands in the bowl for 15 minutes at least. This step will make your cuticles soft, so it will be easier to work with them. However, make sure you don't over soak your hands and make them wrinkly.
3. Scrub
Image Source
The next step involves scrubbing your hands. You can use any scrub that you have at home or you can also make a homemade scrub out of coffee and coconut oil. Coffee helps in removing dead skin cells. Meanwhile, coconut oil acts as a great moisturiser. Also, make sure you scrub your hands very gently.
Related: Say Hello To Gorgeous And Healthy Skin With These Easy Homemade Body Scrubs
4. Clip, file, and buff
Image Source
Start by clipping your nails with a nail cutter. Once you have achieved your desired length, take a nail filer and shape your nails. Lastly, using a nail buffer, buff the tops and sides of your nails lightly.
5. Massage your cuticles
Image Source
Massage your cuticles using coconut oil or almond oil. After massaging them, gently push back your cuticles if it doesn't hurt. This will give you an illusion of longer nails.
6. Apply a hand mask
Image Source
To prepare a homemade hand mask, mix 1 tbsp of gram flour, 1 tbsp of curd, and a few drops of lemon. Combine well and apply the mixture to your hands. Let it dry on your hands for at least 15 minutes. Wash it off with lukewarm water.
7. Moisturise your hands with a hand cream
Image Source
You're almost done with your at-home manicure! In this step, use a hand cream to moisturise your hands. You can use any hand cream available at home. If you don't have one, click here for a list of hand creams that you should invest in.
8. Apply the nail paint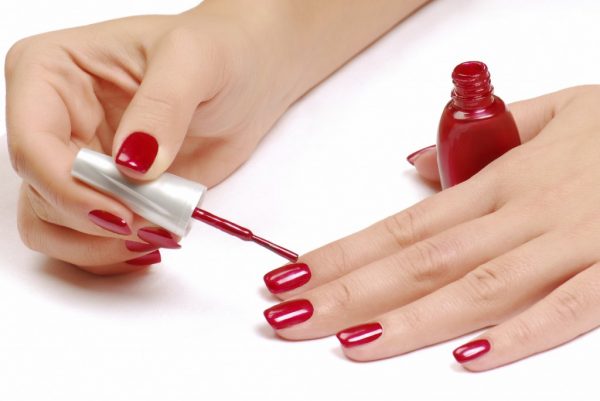 Image Source
Now, it's time to finally have fun with some colours. Start by applying a base coat and top it off with your favourite nail paint. Finish it off with a clear topcoat. And your DIY manicure is done!
Related: Daily Rituals To Keep Your Hands And Feet Clean