Since the last few months, the world has been dealing with a pandemic that has already killed thousands. With the epicentre of COVID-19 shifting from China to Europe, one thing is clear – we need to watch and learn from the worst affected countries.
While the mortality rate is not alarmingly high yet, the rise in the number of cases every day is staggering, especially in European countries. Hospitals in Italy, Spain and Germany are struggling to deal with the sharp rise in cases on a daily basis. And it's only getting worse.
In India, the situation seems to be under control. For now. We don't know how long this will sustain. That's why it's important to learn from the countries that are battling this deadly virus right now and do everything we can to keep ourselves and the people around us safe.
Related: Coronavirus: The Challenges Faced By Healthcare Professionals And What You Need To Know
1. COVID-19 CAN KILL HUNDREDS IN A DAY
We're seeing this nightmarish escalation in Italy right now. To understand how severe the situation is, understand this. On March 7, Italy put four regions with the first few cases under quarantine. On March 16, as this article is published, the COVID-19 death toll in Italy is in the thousands, and the whole country is quarantined. The most shocking increase in numbers was seen recently in Italy when it recorded 368 deaths in 24 hours.
2. STAY AT HOME
Don't go out even if you feel absolutely fine. You could be an asymptomatic carrier and bring the virus back home with you. It could also be transmitted to an immunocompromised person through you if you don't stay home and self-isolate.
Related: Get Fit In 2020: 10 Easy Home Workouts Which Are Quick And Free
3. STOP GOING TO PLACES OF WORSHIP
And stop your parents and grandparents too. We can't pray this coronavirus away. But going to a place of worship can do more harm than good at this point. Coming in contact with an asymptomatic carrier can be fatal for the elderly. Convince them, fight with them to stay at home, and change their daily routines to adjust to this new reality.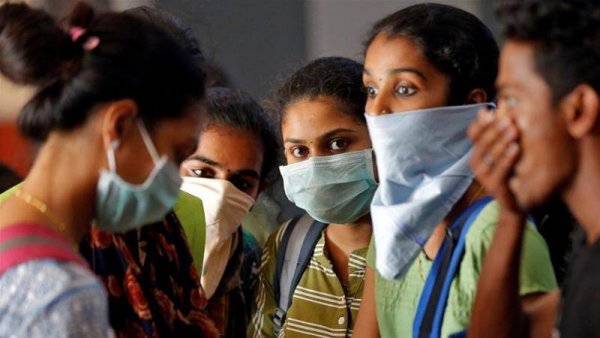 Image Source
4. STOP MEETING RELATIVES EVEN IF THEY FEEL BAD
Social distancing is the key to stopping this coronavirus in its tracks. Catch up with family and friends on video calls from home, don't indulge relatives no matter what they say, and distance yourself from anyone who has travelled abroad recently. People's feelings don't matter as much as survival.
5. IT CAN HAPPEN TO YOU EVEN IF YOU'RE HEALTHY AND YOUNG
Nearly half the COVID-19 cases in South Korea are among those under the age of 40. While the recovery rate is high in this age group, it doesn't mean they can't spread it to other people who may not be so lucky. So don't let your age or general good health make you complacent in the face of a pandemic.
6. DON'T PANIC, BUT DON'T IGNORE ADVISORIES
If the government says not to go somewhere, please don't. Follow the news, read credible sources, and know everything you can about prevention. There is no vaccine yet, so it's up to us. Stock up on supplies like atta, rice, dal, eggs, milk and soap for the next week, but don't hoard essentials. Be reasonable and only buy what you need for the next week. Other people need to stay healthy too if you want to survive this.
7. RISE IN CASES = LESSER SPACE IN HOSPITALS = PEOPLE DYING FOR LACK OF RESOURCES
If you expose yourself to the virus and get sick, you'll need to be quarantined during treatment. This can only be done in a few hospitals across India. When cases of a pandemic rise, the strain on doctors, nurses, and hospitals is crippling. People in Italy, for instance, have died because doctors and nurses couldn't do anything for them with a horrific lack of resources.
Dr Lorenzo Casani, a hospital administrator in one of the worst affected areas in Italy, told CBC, "There will be a moment that an anesthesiologist will have to take off the respirator from this 75-year-old guy and give it to the 20-year-old. And, this will be a horrible choice for the doctors, but obviously necessary."
Image Source
8. AIR POLLUTION CAN PLAY A ROLE
Some experts say air pollution, and a population with relatively weaker respiratory systems, has a lot to do with the rapid rise in COVID-19 cases in northern Italy. India shares this unfortunate distinction. Some experts also say that Italy was the hardest hit because it was the first European country which had to deal with the COVID-19 onslaught.
Professor Yascha Mounk of Johns Hopkins University told CBC, "The only thing that makes Italy different is that the first couple of cases arrived in Italy about 10 days before they arrived in Germany, the United States or Canada. So if other countries aren't going to react in an extreme way right now, they're going to become Italy."
Related: Fight Off Delhi's Toxic Air: Here's What To Eat In Pollution To Stay Healthy
9. WE ARE NOT IMMUNE TO COVID-19
We can take some sort of forced solace in the low mortality rates or the relatively low number of cases around us. But we can't think of this as any kind of immunity. This can be devastating for India, a country with large clusters of dense population. So, do your bit and do everything you can to stay home and away from COVID-19.
Remember to wash your hands for 20 seconds every 20 minutes, eat healthy, stop smoking, and don't touch anyone or anything unnecessarily.