Got acne? Use aloe vera. Got dandruff? Use aloe vera. Got sunburns, minor cuts, wrinkles, or textured skin? Aloe vera is the way to go, people! This medicinal plant is known across the world now for its endless benefits. So, why aren't you using it to make your life easier? Okay, it can be a task to extract the gel from the leaf and make it usable. But it's worth it! If you're not convinced, we've listed some of the benefits of aloe vera here that will make this plant your BFF this summer. And to make it less daunting, we'll also tell you how to use aloe vera to make the most of its near magical properties.
Image Source
Related: Looking For Gorgeous Hair, Glowing Skin And More? Try This Ayurvedic Herb
1. Hydrates the skin
Aloe vera gel is typically used in many cosmetic products as it is a water-based moisturiser. It is very light on the skin and deeply hydrates it from within. Aloe vera gel also increases the production of collagen which leads to a reduction in the appearance of wrinkles and fine lines. It also deals with other skin problems like acne, scars, redness, dryness, and makes the skin supple and more elastic.
How to use it: Scoop two spoons of aloe vera gel into a bowl. Add a banana and a few drops of rose water to it, and make a thick paste. Apply this paste on your damp skin and wash off with cool water once it dries. Doing this on a regular basis will help in moisturising and brightening up your skin.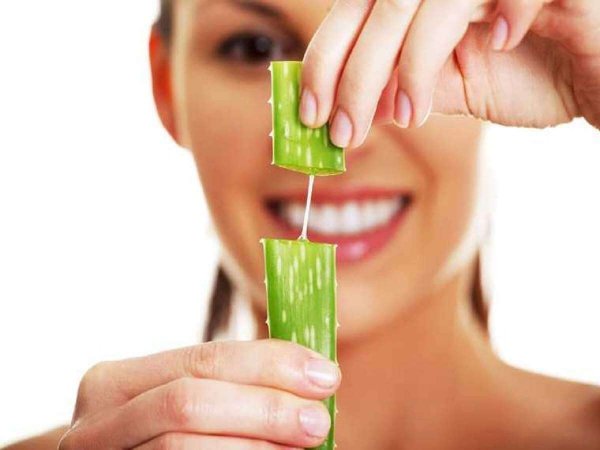 Image Source
2. Prevents hairfall
Aloe vera has enzymes that help in removing dead skin cells from the scalp and promote hair growth. It removes many causes of hairfall like dandruff, a dry scalp, and weak roots. Aloe vera also rejuvenates the hair by deeply conditioning and hydrating it, which reduces breakage and makes hair stronger from within.
How to use it: Take equal quantities of extra virgin olive oil and aloe vera juice. Mix and apply to your scalp, and leave it overnight. Wash it off the next morning with cool water. Doing this twice a week will not only condition your hair and make the roots stronger, but it will also add an extra bounce to the hair.
Related: Frizzy, Damaged, Or Dull Hair? Try These DIY Hair Masks For Every Hair Problem
3. Aids in weight loss
Losing weight is not an easy job, but working towards it consistently can give you great results. Adding aloe vera to your diet can help in the process. It is a detoxifying agent and helps in burning excess fat. It also increases metabolism, improves digestion, and reduces water retention, maximising your weight loss potential.
How to use it: Take a few leaves of aloe vera and cut the edges. Now, blend these and strain the mixture in a jar. Add some honey and lemon to the mixture, and drink it on a regular basis.
Related: Teas To Lose Weight And Detox After The Party Season
4. Quick fix for acne
Skin breaking out? Well, don't pop that pimple, just fix it. Aloe vera has antibacterial properties that kill acne-causing bacteria and clean the skin. It is also very mild and gentle, so it can be used on any skin type. However, we do recommend a patch test if you're using it for the first time. You can use aloe vera gel-based products, or use it in its natural form to fight off acne.
How to use it: Add 2 tbsp of aloe vera gel with 1 tbsp of honey and 1/4 tsp of cinnamon in a bowl. Mix these ingredients till they form a thick paste, and apply it on your face. Let it sit for 10-15 minutes, and wash it off with warm water. Doing this twice a week will help reduce acne significantly.
Related: Dealing With Stubborn Acne Scars? Try These Easy Home Remedies To Get Rid Of Them
Image Source
5. Keeps the teeth healthy
Aloe vera acts as a natural mouth cleanser and keeps your oral health intact. The vitamins and minerals present in aloe vera can block plaque and tackle swollen or sore gums. You can use aloe vera based mouthwashes or toothpaste to see a difference for yourself.
How to use it: You can use aloe vera juice to rinse your mouth after brushing. Doing this daily can help prevent the building of plaque over time.
6. Removes dark circles
One of the most promising and natural ways to get rid of dark circles is to use aloe vera. It soothes the skin and nourishes it deeply without causing any side effects. Using fresh aloe vera can boost blood circulation and reduce the appearance of dark circles.
 How to use it: Scoop some fresh aloe vera gel from the leaf, rinse it thoroughly, and keep it in the refrigerator for about 10 minutes. Gently massage the cool aloe vera under your eyes for about 15 minutes. Doing this twice a day on a regular basis will help you get rid of dark circles and puffiness.
Image Source
7. Gets rid of smelly feet
Do people scrunch up their noses when you take your shoes off in public? Don't worry, it happens to all of us at some point. But there is a solution. Aloe vera has antibacterial properties that can kill the odour causing bacteria on your feet. It also freshens up the skin which makes the smell go away.
How to use it: In a bowl, add 2 tbsp of aloe vera gel and 1/2 tsp of tea tree oil. Mix it, dip a cotton ball in it, and apply this mixture all over your feet. Doing so thrice a week will leave you with fresh smelling feet in no time.
Image Source
8. Nourishes dry lips
If you always wear drying, matte lipsticks, you must have faced the problem of chapped lips. Using aloe vera on your lips is a brilliant hack to nourish them and get rid of the dryness. Matte lipsticks tend to take away the moisture from your lips making them look dry and dull. Aloe vera can fix this problem easily.
How to use it: Take 1 tsp of aloe vera gel, 1 tsp of melted coconut oil, and 1 tsp of vaseline. Mix these ingredients to combine them well, and massage your lips with this before going to bed. Doing so daily will get rid of dry and chapped lips.
Related: Lip Oils That You Need To Try If Your Lips Are Always Dry
9. Helps in the growth of lashes
Not a fan of falsies or eyelash extensions? Don't worry, you can grow fuller and thicker lashes naturally with aloe vera. It helps in boosting the growth of lashes and conditions brittle lashes, making them stronger. Even though the process takes some time, it is completely natural and won't cost you a penny.
How to use it: Mix 1 tsp of aloe vera gel with 1 tsp of black castor oil, and dip your mascara brush into it. Gently apply a coat or two on your lashes before bed. Doing this regularly will boost the growth of your lashes and make them voluminous.
10. Works as a natural makeup remover
Ditch all those makeup removers with harsh chemicals that can harm your skin. Switch to aloe vera gel, the all-natural makeup remover. It gently cleanses your skin, getting rid of all the makeup and dirt without any side effects. Aloe vera also calms the skin and improves its texture, making your skin look firm and fresh.
How to use it: Extract the gel from an aloe vera leaf, rinse it well, and store it in a container. Apply a small amount on a cotton ball, and swipe it across your face till all the makeup is removed. Dab a damp cloth to remove any residue, and do this regularly to see the difference in your skin.
As the harsh summer sun beats down on us, it is important to look after your skin and give it the care it needs. Bookmark these helpful summer skincare tips by Dr Jamuna Pai, skincare expert and cosmetic physician to the stars, and take your skincare game up a few notches..