Cooking is the last thing on your mind when you get home after a long and tiring day at work. But when the tiny tummies of your kids are rumbling, there is no choice but to throw on an apron and start slogging in the kitchen. Making dinner doesn't have to be so tedious though! Follow these mess-free, stress-free dinner recipes that are nutritious and will keep your kids happy.
1. STUFFED CHICKEN ROLL
If you don't have time to roast masala and make a sabzi, simply boil all the veggies and chicken and stuff them in a roti to make a roll. Your kids will love it.
You will need: Rotis, boiled potatoes, 1 chopped onion, 1 grated carrot, 1/2 grated beetroot grated, 1 cup baby spinach, a handful of boiled green peas, salt, pepper, cheese and boiled and shredded chicken pieces.
Recipe: Lightly saute the carrot, beetroot and spinach. Turn down the heat and mix chicken, mashed boiled potatoes and onion. Add salt and pepper and let the mixture cool down as you make rotis. Place the mixture in the roti and add generous cheese on top. Roll it up and serve with tomato ketchup.
2. FRIED RICE
This is perhaps the easiest dish on the list. You can use leftover rice, chicken and veggies and make it as elaborate or simple as you wish.
You will need: Leftover rice, boiled chicken, one egg, soy sauce, 1/2 chopped onion, 2 green chillies, grated ginger and garlic, 1/2 grated carrot, 1/2 sliced green bell pepper, 1 teaspoon vinegar, spring onions for garnish (optional)
Recipe: Saute ginger, garlic, chillies, chopped onion, carrot, boiled chicken pieces and bell pepper together. Add salt and soy sauce according to taste. Throw in the cooked rice, turn off the flame and mix the ingredients thoroughly adding a teaspoon of vinegar as a last step. Cook the egg sunny side up separately and serve on top of your fried rice.
3. WHITE SAUCE PASTA
Kids love pasta and if you use the whole-wheat variety, you won't have to worry about the junk calories.
You will need: Whole wheat pasta, 1 teaspoon flour and 1/2 cup milk (for the sauce), a handful of boiled corns, chopped mushrooms, 1/2 chopped onion, garlic, salt, pepper, cheese and diced pieces of chicken salami.
Recipe: As your pasta boils, heat some oil in a pan and saute onions and garlic. Add the mushrooms and corn and let it simmer for 3-4 minutes. Meanwhile, drain the pasta water and keep it separate.  In another pan, heat 2 teaspoon butter. Keep it on a low flame, add flour and keep stirring till it becomes fragrant. Gradually add milk to it avoid lumps. Transfer the veggie mixture to the pan along with the pasta and diced pieces of chicken salami. If the dish feels lumpy, add a little bit of pasta water and some more milk. Cover the lid and let the sauce blend in for 5 minutes. Grate cheese on the top and serve.
4. STIR FRY SHRIMP NOODLES
Use rice or wheat noodles instead of maida to make a quick and healthy meal for your kids.
You will need: Frozen shrimps, carrots, red and green bell pepper, onions, ginger, garlic, soy sauce, vinegar and rice/ wheat noodles.
Recipe: Boil the noodles and set them aside. In a separate pan, pour some oil and cook the (thawed) shrimp. Next put in all the vegetables and stir till they become soft. Add noodles, soy sauce, vinegar and toss the pan until all the ingredients are mixed thoroughly. Serve with tomato ketchup for the kids.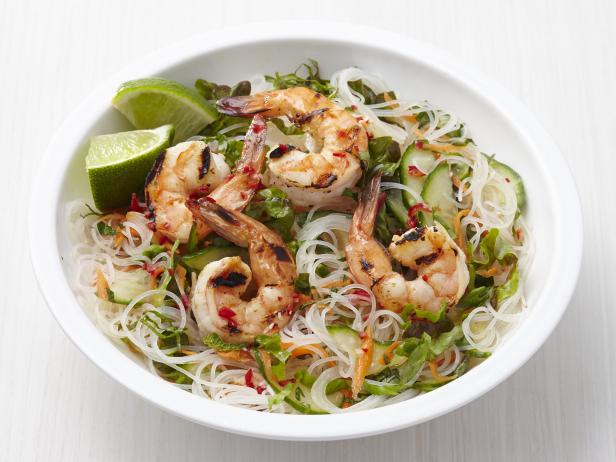 5. BAKED MAC AND VEGGIES
A great way to make your kids eat their veggies is to serve it to them with cheese. This simple 20-minute recipe is healthy and loaded with comfort.
You will need: Any veggies of your choice, macaroni lots of cheese, flour and milk for the sauce.
Recipe: Boil and strain the vegetables and macaroni. In a pan, make the white sauce by stirring 1 teaspoon flour in butter. Pour in extra milk to keep the consistency a little runny. Let it cook for 2 minutes till the mixture thickens. Now transfer the veggies and sauce in oven-safe moulds. Add salt and any other seasoning of your choice and with a spatula, lightly combine all the ingredients. Grate mozzarella cheese generously on the top and let it cook for 8-10 minutes.
6. SOYA BURGERS
If your child is a fussy eater, you need to get creative with food. Soya burgers are packed with nutrition and are tasty enough so that your child will not complain.
You will need: 1 cup soya granules, 1 boiled potato, readymade cheese slices, burger buns, round sliced onions and tomatoes, mayonnaise.
Recipe: For the tikki, boil, mash and mix the soya granules and potato. Season them with salt, pepper, and a little bit of lemon and red chilli flakes (optional). Knead it into a soft dough, scoop out a handful of the mixture and press it in your palms to make a tikki. Since the ingredients are already cooked, you need not deep fry it. Just a shallow fry on a non-stick pan will be enough. Smear mayo on the burger buns and place the tikki, onion/tomato slices, and cheese on it. Serve with ketchup.
7. CURD RICE
When things get too hot to handle at work or at home, curd rice can instantly cool your body and mind. It is the ultimate comfort food of south India and can be had any time of the day. The best thing about this recipe is that it takes only 10 minutes to cook.
Things you will need: 2 cups cooked rice, 1 cup curd, 1/2 cup milk. For the tempering – mustard seeds, cumin, 1 dry red chilli, urad daal, 5-6 curry leaves, grated ginger.
Recipe: Heat the rice, add salt to them and slightly mash them with a spatula. Add curd, milk and mix together. Temper all the masala ingredients in oil and as it starts sizzling, pour it over the rice mixture. Stir and garnish with finely chopped coriander leaves. Serve hot.