With each year we stay holed up at home thanks to the never-ending pandemic, we find something to get us through the year. The current trend to take over the internet is the word game 'Wordle'. And the game has made way for a lot of clones. Some of these Wordle alternatives are super fun, and some have become popular just because they take care of the agonising 24-hour wait that Wordle makes you go through. For the uninitiated, Wordle is a web-based game, wherein you are supposed to guess a five-letter word (that changes daily) within six tries.
To play Wordle, start with any five-letter word. If an alphabet is part of the word and is in the correct position, the tile will be green. If an alphabet is part of the word, but in the wrong position, the tile will be yellow. The tile will be grey if the alphabet is not part of the word at all. From these clues, you get six attempts to find the word of the day. If you haven't tried it yet, you can check out Wordle here. The only catch? You cannot play this game more than once a day. That's right, it's basically one and done and then you have nowhere to go. Like us, if you don't have the patience to wait for a whole day to play another round, we have some awesome Wordle alternatives for you.
1. Absurdle
Absurdle is an adversarial version of Wordle. While Wordle gives you hints by way of colour-coded tiles, Absurdle tries to reveal as little information as possible. The fun part is that you get as many tries as possible to guess the word. The tricky part? Absurdle can change the secret word randomly. While in Wordle there is only one secret word that you need to guess, Absurdle takes it a notch further and changes the secret word if they see fit. Well, at least you get unlimited tries.
You can check out Absurdle here.
2. Taylordle
This one is for all the Swifties out there. Taylordle is the Taylor Swift edition of Wordle. The rules are the same. You get six tries to guess one word. The difference is that all these words are related to Taylor Swift's life and work. It could be the name of her albums, songs, or a word that's part of her lyrics. So, if you are a hardcore Taylor Swift fan, this shouldn't be too much of a challenge for you.
Check out Taylordle here.
3. Lordle of the Rings
Wordle really did make way for various fandoms to start word games. People who are Lord of the Rings fans can now show off their knowledge in Lordle of the Rings. You can use names and other words from the main text of Lord of the Rings. Go play, you fellow Ringers!
You can play Lordle of the Rings here.
4. Sweardle
If you are too bored of the vanilla variants of Wordle, fret not. For the NSFW enthusiast, we have Sweardle. Like Wordle, the correct alphabets in the correct position are marked green. The correct alphabets in the wrong position are marked yellow and the wrong alphabets are grey. Also, if you type an alphabet that is not a part of the word of the day, in the next try, that alphabet won't be available to type either. Oh btw, you only have four tries. So, make the best use of it and show your swearing skills. *cough cough*
You can play Sweardle here.
5. Lewdle
Another NSFW Wordle alternative on the list! Lewdle is a word game where you can guess five-letter lewd words. Profane, vulgar, and obscene, no word is prohibited here except regular, clean ones. If you ever thought Wordle is restricting you from trying all the words you would try as a pre-pubescent teenager, here's your chance.
Play Lewdle here.
6. Dordle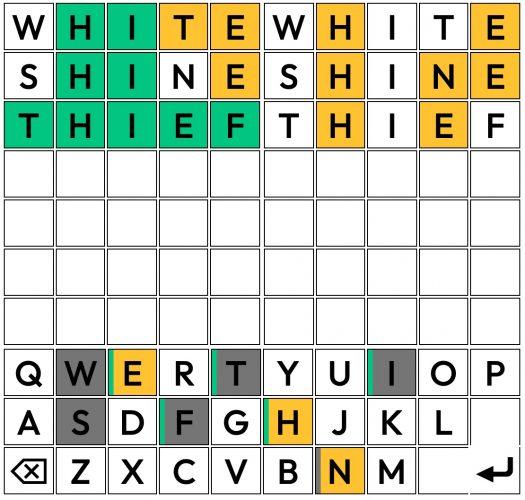 If you thought guessing one word is boring, Dordle gives you two words to guess. Dordle is the more devilish variant though. There are two grids side by side. You get six tries, and in those six tries, you need to guess both words. So, you basically play two games simultaneously. If you play smart, you will try to finish the first grid in a couple of tries and then focus on the second grid. Or just have fun. It's just a game.
You can play Dordle here.
7. Hello Wordl
Do you find the five-letter Wordle too constrictive? Well, Hello Wordl offers you the chance to choose the length of your word. The players can choose between four to six words as the target word and start guessing. You can either play the word of the day or you can go for a random word. Either way, you get six tries and you need to guess the word within those tries. This is one diabolical Wordle alternative!
Play Hello Wordl here.
8. Primel
This is for all the Math lovers out there. If you love numbers and are fascinated by them and want to play around with them, Primel is your game. You get six tries to guess a five-digit prime number. Similar to Wordle, the correct number and position will be green, the correct number in the wrong position will be yellow, and the wrong number will be grey. A good Mathy Wordle alternative for you to check out.
Play Primel here.
9. Mathler
Another one for the mathletes in the house! Mathler gives you a solution and you need to work your way back into the problem using basic algebra. The solution is derived by using the BODMAS rule. Again, you get six tries to find the answer. As usual, correct answers get a green light, wrong positions are yellow, and wrong numbers and operations are grey.
You can play Mathler here.
10. Nerdle
In Nerdle, instead of six "letters", you have eight. A letter consists of anything from the numbers 0-9 and addition, subtraction, multiplication, division and equal to symbols. Nerdle emphasises mathematical correctness and order. You always need to have an = sign in your answer. Similarly, the order of the solution is also important. Their rules state "if the answer we're looking for is 10+20=30, then 20+10=30 isn't close enough". This is going to be a tough one to crack!
Play Nerdle here.
If none of these work for you, there's always old fashioned Scrabble. The word game has been around since before Wordle was even a figment of imagination in someone's mind. There's no limit to the number of tries or the number of times you can play the game. Just go open up the Scrabble board or play it online here.
Featured Image Source
Related: Go Beyond Ludo: 12 Online Games To Play With Friends To Show Them Who's Boss