What comes to your mind when we say the words 'inner peace'? We're guessing asanas, meditation, pranayama, and more. But what about practising mindfulness? We're guessing you didn't consider this as an option. In fact, many don't even know about mindfulness as a practice to achieve inner peace. So today, we're going to go point by point on how you can try practising mindfulness to beat not only the quarantine blues but almost any moment of stress you may encounter.
What is mindfulness?
Mindfulness is a person's ability to be completely aware of everything that is happening in their world, including their own feelings, emotions, thoughts, and sensations, without being aggravated by them. It is a way to bring stability into today's fast-paced lifestyle, to stop for a moment and simply connect with oneself. However, it must be noted that mindfulness is not the same as meditation. While meditation involves practising calm to allow space for one's mind to breathe, mindfulness is more about connecting and evolving while being in sync with your thoughts.
An interesting point to note here is that mindfulness is not something that we need to acquire. Humans are born with this ability, but, somewhere in our struggle to achieve perfection, we often forget about the things our mind can do. Surprised? To understand it better, think about babies and how they react to things based on their own emotions and feelings, and not external factors.
Image Source
Practising mindfulness while on the move
Practising mindfulness does not require one to find a quiet place and a dedicated time slot; it is more about creating a space for yourself in a peaceful mind. It is possible to be mindful of your actions during the day by simply being 'present'. Mindfulness helps put things in perspective and allows alterations in our reactions to form a calmer lifestyle and a happier mind. When things go wrong, it allows us to stop, think, understand, and then react, instead of panicking in the very moment.
Related: Relax Your Mind And Body: 8 Types Of Meditation Techniques To Alleviate Stress
A peaceful mind is a work of art
While juggling different activities in the race we call life, people often forget the role a subconscious mind plays in driving our motivation levels towards achieving goals. Thus, it is important to take a moment to stop and connect with yourself the moment you wake up. Set up non-materialistic intentions for the day, like being kind and generous, to know what you need to do for a calmer existence.
Let your meals be a time for you to listen to your body. Don't rush into lunches just because the clock says you have to. Consider your appetite and think about how hungry you really are and then eat only the quantity you absolutely need to eat. Remember the babies we mentioned above? Babies never overeat because they are in tune with their bodies and they understand when their tummy is full.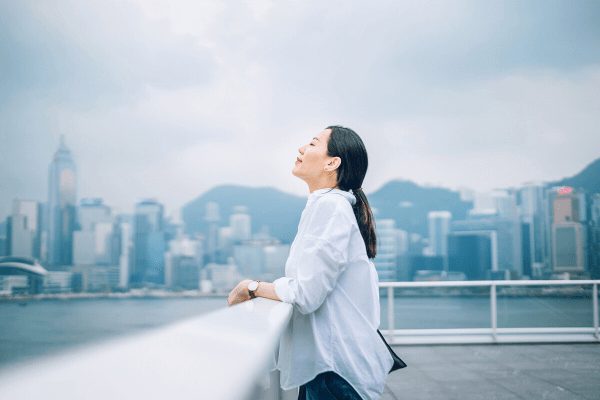 Image Source
When working out, follow a set pattern. Rushing into a workout routine to 'get it over with' does no good to anybody. A rhythmic pattern helps us analyse each step and how it impacts us overall. It helps us listen to the tune of our bodies which we usually ignore on a day-to-day basis.
Being aware is the key to mindfulness
When you're rushing around trying to get from Point A to Point B, it's bound to create frustration in case you come across an obstacle – heavy traffic, for instance. Such scenarios often result in impatient drivers and, at times, even road rage. But if you just stop and look at the other drivers, your mind will begin to shift to a calmer dimension by letting go of the frustration and allowing in more lightness when you begin observing things about them. Let's go back to the babies. In any given situation, a baby is often found observing things like colours, patterns, and shapes, which helps them remain present in the situation and also be calm, attentive, and on a path of self-discovery and growth.
It might sound like practising mindfulness is easier said than done, but it really isn't. It is the easiest form of achieving inner peace as it does not demand that you change yourself or engage in additional activities. Mindfulness is all about being aware of where you are, what you're doing, why you're doing it, and how it will impact you.
Featured image source