Let me tell you, I did my homework before starting WandaVision, because this show is making everyone go crazy and I want to live the hype myself. And you wouldn't normally expect two super-powered beings from the Marvel Universe appearing in a classic black and white sitcom. So, if you are ready to live this mad, fun, and enigmatic story, here is the WandaVision review to read before stepping into the roller coaster.
Related: Tandav Review: Same Old Rajneeti With A Dash Of Twitter Wars
"We are an unusual couple, ya know?"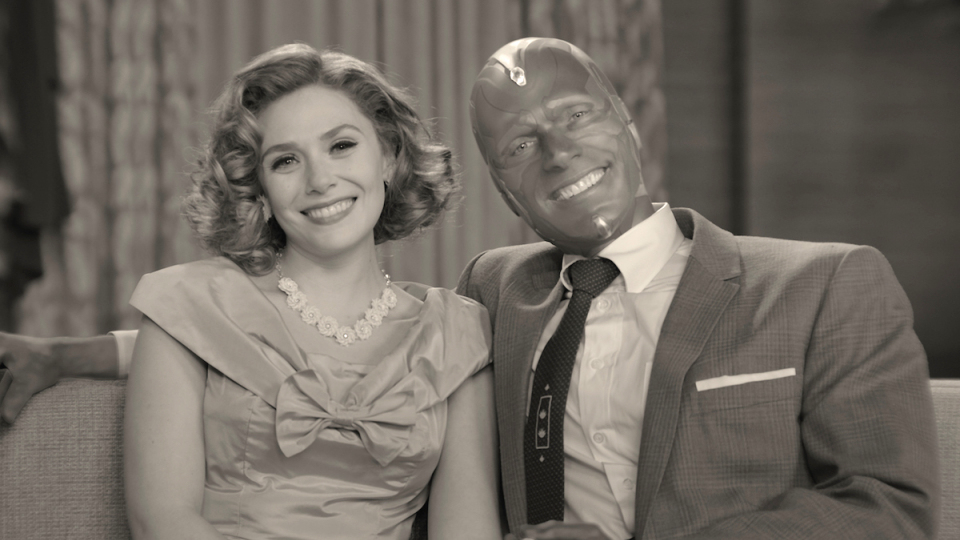 Image Source
With Vision working a 9-5 job, and Wanda being the perfect housewife, these two might seem like a normal couple to an outsider. But for an insider, these two Marvel characters are far from a normal couple living in a small town. And while they try to behave regular, things are quite messy as they try to conceal their true identities every day. It becomes even more difficult because their memories seem to be wiped clean as they don't remember meeting, marrying each other, or moving to this town.
But, somehow, they manage through the first episode without wreaking havoc. And Wanda has only one thing to say after surviving. "We are an unusual couple, ya know?" And this gives a slight glimpse to the viewers of the adventure that lies ahead.
"This is our home now, I want us to fit in"
Image Source
Both Wanda and Vision are aware that they are not like the regular people around them. But they try their best to fit into society by participating in society. This also makes one wonder as to why Wanda and Vision are in such a society, trying to fit in.
However, things start going haywire when Vision starts showing his real powers and Wanda uses hers to cover up for him. And all this while, there are some things that start happening around Wanda that seem to disturb her. But not just her, it will disturb the audience too as these are crucial clues to their reality.
Speculations and theories based on the first two episodes
Image Source
Yes, you can hate Disney for not releasing all the episodes at once, because that kind of leaves you on the edge. But Marvel has done a great job of keeping everyone hooked with every single episode. And so far, there are many theories and speculations doing the rounds based on the first two episodes of the series. And let's address the elephant in the room and the question on everyone's mind — How is Vision alive? While some believe that Wanda has created an alternate universe to keep Vision alive, some believe that the couple is trapped in a time loop. With hints like radio messages for Wanda or changing reality and time when confronted with a threat, there are a lot of answers we need.
The first two episodes are just the building blocks of this story, but they are enough to drive your curiosity and make you come back every Friday for a new episode. Till then, enjoy the first two as the next episode will air on January 22 followed by one episode every week. I'm off to re-watch the episodes, because why not?
Related: Tribhanga Review: A Moving Story That Takes Its Own Time To Draw You In