Online shopping is a boon for everyone who's too busy to actually go shopping. And what can't you buy online now? From clothes to vegetables, you can get it all on an app. Amazon is one of the most popular online shopping apps in India. But because of the millions of things it sells, it's difficult to focus on what you need and easy to get distracted. Here are 10 useful things to buy on Amazon which will make your life easier in an instant.
Running out of space in your bathroom or kitchen?
Small bathrooms and kitchens sound cute. But they can be quite a pain when you start running out of space for your essentials (and non-essentials). Here's how you can create more space and neat storage in your tiny bathroom or kitchen.
A corner cabinet
You can hang this up in your shower, near the sink, or in any other corner of your bathroom or kitchen. It has deep storage and can even conceal a mess inside. The hooks at the bottom also help in hanging hand towels or kitchen towels.
Image Source
Price: INR 1,039
Click here to buy this cabinet.
Storage that can be hidden away
If you don't want people to see what you're storing, buy this sliding cabinet. You can hide it next to your fridge or any other corner in your house. Until you pull it out, no one will even notice it. It's quite cute to look at, so if you don't have place to hide it, you can even use it to display curios or photographs.
Image Source
Price: INR 1,299
Click here to buy this product.
Save water and have cleaner dishes
This shower-like appendage can be attached to your kitchen sink tap easily. It ensures that you use less water while cleaning your dishes better.
Image Source
Price: INR 295
Click here to buy this tiny, water conserving shower.
Tired of cleaning hair out of your drains?
All you need to do is put this neat little starfish on your drain. This will catch the hair before it gets stuck in the drain and becomes disgusting. You also won't have clogged drains anymore.
Image Source
Price: INR 225
Click here to buy this drain protector and hair catcher.
Keep cleaning products handy with this sink organiser
With this neat little sink organiser hanging in your sink, you won't have to make extra space on the side only for cleaning products.
Image Source
Price: INR 199
Click here to buy this superstar organiser.
Trying to grow your own garden?
You need these scary looking but extremely useful gardening gloves. The claws can do all the digging for you and your fingers will stay protected from dirt. You can also show these off on Instagram when you're bragging about your balcony garden.
Image Source
Price: INR 349
Click here to buy these gardening gloves.
Travelling made super easy
Neck pillows are great. They give great support when you're falling asleep on a long trip. But you also need protection from the light to enjoy a nap. This is where the neck pillow hoodie combination works really well. If it's super hot, and you can't stand the thought of a jacket, this neck pillow and hoodie is the perfect way to get some shut eye on a long journey.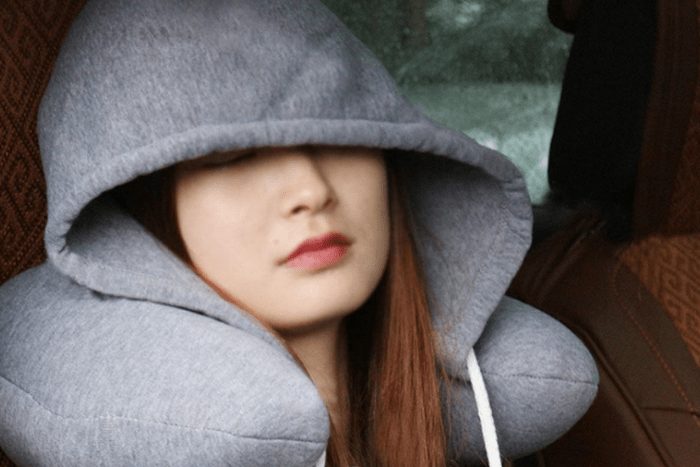 Image Source
Price: INR 645
Click here to buy this essential travelling companion.
A toiletries pouch you can hang
When you don't get a large bathroom with space to spread out your toiletries, this pouch will come in really handy. Open it and hang it up on a clothes hook. All its tiny pockets will also help in keeping your toiletries organised.
Image Source
Price: INR 479
Click here to buy this neat contraption.
A mini dustpan and brush for your keyboard
No one really bothers cleaning their laptop regularly. It's a massive pain with dust stuck in the tiniest of corners where no human fingers can reach. However, this mini brush and dustpan will do the job for you. Dust your keyboard and catch it with the dustpan.
Image Source
Price: INR 190
Click here to buy this product.
A portable massager!
After all the cleaning, travelling and gardening, you're going to need some self-care. Use this portable massager to give yourself a full body massage anywhere, anytime.
Image Source
Price: INR 1,948
Click here to buy your own portable spa.
What will you buy from this list? Tell us in the comments.