Don't waste the long weekends of the year, travellers. Make your plans now! A great option for long weekend travel is Manali. This beautiful town way up in the mountains is about 14 hours away if you drive or take a bus from Delhi. The places to see and things to do in Manali are so diverse that you will find something for everyone. But because of its popularity, one can get confused with the number of choices in Manali. To make your life easier, we made a travel guide on everything you need to know about this Himachali paradise.
Where to stay in Manali
If you want to make the most of your stay here, Old Manali is the place to be. There are several hotels and Airbnbs in Old Manali which are quaint and charming. It's best to choose a small hotel or homestay so that you don't find yourself staying in a noisy, crowded place. Here are a few places which offer a great view, are in close proximity to the buzzing Old Manali town, and are small enough to have peace and solitude when you need it.
A room with a view of the river
Images Courtesy
Click here to book this beautiful Airbnb.
Live in luxury
Images Courtesy
Click here to book this gorgeous property.
A modern, luxurious house all to yourself
Image Courtesy
Image Courtesy
Click here to book a stay at this gorgeous villa which is ideal for big groups.
A hotel and a cafe
Image Courtesy
Click here to book a stay at Casa Bella Vista.
Where To Eat
Manali is known for its view and its food. The culinary experience in Manali is unmatched and will keep you coming back for more. Here are some of the best eateries, known and unknown, in Manali where you can truly let your inner foodie out.
La Plage
Sample the ravioli and river trout here. Known for serving fresh produce and European cuisine, they have a varied selection for vegetarians as well. The charm of this place is sitting outside and enjoying your meal in the midst of apple orchards. La Plage is only open during the summer tourist season.
Image Courtesy
The Fat Plate
A family-run restaurant, The Fat Plate has become synonymous with relaxed, delicious meals in Manali. They have their own vegetable and herb garden which gives their food a rare freshness. They also bake their own breads, so you can only imagine the scintillating aroma as you step into this quaint cafe.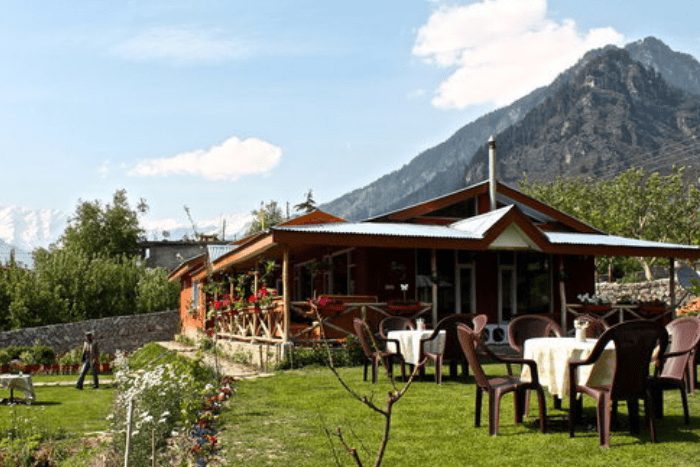 Image Courtesy
Chopsticks restaurant and Signature Cafe
If it's authentic Tibetan food you're after, head to Chopsticks restaurants, located on the Mall Road. On a cold day, this place is where you can settle down for a nice, homely meal of soups, noodles, or momos. Try their thukpa for a satisfying and comforting experience.
To sample more local delicacies, head to Signature Cafe, located above Chopsticks. One of their must-try dishes is the mutton bhaat.
The Corner House
Also located on the Mall Road, The Corner House is a great spot for burgers. While you're there, you should also sample their European offerings like the Cordon Bleu or sizzlers.
Local delights
If you're travelling by bus, you will notice a small dhaba and grocery store at the government bus stand. This is popularly known as Fauji aunty's shop. When you settle down, ask for Sidu, a local delicacy, and prepare for a culinary journey into Manali's rich heritage. Let the owner of the dhaba explain to you how Sidu should be eaten, and you won't regret it. Accompany it with lemon tea for a relaxed, calming experience.
Manali is also known for its fresh river trout. Most restaurants will serve you the catch of the day, prepared in the local style. One of the most popular places among the locals is Riverside Cafe where you can get exquisite trout for a budget-friendly price.
What To Do
Party it up
Most hill towns are not strictly party places. But Manali is. If you're looking for live music and a drink to go with it, head to Johnson's Cafe in the evening. The live music is accompanied by a bonfire outside and impeccable service. You can also walk around Old Manali and sample the various bars and cafes along the road. Cafe 1947 and The Lazy Dog offer delicious cocktails and great views of the river, while People ART Cafe has a completely unique ambience.
Trek to Malana
Discover the unique customs and traditions of Malana, explore their lifestyle rooted in democracy, and most enjoyable of all, stay overnight in this beautiful village in tents. This is a 6-day long programme which includes your journey from Delhi to Chandigarh. This is one of the most adventurous and memorable things to do in Manali. Click here for more information.
Image Courtesy
Rappelling in Vashisht
Challenge yourself by rappelling through a raging waterfall. This is one of the most adventurous things to do in Manali if you're there only for the weekend. While there may be a crowd of tourists here, you will find a unique sense of tranquility when you're manoeuvring yourself around the rocks and water. Click here for more information.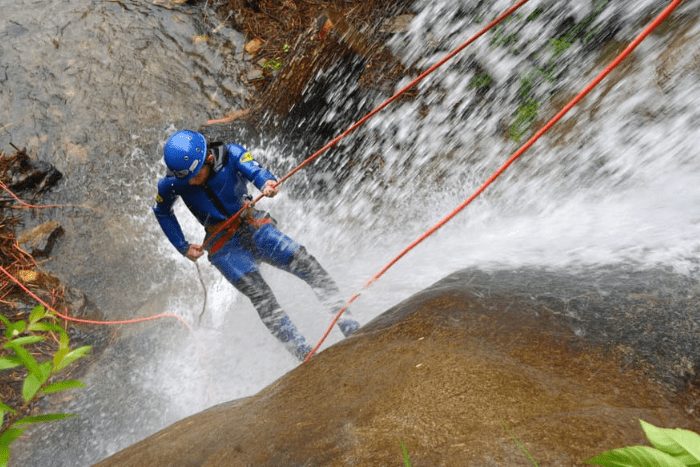 Image Courtesy
Buy coconut cookies and cakes
End your holiday in Manali with a walk in the main market. Head to shop no. 9 and lay your hands on the most delectable coconut cookies and cakes. Snack on some there, and carry some back home as a souvenir of your travels.
Happy travelling!