There is a saying, "you either eat to live or live to eat." But truth be told, the saying is a tad bit incomplete. You don't merely live to eat, you live to travel and eat. Isn't it? The saying gets more light in the current perspective of tourism and the way things are swiftly changing from standalone holidays to holidays offering something constructive to a visitor; the memory aggregator. Gone are the days where one simply explored a tranquil holiday spot to happily wile away some time. More and more tourists are increasingly resorting to the idea of learning something culturally implicit to the part of their holiday destination.
Few things could possibly be better than cooking? In fact, the idea of clubbing cooking and traveling together is on the rise. Culinary vacations are more than just a trend. They are a novel way of connecting with the culture, tradition, vibe, history and eventually, the very DNA of a holiday spot. So when you come to India- the earthen land of spices, fragrances, myriad colours and blossoming festivities- there's something unique that awaits you during your culinary vacation.
We present you seven destinations to explore the concept of embarking on culinary vacations in India
1. HARITHA FARM'S PIMENTA SPICE GARDEN BUNGALOWS, NEAR KOCHI, KERALA
The Pimenta Spice Garden Bungalows offer a unique culinary vacation idea to both locals and foreigners. This is a full-fledged culinary holiday if camping in a tranquil spot and cooking is on your mind. With a varied landscape of culinary plans to choose from- such as, 10 day chef's special Kerala vegetarian program, 8 day Kerala cooking adventure program, two day tailor-made monsoon cooking program- there's plenty of choice for the impassioned visitor.
Serene accommodations in comfortable cottages that are scaled on a family-run spice garden provide an ideal photography spot.
Pricing
INR 7000 all-inclusive single-night accommodation, breakfast, lunch, cooking session, dinner
2. AAKRITI ECO HOMESTAY, NILGIRI MOUNTAINS, TAMIL NADU
Among the often under-appreciated tourist destinations of India, a lot about Tamil Nadu is yet to be explored. Few things can serve up a better marketing program for the state other than culinary vacations. What can possibly be better than this picturesque eco-friendly, environmentally conscious homestay nestled in the midst of the evergreen Nilgiri Tea Gardens? You know you are in good hands when a professional chef and an established baker nurture the artist in you. Here at the Aakriti Eco homestay in the lush green Nilgiri mountains, the hosts- Renu and Ravi- offer unique vegetarian learning experiences featuring spices, herbs, lentils from all over India.
Imagine a slice of solitude in a soup saucer. Or, the magnificent chirping of birds right beside your vegetarian thali?
Pricing
Depends on the services provided to guests.
3. COOKING MASALA, RISHIKESH, UTTARAKHAND
What else would one possibly need from a culinary expert other than tons of patience and an inquisitive bent of mind to answer all probing queries? Mr. Amit from Cooking Masala- an idyllic culinary vacation spot up in the majestic northern trail of India, in the heart of Uttarakhand-lends a patient ear to the many queries confronting him. An avid practitioner of the multifarious culinary delights from India, your resident chef and cooking exponent at Cooking Masala is adept at churning out Southern, Eastern and Rajasthani food. In fact, if its the scrumptious street food of India that has captured your imagination, then learn it here whilst besotting over the fairytale beauty of the foothills of the Himalayas.
Pricing
Approximately INR 1300 for Standard course,
INR 1800 for a Master course,
INR 2000 for Thali course
4. RITA'S GOURMET, GOA
The equation regarding Goa is fairly simple. Booze, seas and sands and dollops of fun! But explore Goa through an appetising serving of some excellent culinary adventures. Such as the one's Ms Rita- a passionate chef, a dedicated friend- envisages upon and passes on to the many impassioned visitors who spend many a pleasant hour in her leafy garden, Gazebo.
You can opt from two-hour sessions to comprehensive five-day workshops on Goan cuisine. But it would be a misnomer to suggest that Ms Rita's cooking classes are merely focused on adults. There are also desert making classes for children, in addition to several certified culinary courses.
Pricing
INR 1800 per person
5. ENJOY HOMESTAY, UDAIPUR, RAJASTHAN
Truth be told, there's something so charming about Rajasthan that you are compelled to visit the pearl besieged by desert endlessly. But that told, there's more to Rajasthan than its princely castles and grandiose temples and opulent Havelis. A land thrusted by a rustic sense of charm becomes more tourist friendly when it unleashes a venerable culinary experience.
Such as the one Mr. Hari has been running in the land of manmade lakes with rich aplomb. And for quite some time. Interestingly at the Enjoy Homestay in the ever-charming Udaipur, you can do a bit more than learn traditional northern or Rajasthani cuisine. There's a refreshing everydayness to the culinary classes that are also tapered with Yoga, learning Hindi and, traveling around the city, exploring its charm through the eyes of a local. Typically cooking classes are spread over a two-day tour and are checkered with an all-encompassing experience of the vivid Udaipur.
Pricing
Vegetarian cooking class for 1 INR 999
Non vegetarian cooking class for 1 INR 1199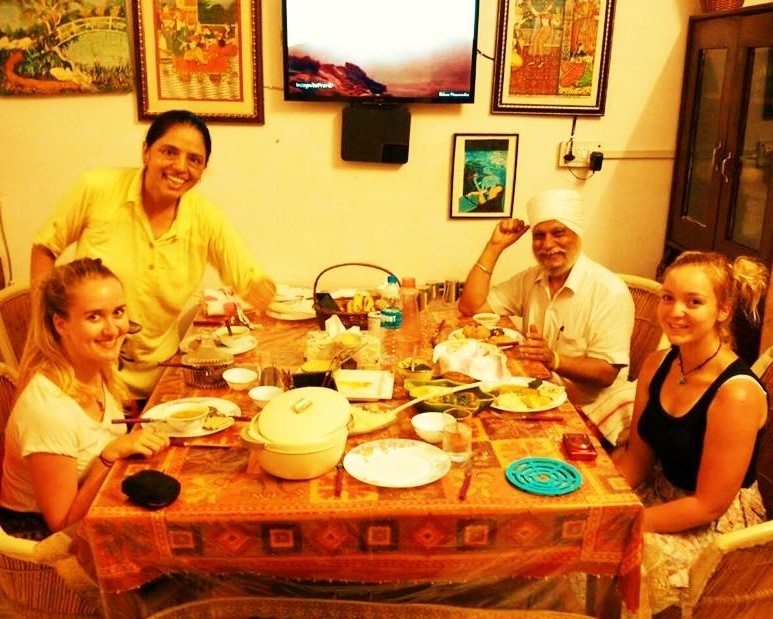 6. TASTESUTRA, NEW DELHI
A brainchild of Aanchal Bhalla, an ever-smiling congenial youth from Delhi, Tastesutra is built around an uncomplicated principle. Weave an interesting theme of cooking around a pleasurable holiday in Delhi. Managed and presided over by an accomplished cook, who's also a dedicated social worker, this recreational cooking studio is more than just about learning traditional Indian food and customised kitchen experiences. It's about exchanging notes on culture, making lasting friendships and ultimately, bonding over a shared passion for cooking.
A refreshing world away from splashy expensive Delhi restaurants, Tastesutra places laughter and passion at the backdrop of unique cooking experiences.
Pricing
Five-course cooking class+ meal INR 3000,
Local market tour+ five course meal courses INR 3500