Cracked heels are a pretty obvious state of being, especially in dry weather. Apart from the weather, your footwear also has a role to play. Open sandals often lead to hard, cracked skin around the heels. They are not just discomforting, but they can also be quite painful. Cracked heels are not just caused due to ill-fitting shoes or not taking enough care of your feet. They can also be caused due to underlying medical conditions such as obesity, diabetes, eczema, and athlete's foot among others. So, it is vital to ensure that you take proper care of your feet at all times. If you have dry and cracked heels, here are some ways you can heal them.
1. Keep your feet clean
Using a gentle cleanser, clean your feet with lukewarm water regularly. Don't use hot water as that just aggravates the dryness in the feet. Avoid rubbing vigorously while drying your skin with a towel. Instead, use a soft towel and gently pat your feet dry.
2. Moisturise the feet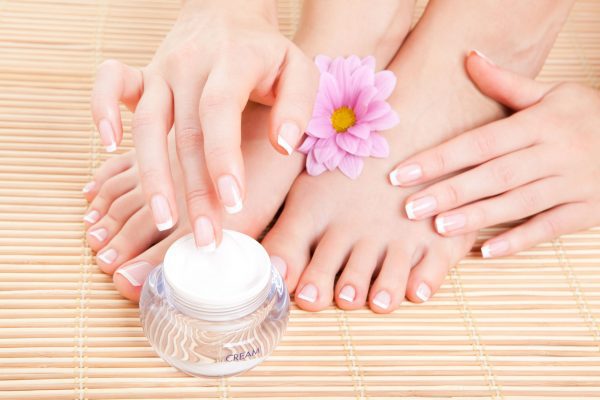 It is important to moisturise your feet after every bath or every time you wash your feet. It is best to moisturise your feet while still damp, as that allows the moisture to stay locked in. Use products containing AHAs, salicylic acid, or urea. You can also use petroleum jelly to moisturise your feet.
3. Exfoliate your feet
Exfoliate your feet regularly. Removing dead skin cells is important to maintain your feet health. The area around your heels tends to be drier and thicker, especially if you have cracked heels. Soak your feet in lukewarm soapy water for around 20 minutes. Gently pat dry your feet and, using a loofah or a pumice stone, remove the dead skin cells around your heels. Pat your feet dry and apply petroleum jelly or a thicker moisturiser on the heels. Put on cotton socks to help lock in the moisturiser.
Related: 10 Steps To Pamper Yourself With An Indulgent Pedicure At Home
4. Liquid bandages
Liquid bandages are sprays that you can apply to wounds. If you have cracked heels with deep cracks, it'll be a pain to walk. Liquid bandages are an effective way to seal the cracks and heal your heels.
5. Home remedies to the rescue
Some desi nuskhas are always effective. One of the best home remedies to treat cracked heels is using honey. Honey is a natural antiseptic and helps heal cracked heels. The antimicrobial and antibacterial properties of honey can help cleanse wounds. Another effective remedy is coconut oil. It has loads of amazing uses and healing cracked heels is one of them. Apply some coconut oil after a foot soak and you are good to go.
Related: Makeup Remover, Highlighter, And More: 10 Amazing Uses And Benefits Of Coconut Oil
6. Wear socks to bed
This is not emphasised enough, but wear socks to bed every day. Even if you are not a fan of socks, invest in a few cotton socks that you can wear overnight. Your feet will thank you.
7. Wear proper shoes
Wearing proper shoes is important for your overall foot health. If you have cracked heels, avoid wearing open-heeled shoes or sandals, like flip-flops or slingbacks. Go for footwear that closes at the heels. Also, avoid ill-fitting shoes as they can worsen the condition of your cracked heels and overall foot health.
Featured Image Source