Now that you can finally see a glimpse of summer on the horizon, it's time to get your feet ready for the season. Admittedly, your feet often end up being the most neglected body part. With the various lockdowns we have been subjected to in the past two years, the occasional pedicure sessions might have become a thing of the past. Here's how you can pamper yourself with an indulgent pedicure at home this weekend.
1. Gather your tools
The first step before you get started is to gather your tools. Here's what you will need for a pedicure at home:
A tub of warm water
Some bath salt or shampoo
Nail polish remover
Nail clipper, file and buffer
A pumice stone or foot file
Q-tips and cotton pads
Cuticle oil
Foot cream or body lotion
Basecoat, nail polish and topcoat
2. Prep 'em nails
It's time to get rid of the old nail paint from your last pedicure. Completely remove any chipped nail polish left on your toes. Soak a cotton pad with nail polish remover and slowly remove the nail paint from each toe. Even if you don't have any nail paint left, it is still a good idea to give your nails a rub with the remover to clean any dirt.
3. 'Tis time for a soak
Now that you have cleaned your toes, it's time to soften up those nails and the hard skin. Put some warm water in a tub, add some bath salt or shampoo, and soak your feet in them for about 15-20 minutes. You can also add some Epsom salt or essential oil for a spa-like experience.
4. Do away with the dead skin
Once your feet are nicely soaked and prepped, it's time to get rid of the dead skin cells. Use a dry towel to pat your feet dry. Then, use a foot file or a pumice stone to scrub away the calluses and dead skin at the heels and the rest of your feet. Don't over-scrub, it can cause irritation.
5. Trim, file, and buff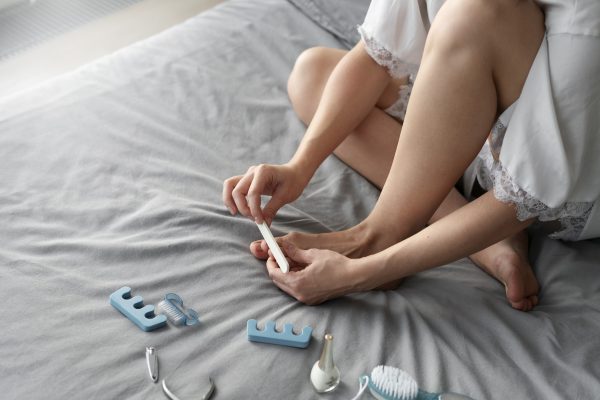 Soaking your feet in warm water softens up the skin around your nails. It makes it easier for you to trim your nails. Once you have properly trimmed your nails, shape them into your desired shape. Take time to file your nails until they are even. Make sure to buff your entire nailbed to even them out and get rid of any uneven edges.
6. Add some cuticle oil
Take a few drops of cuticle oil and apply around your nail. It'll keep your nails healthy and shiny. As cuticles protect your nails from bacteria, it is important to take special care of them. Cuticle oil will also help your pedicure last longer.
7. A massage is in order
This has to be the best part of the entire pedicure process. Take some foot cream or a body lotion and start massaging your feet. Start with the toes, then massage your feet, and gradually move on to your calves. Take your time massaging your feet to destress and relax. Finish off the massage by cleaning any excess oils from your toes using a cotton pad.
8. Apply your base coat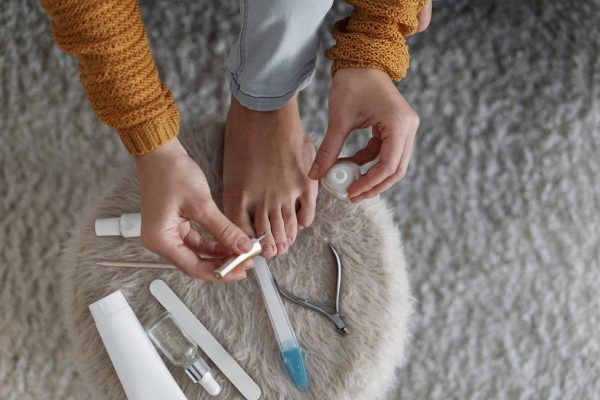 Apply a base coat to your nails to ensure your nail paint lasts longer. A base coat might seem like an unnecessary step, but that's not the case. It acts as a barrier between your nails and your nail polish, preventing damage to the nails.
9. Apply your favourite nail polish
Apply at least two coats of your favourite nail paint. But, first, make sure that your base coat has dried completely. Apply your nail paint in long, even strokes. Apply the second coat only after the first coat dries completely.
10. End it with a topcoat
Now that you have taken the time to do so much, it's time to ensure your nail paint stays put for a long time. Finish off your pedicure session by applying a thin layer of topcoat to seal your nail polish in place. Let it dry completely for 20-25 minutes.
Images Source
Related: 8 Steps To Get The Perfect Manicure At Home