The heat is already cranked up outdoors, which means you might be a little hesitant to turn up the flames in the bedroom. The scorching summer means sweat and ickiness, and adding sex to the mix means it can get hotter. And that might not really be a good thing. While watching your partner all sweaty can get you hot and bothered, bumping your uglies in this heat can be a bit of a turn-off. Sex in the summer can be a bummer, we get it. As usual, we are here to brush away your sex woes and help you stay happy and satisfied. Here are a few summer sex tips to ensure you stay cool no matter how hot it gets.
1. Add some ice
Adding some ice cubes to your sexual play is one of the best summer sex tips. Put some ice cubes in a small bowl and keep it next to you before you start. You can use the ice cubes on your partner's body for a highly erotic experience. Alternatively, you can suck on an ice cube and then go down on your partner. The coldness of your tongue will just enhance the experience for them. Need a pro tip to make it even better? Blindfold your partner when you use the ice. Cutting off one sensation is going to amplify the coldness of the ice for your partner.
Related: Heat Up Your Foreplay With Ice: 8 Ways To Use Ice And Other Chilled Elements In The Bedroom
2. Blast the AC
Keeping your bedroom cool is one of the best ways to ensure you enjoy sex in the summer. Switch on the AC and chill your room for an hour or so before you get naughty. Better still, do the deed right in front of the AC so that the cold wind is blasting on you and stimulating all the right parts.
An additional summer sex tip? If you have big windows in your room, invest in some curtains heavy enough to block the sunlight. This will also keep the room cool if you want to enjoy an occasional nooner.
3. Hit the showers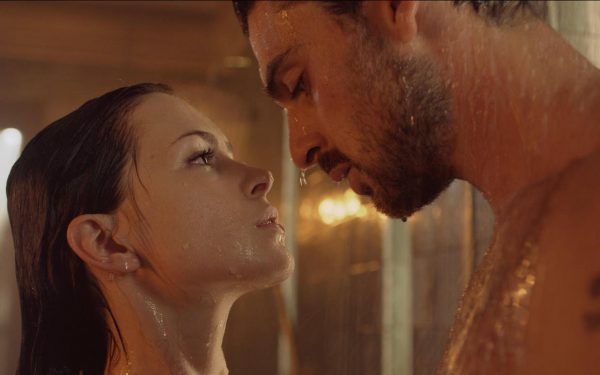 Taking a shower before and after sex is a basic rule. But this summer, just do the deed in the shower. Shower sex looks pretty damn hot in the movies, and it may not live up to your expectations. But hitting the shower for a hot sex sesh is ideal for the summer. And if you have a pool, you can even get busy in there. As you turn up the heat, the water will keep you cool.
Related: Sex In The Shower Or Bathtub: Read These Facts And Tips Before You Turn Up The Heat
4. Switch positions
Missionary is well and good, but you don't really want to be rubbing your entire bodies together in this heat. The summer is the best time to try out a few other sex positions. Doggy style, reverse cowgirl, and wheelbarrow are some positions you can try to keep skin contact to a minimum. In case you are strictly in camp missionary, modify it a bit. One partner can lie on the bed, closer to the edge, while the other partner penetrates from a standing position.
Related: Move Over, Missionary: Here Are 9 Other Sex Positions For You To Try
5. Get adventurous and take it outdoors
Have you been thinking of getting adventurous with your sex life? This weather is the best time to do that. Wanna have sex on a beach or in your car? Don't be shy and just do it. Turn up the AC in the car and get going. Or find a discreet corner on a beach and enjoy some quick sex as the cool sea breeze blows. If you want to try something more adventurous, coop up in a tiny tent while you camp and get going.
6. Indulge in some mutual self-love
Mutual masturbation ensures an orgasm without bodies rubbing together in this heat. Besides, it is quite erotic and sensual to watch your partner pleasure themselves. You get ample opportunity to take in your partner's attractiveness while adding some variety to your sex life. So, take this summer to bond over some mutual self-love.
Related: Indulge In Self Love: 10 Female Masturbation Tips To Spice Up Your Alone Time
7. Hit the floor
Get out of the bed, peeps, and get nasty on the floor. Tiled floors are cooler to touch which means it will be cooler to have sex on the floor. As an alternative, you can also have sex on other cool surfaces like a kitchen counter or a table.
Featured Image Source