When I first heard about Space Force coming to Netflix, I have to admit, I was kind of excited. The cast of the show gives you super high expectations for a hilarious ride. But does the show meet those expectations? Sadly, no. Read this Space Force review before you waste your weekend too.
Space Force is a parody on Space Force – I'll explain!
It would come as no surprise to anyone if I say that I wanted to watch the show specifically for its cast. Steve Carell, Lisa Kudrow, John Malkovich, and Ben Schwartz are pretty interesting names to grab anyone's attention. Add to that the fact that the show is a parody on POTUS Donald Trump's actual Space Force, and I was all in!
For those who don't know about Space Force, here's a little brief. The United States Space Force, or USSF, is the latest addition to the United States' military service. It was officially launched on December 20, 2019 "to protect the U.S. and allied interests in space." While talking about the USSF, Trump had said that while the new addition is important monetarily and militarily, it is "so important for right up here – the psyche. We don't want China and Russia and other countries leading us."
Image Source
Related: The Laundromat Review: A Garbled Film That Does No Justice to Panama Papers
Coming back to the show, I was excited to see Steve Carell in a brand new role. This one is so different from his most famous character of Michael Scott from The Office! He plays the role of Mark Naird, a four-star Air Force General, who gets all pumped-up to lead the Air Force. His expectations (like ours) are then shot down when he gets sent off to lead the latest (also the smallest) military division – the Space Force. He also sings to relieve stress – I'm going to try this.
Witness Michael Scott as an Air Force General
A few episodes in, the excitement sort of fades away. General Mark Naird seems a lot like Michael Scott, minus the 'that's what she said' punch lines. Lisa Kudrow, who plays his wife, Maggie Naird, gets sent off to prison for reasons unknown and gets a tiny role in the show. And the scenes which she does have seem a bit unnecessary. It kept me wondering why she was even in the show, and the pursuit of that answer made me watch till the end. Of course, I failed, because the reason for her being in prison is never revealed. All we know is that she's in there for at least 40 years. WHAT DID YOU DO, MAGGIE?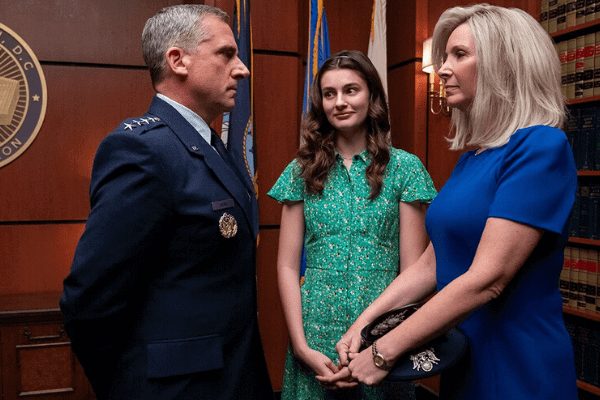 Image Source
The story of Space Force (minus Maggie Naird) revolves around General Mark Naird's experiences at this new military division with Dr Adrian Mallory (John Malkovich) who heads the teams of scientists. It also shows his relationship with his daughter Erin Naird (Diana Silvers) and rival General Kick Grabaston (Noah Emmerich), Chief of Staff of the United States Air Force.
Space Force review: Final words
Without giving any spoilers here (not that there are any to be given), the show takes some pretty good digs at Trump, expressing the general dislike that the American population has for him. But other than that, Space Force is a hit-and-miss situation for Steve Carell and team.
One thing you might want to watch the show for is the mention of the Indian rocket that went into space, leaving the Americans all baffled and confused. "India was just… smarter." Yeah, no kidding!
Space Force is also the last show of actor Frank Willard who passed away on May 15, 2020.
The show has a rating of 39 percent on Rotten Tomatoes and 6.9 on IMDb.
Related: Panga Review: A Film So Bad That It Could've Been Made By A Bot