If you are travelling solo in India for the first time, it can get a bit daunting. There are so many things that you need to take care of. From transportation to accommodation, everything needs to be pre-booked. And if you are on a tight budget, there are only certain luxuries that you can afford. So, if you are planning to travel solo on a budget, here is a list of destinations that you must check out.
1. Bir, Himachal Pradesh
Bir is a rural village located in the state of Himachal Pradesh in northern India. If you want to experience Tibetan culture and have immense love for adventure, this is the place you should choose for your solo trip. Apart from the brilliant views, Bir also has the world's second-best paragliding site.
How to travel to Bir:
The most affordable way to get to Bir Billing is to take a private Volvo bus from New Delhi. You can also take the Himachal Tourism bus. The journey will take around 13 hours and a single ticket will cost you somewhere around ₹1,000.
Where to stay in Bir:
There are so many hostels in Bir that provide dorm rooms at nominal rates. A bed in such a hostel will cost you anywhere around ₹300-₹500. Some of the hostels you can check out are The Hosteller, The Trippy Tribe, and Zostel.
Things to do in Bir:
If you are not afraid of heights, you must experience the whole vibe of paragliding. Just make sure you have a skilled pilot with you. Paragliding in Bir should cost you around ₹1,800 without the headcam video. Once you're done paragliding, don't forget to try the local food. Thukpa from The Nyingma Hotel and Restaurant should be on top of your list. Also, the cappuccino at Silver Lining is to die for.
2. Udaipur
Often called the city of lakes, Udaipur is for someone who loves culture, art, and architecture. There are so many places to explore, so much food to eat, and so much art to consume here. Without a doubt, Udaipur is one of the best places for a solo traveller.
How to travel to Udaipur:
The best way to reach Udaipur is to take a train from New Delhi which will take you around 11 hours. The price for a 3 AC ticket will range from ₹1,000-₹1,200.
Where to stay in Udaipur:
If your budget allows, you can stay in fancy resorts that have pools and other luxuries. But since you are travelling solo, the cost might be too much. Don't worry, hostels are there to save your pocket. Moustache Udaipur is economical and beautiful. You can also try The Hosteller, Udaipur. They have the comfiest beds ever. Again, a bed here should cost you somewhere between ₹300-₹500. What a steal, right?
Things to do in Udaipur:
Visit City Palace to see some gorgeous architecture and take a tour inside the museum. Don't forget to take a guide with you since the place can get quite confusing. Besides this, you can visit Gangaur Ghat to feed birds and Lake Fatehsagar for the dreamiest sunsets. Lastly, you need to try the authentic Daal Bati Thali at Krishna Dal Bati Restro.
3. Rishikesh
Also known as the yoga capital of the world, Rishikesh is a paradise. If you want to have a spiritual experience on your solo trip, this is one of the best places for you. Even if you have nothing to do with yoga and spirituality, Rishikesh should still be on your list because it offers various adventure sports like river rafting and bungee jumping.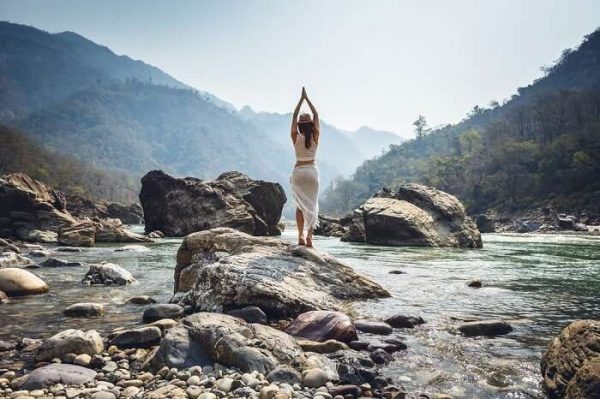 How to travel to Rishikesh:
Take a train from New Delhi to Haridwar and then take a sharing auto from Haridwar to Rishikesh. This is the most affordable option to travel. You can also take a direct Volvo bus to Rishikesh or a flight to Dehradun.
Where to stay in Rishikesh:
You can stay in hostels, ashrams, or homestays. If you're confident about it, try Couchsurfing, a service that connects members to a global community of travellers.
What to do in Rishikesh:
Witness the magic of Ganga Aarti at Triveni Ghat. Join a yoga retreat. Sit on the ghats and introspect. You can also enjoy camping, river rafting, and bungee jumping here. River rafting, one of the most popular sports here, will cost you around ₹700 per person.
4. Varanasi
If street food and strolling around an ancient city is your jam, you need to check out Varanasi. The old city has this charm that will make you feel everything all at once. Everything about Varanasi, besides death, seems like a fleeting moment. So many people, so many stories, and so many emotions!
How to get to Varanasi:
Take an overnight train from New Delhi to Varanasi. You can also take a Volvo bus. The cost of a train ticket should be anywhere around ₹1,000-₹1,200.
Where to stay in Varanasi:
You can choose either a guesthouse or a hostel. Just make sure it's close to the ghats as it will be easier for you to explore. Some of the hostels you can check out are Go Stops, Chatterbox, and Wander Station.
What to do in Varanasi:
Explore the ghats of Varanasi, roam the narrow lanes of the city, and witness the most wholesome sunset while boating. The boating should cost you around ₹1,500 for a couple of hours. You can also share the boat with fellow travellers. Also, don't forget to indulge in some mouth-watering Kachori Sabzi at Ram Bhandar, Tamatar Chaat at Deena Chaat Bhandar, and Malaiyyo at Neelkanth and Kachori Gali.
5. Kasol
If trekking is something you enjoy, Kasol is the place you should visit. It is one of the best places for solo travel in India. Situated 23 km from Bhuntar, Kasol is the best escape from the hustle and bustle of a city. It has beautiful trekking trails and scenic views. And if sipping chai on a cold winter day in the mountains is something that you enjoy, book your tickets now!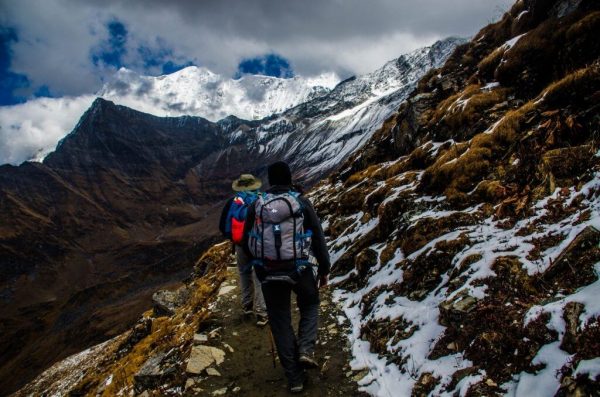 How to get to Kasol:
The best way to reach Kasol is to take an overnight Volvo bus from New Delhi to Kasol. The ticket will cost you around ₹1,000.
Where to stay in Kasol:
Nomads Hostel, Whoopers Hostel, and I Love Kasol Hostel are among some of the popular ones.
What to do in Kasol:
You can explore several trekking trails, from Kheerganga, Yanker Pass, Sar Pass, to Pin Parbati Pass. You can also do camping in Kheerganga if that is something that interests you. Lastly, don't forget to visit Stone Garden Cafe and Mama Cafe in Kasol.
Now that you know how many options you have, I hope you're getting your bags ready soon. The key to solo travel is the first step. It can be scary but it's so worth it. Stop procrastinating and start planning. Go book that bus ticket, reserve that hostel bed, and just leave.
Featured Image Source
Related: Things To Do In Jaipur: Bookmark This Guide To Make The Most Of Your Trip To The Pink City
Kashmir Travel Guide: The Best Things To Do And Places To Visit In Kashmir On A 7-Day Trip