Kashmir is literally paradise. We've been hearing this since we were kids but didn't quite believe it until we saw the breathtaking beauty of Kashmir. If you have a few days off coming up, or even a long weekend, Kashmir is a trip worth taking. There are so many places to visit in Kashmir that you will never want to leave this heaven. And it's not even difficult to get there. There are regular flights to Srinagar from all the major cities in India. From Srinagar, you can hire a cab to your next destination or book a car and driver to stay with you throughout the trip. We would recommend the latter for convenience. While a week is ideal, you can also go for shorter periods, like a long weekend, to bask in Kashmir's clean air.
Here's everything you need to know for a 7-day trip around Kashmir.
Take a flight or train to Srinagar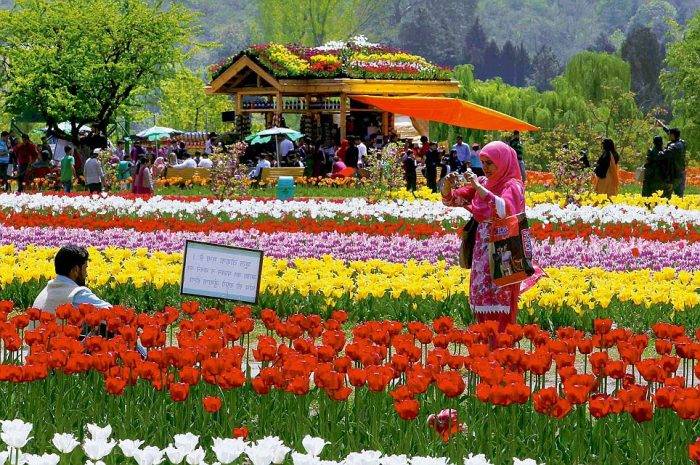 Image Source
Srinagar is a bustling city which has some of the best shopping and food in Kashmir. Stay here for two days before proceeding further into Kashmir.
Things to do in Srinagar:
1. Go shopping at Lal Chowk
One of the main things to look out for is pure, unadulterated, Kashmiri saffron. But don't buy it from just anywhere. There is a lot of fake and bad quality saffron in the market, so you should always buy it from the government-certified shops.
2. Eat like you've never eaten before 
One of the most famous restaurants in Srinagar, Ahdoos, offers a variety of authentic Kashmiri cuisine. Plan ahead for your meal here, because you'll want to eat everything. It's best to go absolutely famished.
Image Source
3. Get a Game of Thrones flashback at Winterfell Café
Located on Boulevard Road on the banks of the Dal Lake, this café is a delight for any GoT fans. As you can tell by the name, the café décor is inspired by Winterfell, the home of the Starks.
4. Visit the Hazratbal Shrine
This is one of the most popular places to visit in Kashmir. At first sight, the majesty of this shrine will leave you in awe. Considered Kashmir's holiest Muslim shrine, the Hazratbal Mosque is one of the most peaceful, divine places you will ever visit. It is very well known and easy to reach. Speak to the locals or a tour guide to know the best time to visit Hazratbal. Please be mindful of the fact that it is a place of worship, so dress in accordance with the rules there.
Image Source
5. Stroll around the gardens of Srinagar
If you go at the right time, you can see a large variety of flowers in these beautiful gardens, including tulips. If you want to see all the gardens, which we would recommend, keep at least 2-3 hours aside for this activity. You will also have to check each garden's timings to avoid missing out on any of them.
Where to stay in Srinagar:
Srinagar is one of those few cities where you have the option to stay on land or on water. Book a stay in a houseboat to enjoy a unique, typically Kashmiri experience. These houseboats may look small, but they have all the comforts of a hotel.
You can also splurge on a luxury hotel with a view of the Dal Lake. It will be worth it for the gorgeous, calming view of the lake from your room.
After your experience in Srinagar, hire a cab to take you to Gulmarg, about an hour's drive from Srinagar.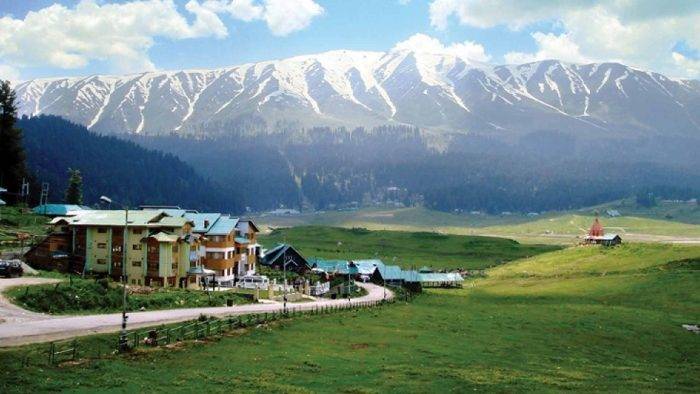 Image Source
Things to do in Gulmarg:
1. Take a steep cable car ride
In Gulmarg, you will be surrounded by gorgeous valleys and majestic peaks. You can take a cable car ride up to the mountains if the weather is conducive. There are two levels in this ride. The first level, which is lower, is generally open even in the winter. Here, you can go skiing and enjoy other snow-based sports easily. If you don't know how to ski, you can spend some time here and learn. The second level is the first to shut down in inclement weather. But if it's open when you're there, don't miss it. It's a steep ride from the first level but the view of the peaks at eye level and the feeling of being on top of the world is next to none.
2. Go on an ATV ride
When you get back from the cable car ride, you'll notice an array of ATVs waiting around. You can either go on a ride with an experienced rider or ride one yourself. You can also get a ride back to your hotel if you get caught in a snowstorm.
3. Take in the view
Don't forget to lie back and enjoy the view for a few hours. You'll see a white blanket of snow in the winter and endlessly green valleys in the summer. This place is spectacular, regardless of the time of the year. One of the most beautiful places to visit in Kashmir, the landscape in Gulmarg never disappoints.
Where to stay in Gulmarg:
Gulmarg is one place where we would urge you to splurge. Stay at The Khyber Himalayan Resort & Spa for the ultimate experience in luxury. The spa is known across the world and is considered one of the best in India. And for good reason too. They have an indoor, heated pool with glass all around so you can take a comforting dip and still relish the view outside. The hotel great food and even better views. Built to make the most of the surroundings, the view from your room and balcony will be heavenly.
Another popular luxury hotel in Gulmarg is Highlands Park. This place is known for its stunning views and location. An eclectic blend of modern amenities and old world charm, this is a really nice hotel to enjoy Gulmarg.
After two days in Gulmarg, carry on by road to Sonmarg
Image Source
Sonmarg is about three hours away from Gulmarg. But you won't really feel much of that drive since the views keep getting better and better as you get closer to Sonmarg. This isn't among the popular places to visit in Kashmir for tourists, so you will be away from the crowds here.
Things to do in Sonmarg:
1. Go to the Thajiwas Glacier
Imagine looking at a glacier from the main road of a town. That's what you'll experience in Sonmarg. While the glacier rests on one side of the road, on the other side, you can see a flurry of activity. There are several guides there who can take you up to the glacier. They will jostle a bit for your attention but don't worry, it's nothing to worry about.
2. Visit Zoji-La Pass
Zoji-La Pass is about 24 kms away from Sonmarg, on the road to Ladakh. It's the second highest pass in Kashmir and is absolutely stunning in its beauty.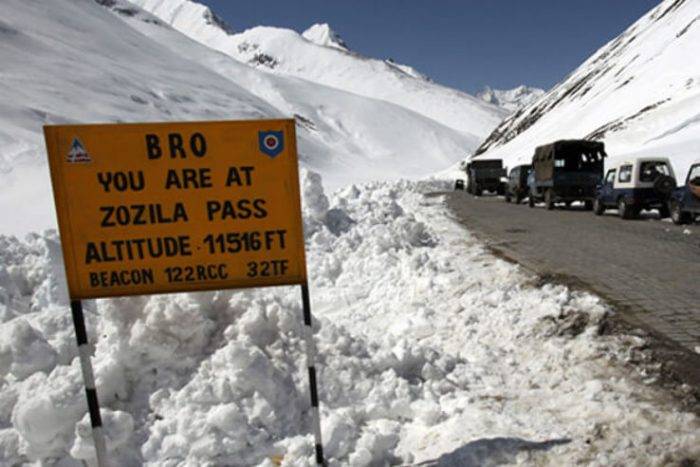 Image Source
3. Go to the Meadow of Jesus
Yusmarg, or 'the Meadow of Jesus' as its known, is only 2.5 hours away from Sonmarg. You can make a day trip out of it and spend hours lounging on the heavenly meadows. Surrounded by snowy peaks, these meadows are not crowded with tourists at any point. So, if it's peace and quiet you're after, this should definitely be at the top of your list of places to visit in Kashmir.
4. Explore the lakes
There are several lakes in and around Sonmarg, each as stunning as the others. On the last day of your trip, go around Sonmarg and explore these beautiful spots. It's an experience you will remember fondly when you're back in the noise and crowds of the city.
Image Source
Where to stay in Sonmarg:
If you want to stay close to the action, book a room at Hotel Snowland. This is the biggest hotel in Sonmarg right now so it is the most comfortable.
If it's a unique experience you're after, stay at a boutique hotel, near the river, like The Villa Himalaya. The rooms are cozy and the food is quite good. However, the sights and sounds gushing river right outside the room are what will win your heart.
After three days in Sonmarg, drive back to Srinagar for your flight or train back home. After a holiday like this, you're not going to like the city. But keep dreaming of going back to Kashmir and exploring more of its unmatched beauty.
For more travel guides, tips and hacks, click here.