Tulsi Virani aka Smriti Irani became a household name when she opened her doors for India back in 2000. From being the household bahu everyone loved to becoming a Union Minister, Smriti Irani has had a long journey. Irani got candid with Bani G. Anand in the first episode of AfterHours with All About Eve and spilled the beans about life on the sets of Kyunki Saas Bhi Kabhi Bahu Thi, her initiation into politics, life before fame, and much more.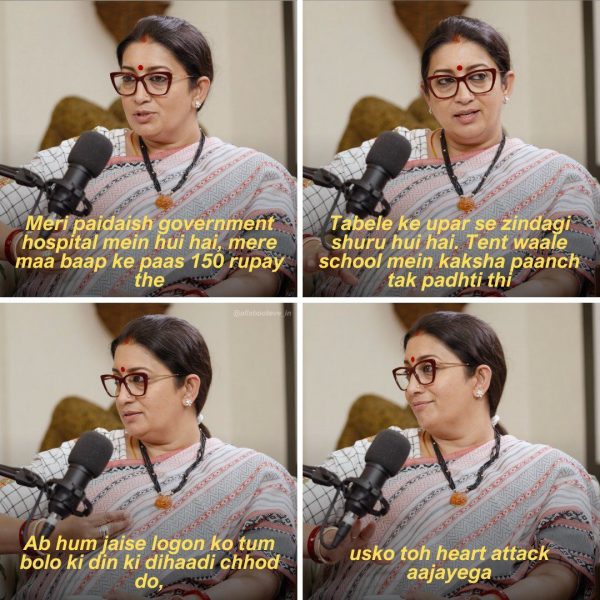 Did you know that Smriti Irani juggled two extremely demanding careers at the same time? Even when she was shooting for Kyunki Saas Bhi Kabhi Bahu Thi, Smriti Irani was active in politics and was arrested more than once at protests. And at one such protest in Mumbai, while Smriti Irani was in jail, she was rescued by the policemens' wives.
"Suddenly, I saw this whole bunch of women descend at the police station," Smriti Irani said. "I'm like, "Are these women here to protest against us?" They said, "No, no. They're the policemen's wives, shouting how can you arrest Tulsi?"…The women went on strike against the cops and the cops said that they'll keep the rest there but let this woman go…I was 45 minutes away from my shoot. So, I ran back to shoot one and a half hours late."
Can you imagine being shoved into jail on your lunch break and still making it back to work the same day?
This is the first episode of AfterHours with All About Eve, with many more to come.
To listen to the audio podcast on Spotify, click here. To listen to the podcast on Apple Podcasts, click here.
Stay tuned for many more captivating conversations at AfterHours.