Things might be going well when you are in your 20s, but as soon as 30 hits, things can go a little haywire with your skin. Frequent zits, dark spots, pigmentation, breakouts, clogged pores, and more can add to your skincare woes. And these problems can take years to fix. But hold on, this doesn't mean you apply every kind of product out there on your skin and cause more damage. To make sure your skin stays healthy in your 40s, 50s, and beyond, here is a simple, effective skincare routine you need to follow in your 30s. Don't worry, even though your skin starts to change and 30 sounds like a big deal, this routine will make sure your skin stays healthy and happy.
Related: Skincare Routine For 20s: 8 Essentials To Keep Your Skin Healthy & Glowing
1. Say bye to soapy cleansers and hi to more targeted ones
Even though you may love the soapy feeling of certain cleansers, they probably are not the best for your skincare routine in the 30s. As you grow up, you need to change some of your skincare products, starting with your cleanser. Switch to something that works for all skin types because that will clean your skin without stripping it of moisture. It does the job of cleaning, increasing cellular turnover, and keeps the pH of your skin balanced. So, throw away those soapy cleansers that were once your high school sweethearts.
2. Masks and peels are your new scrubs
Image Source
Exfoliation is a part of any good routine, especially for a skincare routine in your 20s. But that certainly does not mean doing scrubbing action thrice a week with harsh scrubs. The best way to exfoliate in your 30s is by using something gentle with salicylic, alpha, and/or beta hydroxy acids. These will naturally exfoliate your skin and remove dead skin cells. Start exfoliating once a week but don't go overboard.
3. Make space for multipurpose moisturisers on your shelf
Okay, simple fact — even if you have an oily skin type, it doesn't mean you are hydrated and don't need a moisturiser. Everyone needs a healthy dose of moisturiser to keep the pH levels of the skin balanced. But in your 30s, you need a moisturiser that does a bit more than just hydrating your skin. Try multipurpose moisturisers that also tend to other skin concerns like acne or pigmentation. And a little oil-based cleanser goes a long way in helping maintain the moisture of the skin, so don't skip it.
4. A mineral sunscreen is a must-have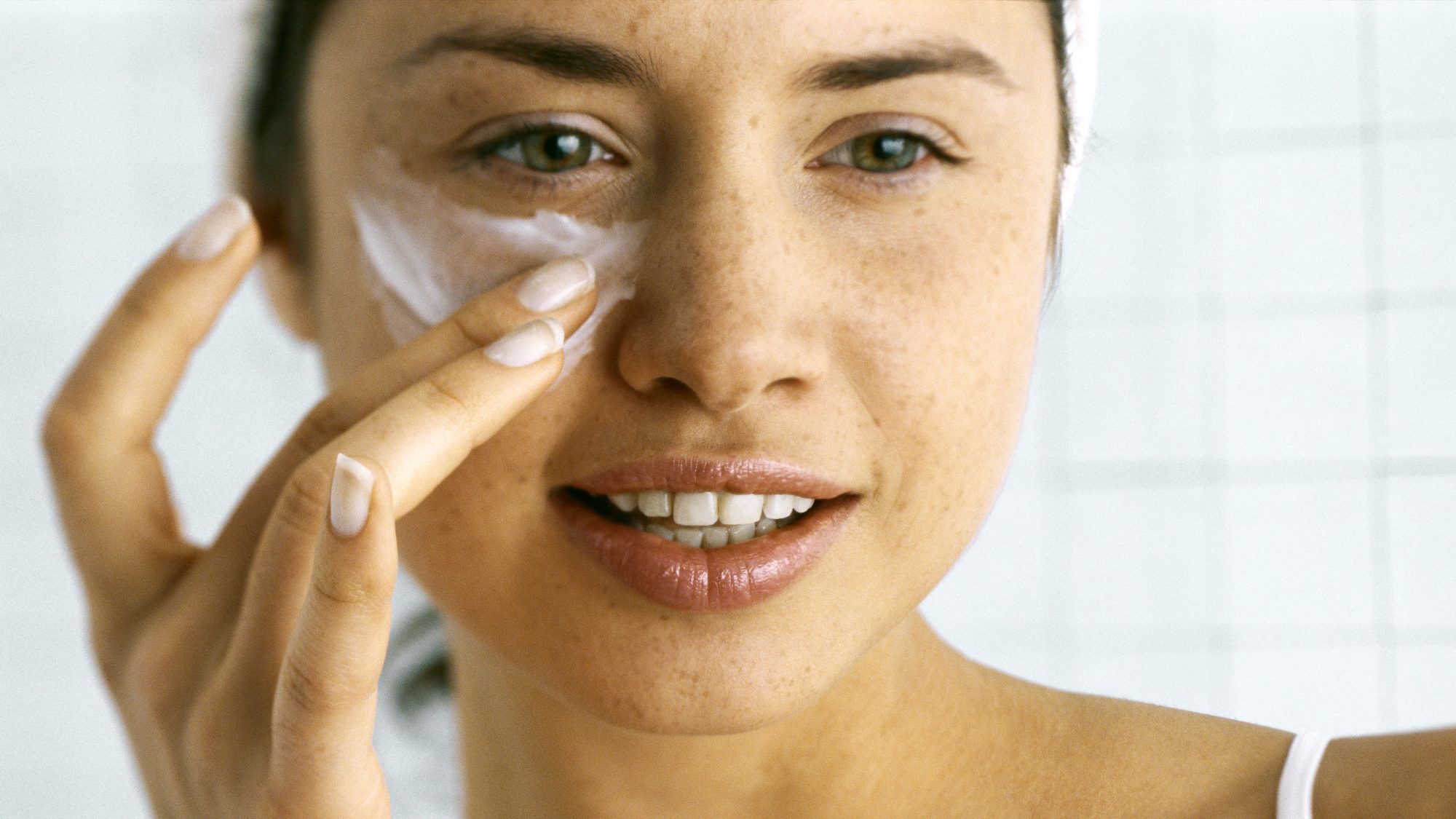 Image Source
If you think you can't stand sunscreen on your skin all day long, wait till you start seeing some serious sun damage on your skin. Wearing the right kind of sunscreen that suits your skin is essential because, in the 30s, your skin needs more protection and care. Shifting to mineral-based sunscreens will help in protecting your skin from the harsh UV rays and potential sunburns. Slap on a layer and stop cribbing about how it feels.
Related: Don't Skip That SPF Even At Home: Check Out Team AAE's Favourite Sunscreens
5. Retinol should be top priority
Retinols can be tricky and confusing, but they are the real shining stars of skincare. From acne, pigmentation, unwanted marks, and more, they help in clearing up the skin and maintaining a youthful glow on your face. That is why it is important to add some retinol products to your skincare routine for the 30s. A little vitamin A will go a long way in boosting cell regeneration and reducing premature signs of ageing. Remember, when you're using retinol-based products, you must apply sunscreen during the day, whether you're at home or outdoors.
Related: Best Retinol Products In India: Creams And Serums To Try In Your Skincare Routine
6. Adult acne is the harsh reality of life
Image Source
You may think that once you are past your teens, you will get rid of those pesky pimples. Well, we hate to burst your bubble, but adult acne is the harsh reality of life. And if you are lucky enough to not have any, don't go around showing off, that's really rude. But if you do get adult acne, you need to deal with it more gently now than ever because these ones can leave some long-lasting scars. Don't pop your zits, and don't be afraid to call up your dermat for some professional advice.
7. Use acne cleansers and spot treatment before your monthly ordeal
Periods can cause acne flare-ups for many women, sometimes even without them knowing about it. Hormonal imbalance is a major cause of adult acne and needs to be addressed. Switch to acne specific cleansers right before your menstruation cycle starts to help in acne prevention. You should always have some spot treatment handy and use it regularly or as prescribed by your dermatologist.
8. Brownie points for using antioxidants
Image Source
Products with vitamin C, ferulic acid, and green tea are great antioxidants. Having at least one product with antioxidants is going to benefit your skin. This will also help the skin fight damage caused by pollution, stress, and UV rays. Also, it will help in giving your skin a bright and even texture and keep skin issues at bay.
Related: Korean Skincare Routine: How To Get 'Glass Skin' In 10 Easy Steps
9. Eye creams should not be optional anymore
You may start noticing visible changes in your skin as you hit your 30s, especially around your eyes. And since the area under and around the eyes is super thin, it needs extra care. That is why using an eye cream should not be optional anymore. Using a good eye cream as a regular part of your day and nighttime routine will help in keeping the area nourished and prevent premature wrinkles and fine lines.
10. Neck creams can be real game-changers
Your neck is the most ignored part of your whole body as no one really invests much time in dabbing some skincare products on it. But what you must know is that your neck is one of the most exposed parts of your body and comes in contact with continuous sun exposure and harsh rays. Neck creams change the skin texture, firm it up, and reduce discoloration. So, add a neck cream to your skincare arsenal.
Feature Image Source
Related: Supplements For Women's Health: What You Need After 30, According To An Expert