From pandal-hopping to celebrations and fun, the 5-day Durga Puja festival will start on October 1 and end on Dussehra on October 5. One of the more interesting parts of Vijayadashami, practised by Bengali women, is Sindoor Khela or playing with vermillion. But what exactly is Sindoor Khela and why is it practised?
Related: 7 Must-Visit Places In Delhi NCR To Bookmark For Durga Puja This Year
What is Sindoor Khela?
Sindoor Khela literally translates to playing with vermillion powder. It is an age-old Bengali tradition wherein married women adorn the forehead and feet of Goddess Durga with sindoor. This is followed by the married women applying sindoor on each other's forehead, shankha, pola, and noa – the three bangles all married Bengali women wear that are made of conch shells, coral, and iron respectively. Women apply sindoor on each other and dance to the beats of the 'Dhaki' drummers.
Sindoor Khela takes place on the tenth day of Navratri, Dussehra. It's the day when you bid adieu to Goddess Durga. Women wear white sarees with a red border and start the day by performing 'Devi Baran', a ritual meant to bid farewell to Goddess Durga followed by aarti. Post this, sindoor is applied to the forehead and feet of the goddess and she is given an offering of sweets. Goddess Durga is immersed in water in a ritual called the 'ghat visarjan' marking the end of the festivities. Sindoor Khela takes place after the 'ghat visarjan' as a way to encourage warmth and amiability amongst the womenfolk.
Why is Sindoor Khela celebrated?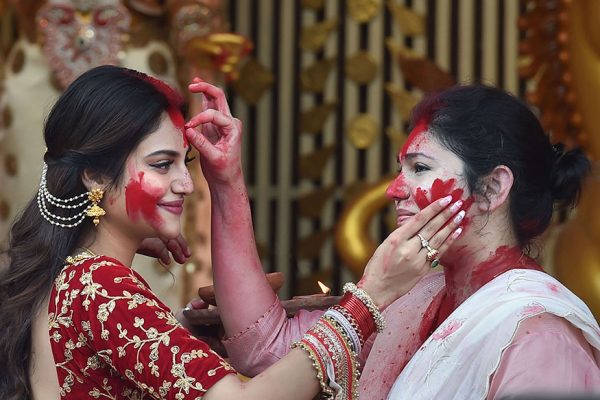 The exact origins of Sindoor Khela are unknown. While some believe the ritual was started some 200 years ago by the zamindars, others believe the tradition is as old as Durga Puja. The practice has its roots in the patriarchal belief that by playing with vermillion, women won't ever be widowed. Devotees staunchly believed that by participating in this ritual, they could ensure the longevity of their husbands' lives and live happy and long married lives.
The ritual only involved married women and any unmarried, divorced, or widowed women were barred from participating in Sindoor Khela. This was also the biggest criticism against the tradition. Recent times have seen the ritual becoming more inclusive with all women, irrespective of their marital status, being invited to participate in the celebrations.
Featured Image Source
Related: Reclaim Your Traditions: 7 Ways To Give Karwa Chauth A Twist Of Equality This Year