We're living in what can best be described as dystopian times. Pandemic induced fear is paramount and resources are scattered and scarce. However, amidst the grim chaos, many cases continue to be asymptomatic or mild and are largely manageable at home. That being said, one must remain vigilant and responsible at all times. There are certain dos and don'ts to home care, and one must ensure optimal arrangements for essentials. We've put together a self-isolation checklist for you to refer to in case you or a loved one has tested positive and is isolated at home.
1. Food and medicines
Prescription medicines and supplements: Keep in touch with your doctor and make sure you have all the required medicines and supplements while isolating. Take help from a friend, family member or acquaintance if you need to restock.
Image Source
Drinking water: Optimum hydration is important and can help boost your body's ability to fight the virus. High fevers causes one to lose a significant amount of water through sweat. Drinking sufficient amounts of water will help oxygenate your cells and regulate your body temperature.
Meals: Numerous individuals and food joints have started tiffin delivery services for Covid patients who are isolated at home. If you're too unwell to cook for yourself, you can sign up for one of these and get fresh meals delivered to your doorstep.
Snacks: Keep some healthy and nutritious snacks such as nuts, dry fruits and seed mixes around. Munch on these if you feel hungry between meals.
2. Monitoring equipment
Oximeter: Having an oximeter to regularly monitor your oxygen saturation levels is extremely crucial right now. Your SpO2 readings are what will give you a clear indication of whether or not you should be alarmed. Start tracking and noting these values on a regular basis as soon as you test positive. This is the first item you should be checking off in your self-isolation checklist.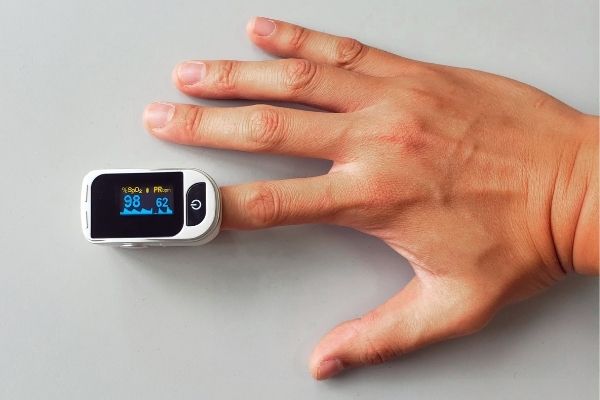 Image Source 
Thermometer: A functional thermometer is another must-have. Though an infrared thermometer is ideal if the patient is isolated from others in the house, even a regular one works. Like oxygen levels, it is advised to keep a regular check on temperature values.
3. Self-care essentials
Steam inhaler: According to studies, consistent and methodical steam inhalation helps decrease the viral load in patients with mild symptoms. If you can, it would be a good idea to purchase a good quality steam inhaler to use for this purpose. However, if a steamer is unavailable at the time, the traditional patila and towel method works just as well.
Image Source
Electric kettle: Though not an absolute essential, an electric kettle can be used to heat water to prepare teas, kadhas and other warm concoctions. These can help with hydration, soothing a sore throat and even boost your immunity to some extent. We highly recommend this addition to your self-isolation checklist.
Related: Here's Everything You Need To Know About The Protective 'Double Masking' Technique
4. Cleaning and hygiene
Cleaning supplies: Even in the best-case scenario, you'll be isolating for 14 days, and things are bound to get dusty. Keep some basic cleaning supplies such as a broom, dustpan and dusting cloth around you. Don't force yourself to clean up if you're not up to it. But if you're someone who uses decluttering as a means to soothe stress levels, this should help.
Clean clothes: Having sufficient clean clothes will save you the trouble of having to wash your clothes manually, especially if access to your laundry machine is restricted.
Disinfectant and hand wash: This goes without saying but keep a quality disinfectant and hand wash with you at all times. Though studies are now saying that the risk of transmission through surfaces is relatively low, why take that chance, right? Routinely disinfect your door handle and surfaces that others around the house may be in contact with.
Image Source
Fresh Masks: In the event that you may need to step out to visit your doctor or otherwise, you must have fresh masks at hand. As someone who's tested positive, it is your responsibility to protect those around you.
Disposable cutlery: In isolation, you'll be required to wash your utensils yourself. If you are not feeling well enough to do so, you can add disposable cutlery to your self-isolation checklist.
Garbage bags: You want to be able to responsibly dispose off all potentially infected materials once you're done isolating. A couple of garbage bags will go a long way in ensuring you don't have to clean up elaborate messes. They also make segregation easier and if done right can limit the exposure of sanitation workers as well.
5. Communication and entertainment
Phone, charger and internet connectivity: This may sound trivial and obvious at the moment but access to these three is crucial. Being isolated for long periods can take a toll on your mental health, which in turn can cause stress and slow down the speed of recovery. Your phone will help you stay in touch with your doctor and connect you to your family, friends and therapist.
Image Source
Moreover, a smartphone will also let you access and procure necessary resources and give you some options for entertainment.
Related: Get The Help You Need: 5 Platforms That Help You Find Psychologists And Mental Health Resources
A methodical and informed approach to home care is crucial and can prove to be extremely beneficial at a time when hospitals are operating well beyond capacity. And while our self-isolation checklist isn't exhaustive in itself, we hope that it will serve as a reminder of the basics if you need to isolate yourself or a loved one.
Feature Image Source