Lohri is here, peeps, marking the beginning of the festival season. You may be locked up inside the house all thanks to Covid and its multiple variants. But that is no reason to not enjoy some delicious food. If you are living alone, you can make a dish or two to celebrate Lohri. And if you live with your family, grab the troops and get cooking. Here are some delicious and easy recipes for Lohri.
Related: Make It A Party: Here's How Lohri Celebrations For One Can Still Be Fun
1. Sarson ka saag
This finger-licking Punjabi staple has to be a part of Lohri celebrations.
Ingredients:
500 gms mustard leaves
200 gms spinach leaves
200 gms bathua leaves
7-8 garlic cloves
1 tsp chopped ginger
2 large onions
2 large tomatoes
3-4 green chillies
2 tbsp ghee
1 tsp red chilli powder
1 tsp garam masala
Salt to taste
1 tbsp unrefined cornflour
5 cups of water
Method:
Blanch the spinach and bathua leaves in five cups of boiling water. Remove excess water and blend to a coarse paste. Finely chop the mustard leaves and pressure cook in one cup of water till mushy. Heat ghee in a pan and add finely chopped onion. Saute in medium heat till the onions are golden brown. Then add finely chopped ginger and garlic and saute for 30 seconds. Add red chilli powder and garam masala powder and mix them well for 30 seconds. Add finely chopped tomatoes and salt and cook on medium flame till the oil separates. Once that is done, add the spinach and bathua paste, mushy mustard leaves, slit green chillies and mix well. Simmer for 15 minutes on low heat. Continue to mash the mix while cooking. Add a quarter cup makke ka atta to the saag and mix well. Allow it to simmer for 10 minutes. Once it's done, add some white butter and serve hot.
2. Makki ki roti
When sarson ka saag is here, how can makki ki roti be far behind?
Ingredients:
3 cups makki ka atta
1/2 tsp salt
1 tsp ajjwain (optional)
Lukewarm water as required
Oil
Butter
Method:
Take 3 cups of makki ka atta in a big bowl. Add salt and a little oil to the atta. You can add some ajjwain to the mix as well. Gradually add water and knead into a smooth dough. Cover the dough and keep it aside for 10 minutes. Divide the dough into small balls and roll them out. Cook the rotis on a tawa on medium heat till properly cooked. Once cooked, take it off the tawa, spread some ghee and serve hot with sarson ka saag.
Sarson ka saag with makke ki roti is a must-have recipe for Lohri.
3. Murmura laddoo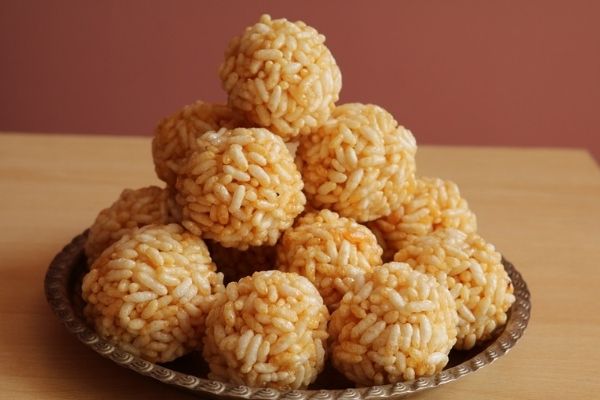 Ingredients:
2 cups of puffed rice or murmura
1/2 cup jaggery
1 and 1/2 tsp ghee
Method:
In a kadhai, dry roast the puffed rice till it turns crispy. Once it's done, transfer to a plate. Wipe the kadhai with a dry cloth or tissue. Add ghee to the vessel and add jaggery. Stir continuously while keeping the flame low till the jaggery melts. Add in the roasted murmura and mix well. Grease your palms with a little oil and make laddoos while the mixture is warm. Set it aside to rest for an hour. Then, transfer into an airtight container and enjoy as you feel like it.
4. Til ki barfi
Ingredients:
1 cup til (sesame seeds)
1 and 1/2 cup khoya
3 tbsp sugar
2 tsp ghee
Method:
Dry roast sesame seeds on a pan on low flame till they turn brown. Transfer to a plate once done. Let it cool. Dry roast khoya till the rawness is gone. Then, transfer to another plate. In the same pan, add ghee and khoya. Mix well. Add the roasted sesame seeds and sugar. For a healthier alternative, you can replace sugar with jaggery. Combine the mixture well till it becomes solid. Keep the flame low and cook till the mixture is dense. Transfer the mix to a greased plate and allow it to set for 3-4 hours. Once done, cut into squares and serve. Store the rest in an airtight container.
5. Gur ki gajak
Ingredients:
4 cup raw peanuts
500 gms jaggery
6 tbsp ghee
Method:
Roast the peanuts in a little bit of ghee. In a pan, add some ghee and jaggery and cook on low flame. Cook till the jaggery melts completely. Keep the flame low, add the roasted peanuts and mix well. On a flat surface, spread a foil sheer and grease it with ghee. Transfer the peanut and jaggery mix onto the sheet and spread evenly. Leave it aside for a few hours and let it cool completely. Once cooled, it can be broken off into pieces and enjoyed.
Have a happy Lohri with these delicious recipes!
Featured Image Source
Related: How To Use Leftover Wine: Savour Every Last Drop With These Delicious Recipes