Got some leftover wine from a dinner party that might be close to getting spoiled? Well, we hate to waste a good bottle of wine and we know you do too! So, we looked around and found some delicious white and red wine recipes to savour every last drop from the bottle. Put on your apron and get your mittens because it is wine o'clock!
1. White wine mushroom bruschetta with halloumi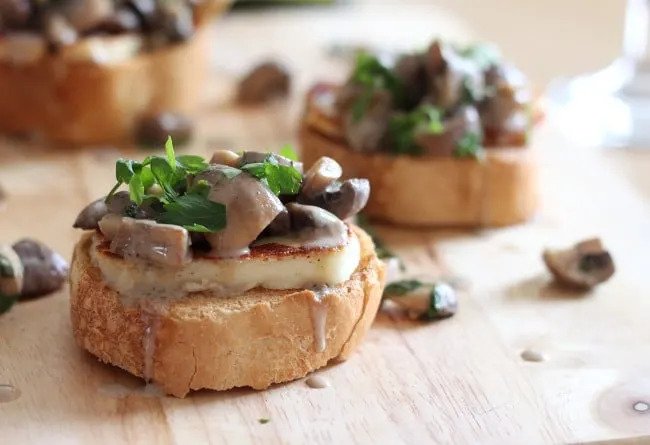 Ingredients:
1 tbsp olive oil
350 grams mushrooms, diced
2 cloves garlic minced
200 grams halloumi, cut into 1/2 cm slices
One inch small baguette, cut into around 9 x 1 slices
100 ml chardonnay
50 ml single cream
3 tbsp fresh parsley chopped
Salt
Black pepper
Method:
Start by heating the olive oil in a frying pan. To this, add mushrooms and garlic, and cook over low heat for 5 minutes, until the mushrooms are soft. Add the white wine, bring it to a gentle simmer, and then cook for another 5 minutes, until there isn't too much excess liquid left. While the mushrooms are cooking, put the slices of halloumi in a single layer in a separate frying pan and place the pan over medium heat. Cook for around 5 minutes till the halloumi releases some liquid. Once the liquid has cooked off, the cheese will begin to brown. When the underside is nice and golden, flip the halloumi slices over and repeat with the other side.
Place the baguette slices on a baking tray and grill for a couple of minutes on each side, until golden brown and crispy. When the white wine has cooked, add the cream and cook for a couple of more minutes until the sauce thickens. Add the fresh parsley, and season with a touch of salt and black pepper.
To plate the bruschetta, add a slice of halloumi to each piece of baguette and top with the mushroom mixture and extra fresh parsley.
Serve hot and enjoy!
2. Lemon pepper wine-braised baby broccoli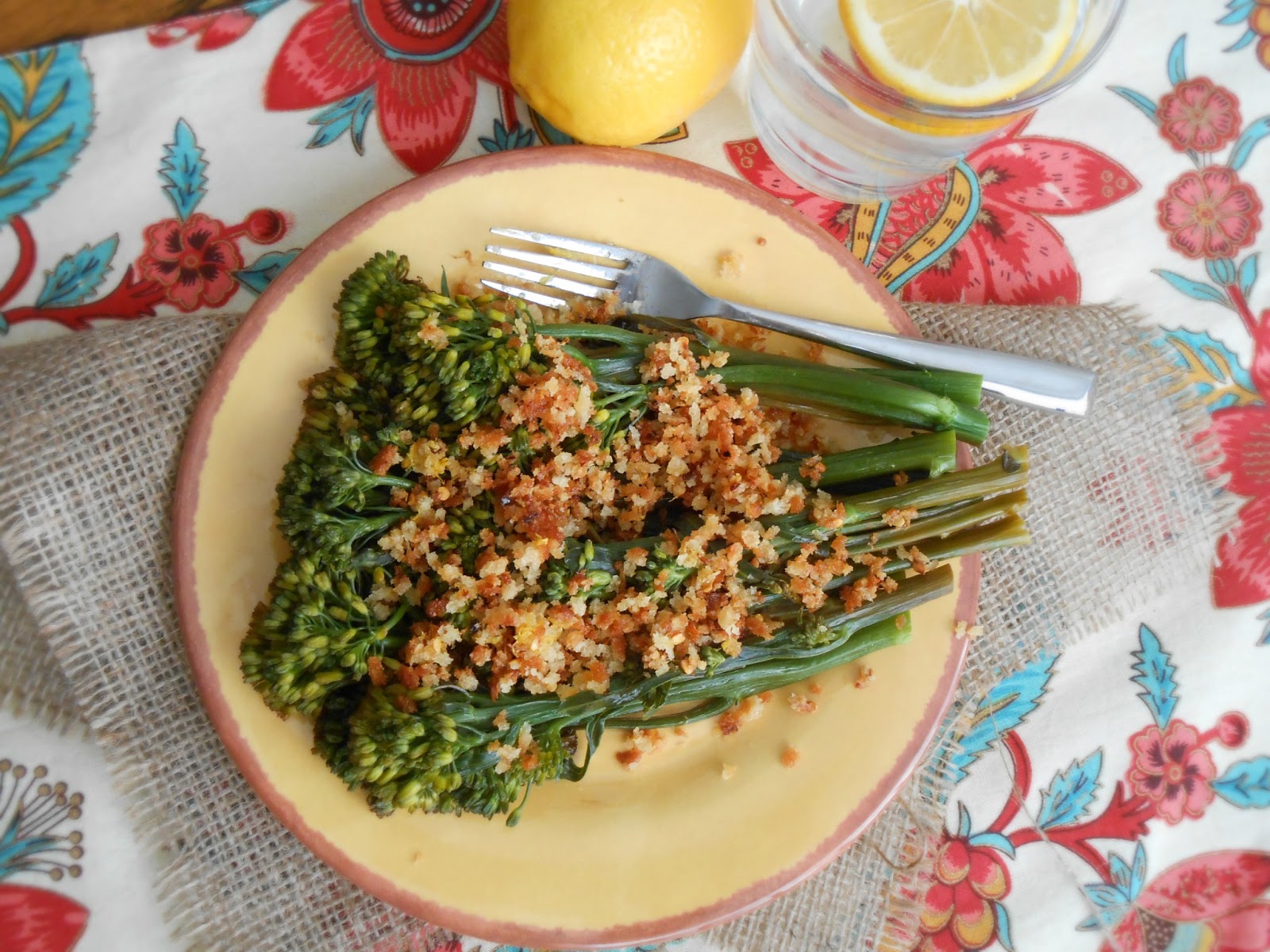 Ingredients: 
1 bunch baby broccoli
1/2 cup white wine of choice
1/2 lemon juice + zest
2 tbsp butter
1/2 cup bread crumbs
1/4 tsp red pepper flakes
Method:
Put broccoli, wine, and lemon juice in a large nonstick skillet over medium-high heat. Cover the skillet and allow to cook until the wine is mostly absorbed, for about 7-10 minutes. Don't uncover the skillet too often because letting the steam escape will make the broccoli cook slower. Meanwhile, place another small skillet over medium heat and add butter to it. Once melted, add the bread crumbs, lemon zest, and pepper flakes. Stir occasionally until the bread crumbs have browned and sprinkle them over the broccoli before serving this quick and easy wine recipe.
3. Burgundy pears
Ingredients:
6 medium ripe pears
1/3 cup sugar
1/3 cup Burgundy wine
3 tbsp orange marmalade
1 tbsp lemon juice
1/4 tsp ground cinnamon
1/4 tsp ground nutmeg
A dash of salt
Vanilla ice cream
Method:
Start by peeling the pears and leaving stems intact. Core from the bottom and place them in a standing position upright in a 5 qt. slow cooker. Next, in a small bowl, combine the sugar, wine, marmalade, lemon juice, cinnamon, nutmeg, and salt, and carefully pour over pears. Once done, cover and cook it on a low flame for about 3-4 hours or until tender. When you're ready to serve this delicious wine recipe, drizzle the pears with sauce and garnish with vanilla ice cream.
4. Angel hair pasta with lemon, garlic, and tomatoes
Ingredients:
500 grams angel hair pasta
1/2 cup fresh basil, chopped
1/2 cup parmesan cheese, freshly grated
2 tbsp extra virgin olive oil
4-8 garlic cloves, finely minced
1/4 cup dry white wine
1/2 cup fresh lemon juice
2 and 1/2 cups ripe tomatoes, seeded and diced medium
1 tsp coarse salt
Freshly ground black pepper (to taste)
Method:
Start by cooking the pasta in salted water with a dash of oil. Place it in a large serving bowl, add the basil and parmesan cheese, and toss to mix. While the pasta is cooking, heat the olive oil in a large skillet and saute the garlic for a minute or so until it begins to change colour. To this, add the wine and cook until it has been reduced by half for 2-4 minutes. Stir in the lemon juice and tomatoes and take the sauce off the heat. Pour lemon-tomato sauce over the pasta mixture, add salt and pepper to taste, and toss to mix. Serve with extra parmesan on the side for additional joy.
5. Chicken piccata with lemon sauce
Ingredients:
8 boneless skinless chicken breast halves
1 egg
2 tbsp plus 1/4 cup dry white wine or chicken broth, divided
5 tbsp lemon juice, divided
3 garlic cloves, minced
1/8 tsp hot pepper sauce
1/2 cup all-purpose flour (maida)
1/2 cup grated parmesan cheese
1/4 cup minced fresh parsley
1/2 tsp salt
3 tsp olive oil, divided
2 tbsp butter
Method:
Flatten chicken to 1/4-inch thickness, and in a shallow dish, combine the egg, 2 tbsp wine, 2 tbsp lemon juice, garlic, and hot pepper sauce. In another shallow dish, combine the flour, parmesan cheese, parsley, and salt. Coat chicken with flour mixture, dip in egg mixture and then coat again with flour mixture. In another large nonstick skillet, brown 4 chicken breast halves in 1 and 1/2 tsp oil for 3-5 minutes on each side or until juices run clear. Make sure to drain them nicely and keep them warm till the sauce is ready. In the same pan, melt butter and add the remaining wine and lemon juice and bring it to a boil. Boil uncovered until the sauce is reduced by a fourth and drizzle over chicken before serving.
6. Drunken pasta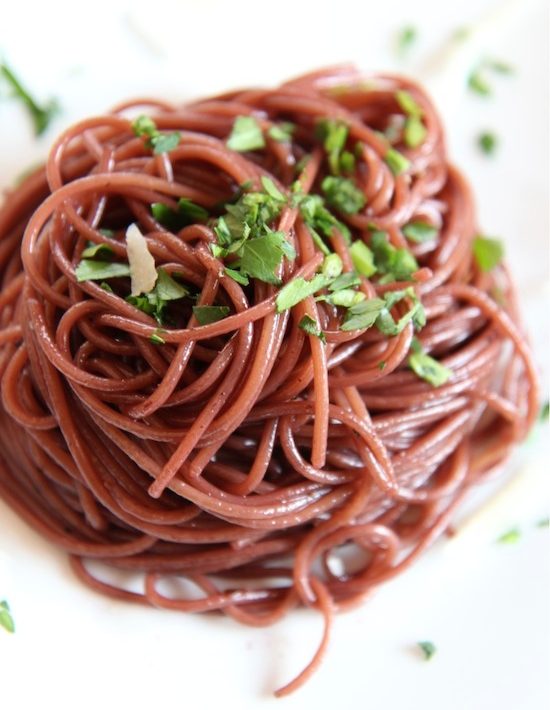 Ingredients:
1 tbsp extra virgin olive oil
1 large garlic clove, cut into 3 pieces
1/2 tsp red hot chilli pepper
1 and 1/2 cups red wine
250 grams spaghetti
A pinch of salt
1/2 cup freshly grated Parmesan cheese
1 tbsp chopped fresh parsley
Method:
Bring a large pot of well-salted water to a boil. In a large skillet, heat oil, garlic, and chilli pepper on low heat. Gently cook for about 5 minutes, being careful not to let the garlic burn. Next, remove the garlic and add the red wine and increase the heat to medium. Add pasta to boiling water and cook for only about 3 minutes. Drain well and add the pasta to the skillet until the wine is absorbed and pasta is cooked for about 2 more minutes. Check the pasta and adjust the taste. Toss with the cheese and parsley and serve this delicious red wine pasta recipe.
7. Spring green risotto
Ingredients:
1 litre vegetable stock
1 to 1 and 1/2 cups water
2 cups sliced fresh mushrooms
1 tbsp olive oil
1 medium onion, chopped
2 garlic cloves, minced
1 and 1/2 cups uncooked arborio rice
1/2 cup white wine or additional vegetable stock
1 tsp dried thyme
3 cups fresh baby spinach
1 cup frozen peas
3 tbsp grated Parmesan cheese
1 tbsp red wine vinegar
1/2 tsp salt
1/4 tsp pepper
Method:
Take a large saucepan, bring stock and water to a simmer, and keep it hot. Then, in a Dutch oven, heat oil over medium-high heat. To this, add mushrooms and onion, cook and stir for about 5-7 minutes or until tender. Add rice and garlic and stir for about 1-2 minutes or until rice is coated. Next, stir in wine ad thyme, reduce the heat to maintain a simmer, and cook while stirring until the wine is absorbed. Add hot stock mixture, 1/2 cup at a time, cooking and stirring after each addition until the stock has been absorbed, and continue until the rice is tender but firm to bite and the mixture is creamy. Lastly, stir in spinach, peas, cheese, vinegar, salt, and pepper, and heat through. Serve immediately.
8. Red wine chocolate cake
Ingredients:
1 and 1/2 cups whole wheat flour
1/3 cup unsweetened cocoa powder
1 tsp baking soda
3/4 cup unrefined cane sugar
1/2 tsp salt
1 tsp vanilla powder
5 tbsp extra virgin olive oil
1/4 cup strawberry jam
1 cup red wine
Method:
Start by preheating the oven to 150 degrees celsius. Then, take a bowl and combine all the dry ingredients in it. In a separate small bowl, combine the red wine, strawberry jam, and olive oil together. Next, pour the wet ingredients over dry ingredients and stir to combine well. Pour the batter into a round pan which is greased with olive oil and dusted with cocoa flour. Bake for about 45-50 minutes or until the toothpick inserted in the centre comes out clean. Once done, let the cake cool well on a wire rack before you cut it and enjoy this delicious red wine recipe.
Related: Christmas Recipes For Sweet Treats To Bring In A Little Holiday Cheer