India has been experiencing the devastating effects of the second wave of the pandemic for two months now. And most of the recent infections have been caused by mutated strains of the virus. These mutations have given rise to newer symptoms and resulted in an increase in the number of people experiencing post-Covid recovery effects. Given the nature of the disease, every individual's experience is vastly different from the others.
We spoke to six people between the ages of 20-45 who have recently recovered from the wretched virus. Amongst them, while Aakash and Malini had mild Covid, Niharika, Sukriti and Vidhi suffered from moderate symptoms. However, 27-year-old Mihir had severe Covid-19 and had to be hospitalised.
Here's what they had to say about their experiences, during and post-recovery.
Complete recovery can take more than a month, even in mild-moderate cases
Though most people who contract Covid-19 don't experience severe symptoms, the time taken to make a complete recovery isn't definite.
For 23-year-old Niharika, it took over 25 days for the symptoms to disappear.
"I started feeling better after about 10 days since I first started showing symptoms. However, some symptoms lingered on and it took a while for my family to regain our energies. Right now, it's been around a month since we recovered."
Meanwhile, 36-year-old Sukriti says that her recovery is still in progress after a month.
"It's been a month now, and recovery is still ongoing. My doctor says energy levels can take months to come back to normal. From working out fairly rigorously three times a week, now I'm exhausted after a 30-minute walk (not brisk)."
For Vidhi, the recovery period was relatively brief at just 10 days.
Image Source 
For Aakash and Malini, experiencing milder symptoms was not a guarantee for a quick recovery either. While it took about 18 days for Aakash to feel fine, Malini has been dealing with her symptoms for more than a month. According to Mayo Clinic, it is not uncommon to see people with milder forms of the disease suffer from long-term symptoms.
Mihir, on the other hand, had a vastly different experience with recovery.
"I didn't have severe symptoms for the first few days but on my sixth day of isolation, I started feeling breathless. My oxygen reading came out to be 75 and I was rushed to a hospital. Luckily, my brother was able to secure a bed with a private hospital and I was admitted for eight days. Even after being discharged, I was immensely weak and bedridden for a while. I started feeling better around two weeks after my discharge. It's been a month and a half since then and I'd say I'm still recovering. The doctor had warned me of the post-recovery side effects, and said that these could be due to the inactive viral load or even from the medicines that I took."
Related: Feeling A Little Under The Weather? Try These Homemade Immunity Boosting Drinks To Fight It Off
Post-Covid recovery effects aren't necessarily the same as Covid-19 symptoms
When it comes to Covid-19, recovery isn't always linear or uniform, and it isn't unusual for new side effects to show up even after testing negative. That being said, post-Covid fatigue seems to be consistent across all ages.
Sukriti has been experiencing a combination of persisting symptoms and less serious side effects.
"Since the time I was infected, I have felt pressure in my chest and a lump in my throat randomly. Sometimes, when I take a deep breath, my lungs hurt. I don't know how to explain how I know this but I know for a fact that my lungs hurt. There's also fatigue, brain fog, and difficulty in concentrating on simple tasks. These seem to be getting better with time though. But the other day, I told my husband very enthusiastically, 'We have popcorn in the fridge'. I meant kitchen."
Image Source
Some people like Aakash are also experiencing gastrointestinal side effects.
"During Covid, I had heartburn and acidity, which has now converted to constipation. And I still have some weakness and a sore throat."
Meanwhile, Vidhi, who had experienced immense chest pain during her tryst with Covid-19, now gets random bouts of breathlessness. Niharika has also been dealing with some breathing difficulties, along with a shift in her sense of taste. According to her, the latter only developed post-recovery. "Coffee just tastes like bitter water at this point, and salt is just… too salty," says Niharika.
For Malini and Mihir, though recovery is still ongoing, the symptoms have become milder over time. According to Malini, while the fevers and fatigue come and go, the low levels of energy and headaches are consistent.
"I feel like I need to take more breaks during the day just to refill my energy levels with glucose and stuff."
Isolation is hard and can take a toll on one's mental health
Anyone who's been through Covid will relate to how harsh and demotivating the mandatory period of isolation can be. In addition to being sick and away from your loved ones, there's also a looming fear of having to deal with the worst possible outcomes. In fact, this anxiety and paranoia tend to stick around post-recovery as well.
Niharika says that she was at her lowest during isolation.
"My parents were in the hospital for a week. And I was sick and quarantined at home alone. Though I had amazing neighbours and relatives helping me out, it was still extremely scary. Hearing about deaths amongst our friends and family became insanely triggering. It's been over a month since we've recovered, and we haven't stepped out one bit. In fact, we're yet to let my sister move back into the house. It's been terrible but we're grateful for our recovery."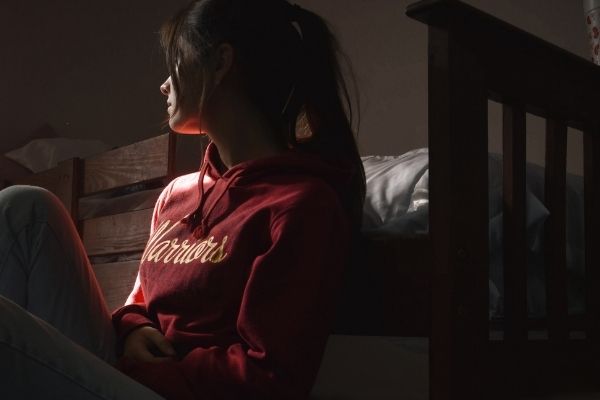 Image Source
For Aakash, isolation was doable for the first few days but got worse afterwards.
"I used to get paranoid every time I got new symptoms. In those moments, I just wanted to end the isolation. But the whole time, I was more concerned about my family than myself and continued to isolate myself for a while after receiving my negative report as well. Since getting infected, I've become more scared about Covid than before. Also, my parents are more concerned and scared of the possible post-Covid recovery effects. They worry that something might go wrong with my health still."
Like Aakash, Vidhi too struggled with wanting to break out of isolation at her sickest.
"Isolation posed the dilemma of not wanting anybody near for the fear of them getting affected and also wanting to really hug someone and hear it's going to be alright. It was the worst. Now I've become more anxious about the health of those around me. I'm paranoid about what could or could not happen if somebody close to me gets affected by it."
As for Sukriti, though she enjoyed the break from obligatory family visits, isolation was no walk in the park either.
"Isolation was hard, not only when I was at my sickest but also on other days. It's horrible that no one can come close to you when you could really do with a comforting hand on your head. To talk to anyone, I had to call or text them. I couldn't just say something and have someone hear it. Meals were regulated so if I wanted something, I had to ask for it. I couldn't just walk to the kitchen and get it myself."
However, Sukriti believes that her experience has helped her cope with the lockdown blues better. "I've gotten more patient about everything, whether it's the little things that used to annoy me about the people I live with or just life in lockdown," she says.
Image Source
Having been hospitalised for a while, Mihir's experience with isolation was quite different.
"Though I was grateful to have found space in a hospital, I was also terrified of being admitted alone. I was in a common ward with other Covid patients and watching others suffer really impacted me mentally. I used to see other patients being rushed to the ICU and kept feeling like it was only a matter of time before I would be in the same place. Though the staff was trying their best to reassure us, I would often break down in fear. Even after I was shifted back home, I was isolated. Though being back home was a relief, I started experiencing nightmares. Eventually, a family doctor recommended psychiatric help and I've been consulting with a psychologist ever since. I'd rather be stuck indoors with my family forever than risk anyone else falling that sick."
Unlike the rest, Malini wasn't quarantined alone since everyone in her family was infected around the same time. However, the news of their diagnosis brought on fear and paranoia for her as well.
"There was a definite fear initially and borderline paranoia but reading about positive updates from doctors who said it's not a big problem if you catch it early and follow through the guidelines brought in a sense of calm. It did increase the fear around parents' health. And there is a definite fear of going out even for emergencies and catching it again."
Though a majority of people affected by the virus continue to recover safely, the number of people dealing with post-Covid recovery effects and complications has definitely gone up. According to doctors and researchers, so far, most of these side effects are manageable at home. However, with the post-Covid black fungus infections increasing, one must be mindful of the same.
Even as the situation seems to be improving in urban cities, the same cannot be said about the rural regions of the country. Most villages and towns in India lack a robust healthcare infrastructure and have been struggling for the past few weeks. Needless to say, our country is still far from attaining normalcy.
Stay home and stay safe.
Related: Noora Health: A Platform That Offers Training And Support For Covid Caregivers
Featured Image Source
Note: Names have been altered to protect the interviewees' privacy.