Being a pet parent isn't easy, and we understand your concern when it comes to travelling. Leaving your puppies behind isn't a pleasant thought, and no one likes locking them up or putting them in an unknown home or kennel. So why not take them along with you? We know you're not going anywhere right now, but once the lockdown ends, you can travel with your pets to gorgeous locations. After all, they deserve a holiday too after staying indoors for so long. Travelling with your best friend, and spending some quality time with them, sounds like the perfect weekend getaway, doesn't it? Check out these pet-friendly hotels, resorts, and stays in India where you can have the most memorable holiday with your furry friends.
Related: Thinking of adopting a dog? Check out these organisations that help in pet adoption
1. House of Bliss
This gorgeous villa is set amidst nature and is the perfect place for a weekend staycation away from the city. You can have the bungalow all to yourself with an indoor kitchen, a beautiful lawn, and a music system. Take your pets along, and enjoy a much-needed vacation at House of Bliss, one of the resorts we came across in our #SmallBizBiginfluence campaign, an attempt to help small businesses recover from the economic fallout of the COVID-19 pandemic. For more information on the campaign, check out our Instagram.
Where: Lonavala, Maharashtra
Related: Need a getaway but low on funds? Here's why a staycation might be better than a vacation
For more details, click here.
2. Art Forest by Anubha
Art Forest by Anubha is another gorgeous place we came across in our #SmallBizBigInfluence campaign. It is a nature-friendly space near beautiful Pondicherry. Here, you will find a bed and breakfast, hut accommodations, cafes, and a separate space for artists to reconnect with their art. This pet-friendly getaway is perfect for a quiet weekend.
Where: Auroville, Tamil Nadu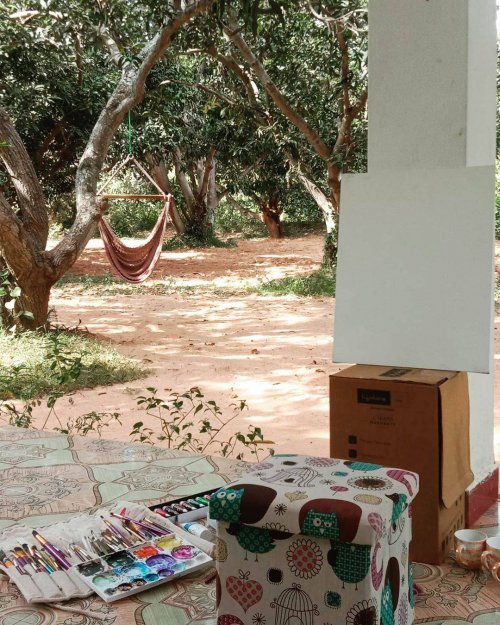 For more details, click here.
3. Crazy K9 Campers
Crazy K9 Campers is a resort that lets you bond with your pets in the most fun ways. They organise camps and events for families with pets and have many indoor and outdoor activities. From trekking, swimming, and chilling at the beach, to hiking nearby, they let you have a fun experience with your family and pets in a natural environment.
Where: Mumbai
For more details, click here.
4. The Gateway Resort
This gorgeous place is one of the best pet-friendly resorts for people living in Delhi NCR. This green and spacious place allows you and your pets to relax and rejuvenate through an easy vacation. You can even enjoy a little spa time while a well-trained staff member at the hotel looks after your pets.
Where: Gurugram, Haryana
For more details, click here.
5. Baghaan Orchard Retreat
Revitalise with the perfect holiday retreat with your friends, family, and pets at Baghaan Orchard Retreat. Built within 15 acres of mango farms, this gorgeous resort is perfect for a short holiday. So, indulge in some me-time, relax in fresh air, and enjoy a luxurious stay here.
Where: Garhmukteshwar, Uttar Pradesh
Related: #EveDiscovers: Aahana, a luxury resort in the wild only 5 hours away from Delhi
For more details, click here.
6. The Den Corbett
With a breathtakingly panoramic view of the jungle, The Den Corbett is the first-ever resort to be built in the reserve forest. This resort is spread across 13 acres of reserve land and is nestled in the thick forest. It also offers fun adventure sports, wellness spas, and a splendid view of the Kosi river.
Where: Kumeria, Uttarakhand
For more details, click here.
7. Tree Of Life Resorts & Hotels
Take a break from your work schedule, and plan a trip to this splendid resort in Jaipur that will relax your mind and body. Take your pets along as the place has large green spaces which both you and your pets will enjoy.
Where: Jaipur and other multiple locations
For more details, click here.
8. Simbliss Farms
If you are in the mood for a party over the weekend, and don't want to leave your pets behind, head straight to Simbliss Farm. It is a huge villa that has everything you need for an amazing weekend. You will have access to a barbecue, pool, and bar, and you can even get tents set outside on the lawn if you want to spend a night under the stars. Get away from the city, and spend some quality time with your pets and family.
Where: Manesar, Gurugram
For more details, click here.
9. The White Peaks
Nestled in the snowy mountains, The White Peaks is a cottage that welcomes your family and pets with warmth and love. The place is a calm and serene sight with a beautiful balcony that overlooks gorgeous mountains. If you are in the mood for a calm weekend, this place is perfect to bask in the sun and de-stress yourself.
Where: Gagar, Uttarakhand
For more details, click here.
10. Vanghat
Located on the secluded banks of the Western Ramganga River, Vanghat is a remote wildlife lodge. And it is ideal for people who want to go on an adventure with their pets. From hiking and rafting, to nature walks, this is a true experience out in the wilderness.
Where: Almora, Uttarakhand
For more details, click here.
If you are an adventure enthusiast but want the luxuries of hotels, check out these glamping spots in India!