If you are going to be a mom soon, you're probably on the lookout for some comfortable and good-looking maternity wear. After all, just because you are pregnant doesn't mean your maternity wardrobe has to be shapeless and bland. So, we are here to help you pick some breezy, casual, and stylish pieces to upgrade your maternity fashion. From colourful dresses to oversized tees, here are some maternity wear brands online to bookmark!
Related: Sonam Kapoor Pregnant At 36: Here Are Other Bollywood Celebrity Moms Who Opted For A "Late" Pregnancy
1. Preggerz
Preggerz is your one-stop shop for pre-birth, birthing, and post-birthing attire needs. You can find some really comfortable and stylish maternity wear here. The brand offers beautiful prints and soft fabrics that are versatile and will make your pregnancy wardrobe super chic.
2. AKS Clothing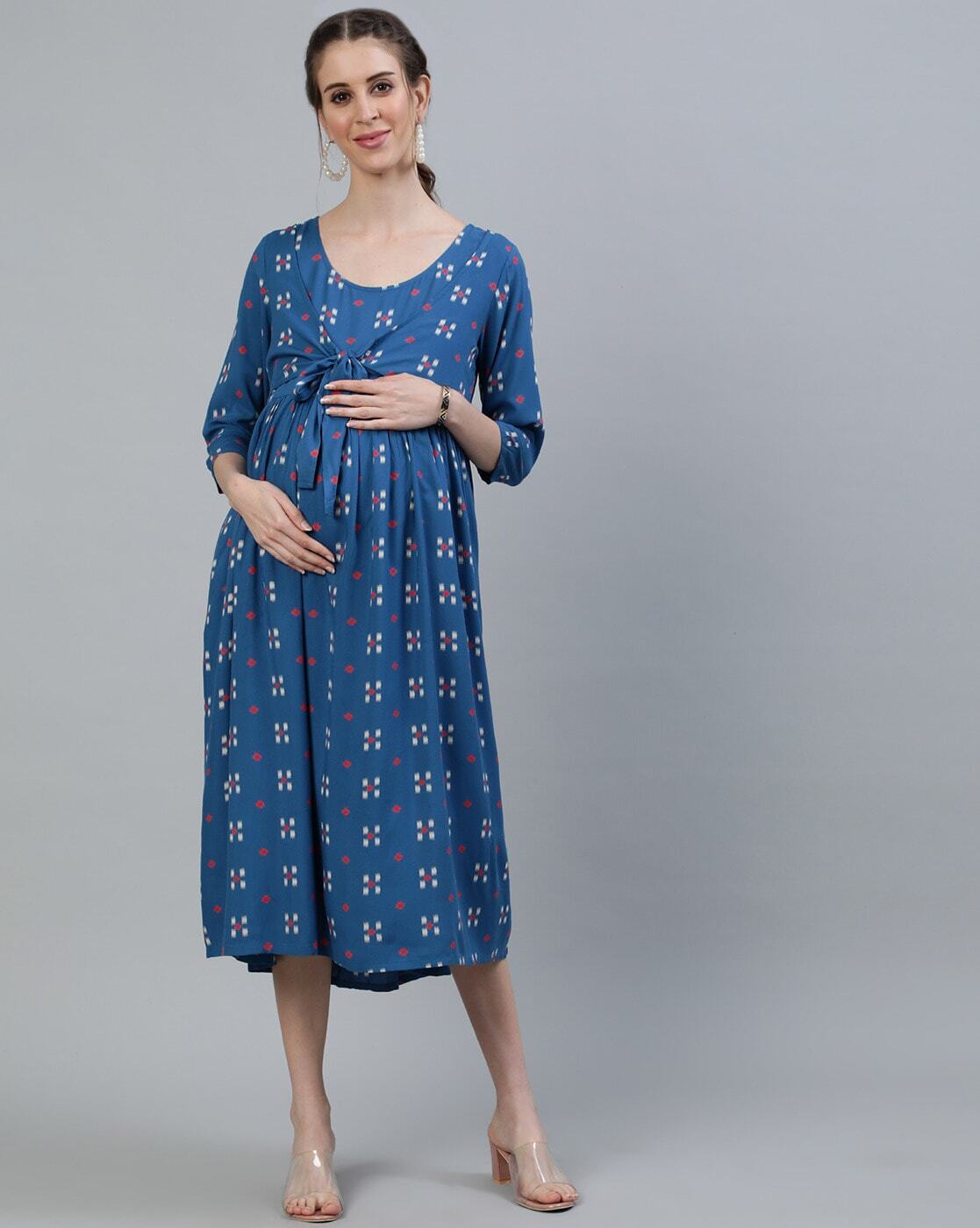 AKS clothing has some super fun and cute prints that will make your maternity wardrobe stylish and peppy. From maxi dresses to kurta sets, they have some really pretty ethnic prints to add to your collection.
3. The Vanca
The Vanca is the perfect place to shop for chic and breezy maternity wear online. It has gorgeous maxi and flair dresses if you are looking for something casual and outdoorsy. Most of their collection has easy nursing access which makes it super convenient for feeding purposes.
4. H&M Maternity Wear
Who said you can't look effortlessly stylish during your pregnancy? Because H&M's maternity collection has some of the best staple pieces and outfits that will make you look top-notch while being comfy. You can explore their maternity collection for bottoms, nursing, and innerwear as well.
5. Zara Maternity Wear
Just like H&M, one of our beloved brands Zara also has a maternity wear section for all the stylish moms-to-be. From oversized shirts to dresses, you can check out their collection to add some statement pieces to your maternity closet.
6. The Mom Store
The Mom Store has some of the best maternity and nursing options to pick from. You can find comfortable outfits, stylish prints, and some bright shades to give your maternity closet a pop of colour. From kaftans, breezy dresses, to even cute co-ord sets, check out The Mom Store for some great maternity wear options online.
7. Mine4Nine
Make your maternity fashion effortless, stylish, and durable with Mine4Nine's collection. With the lightweight and soft fabrics, their maternity collection will make your pregnancy comfortable without even trying. They have some of the prettiest kurtas, nursing stoles, and maternity tops to add to your daily wear collection.
8. AND Maternity Wear
AND's Maternity wear collection is perfect if you are looking for some comfortable and staple pieces for daily wear. From flowy dresses to oversized tops and shirts in clean and minimal prints, you can check out their collection for quality outfits.
Featured Image Source