Jonas Brothers Family Roast dropped on Netflix recently and hilarity ensued. Or did it? After watching Camp Rock I was seriously crushing on Joe Jonas for quite some time.  Till this time, however, I'd forgotten all about the Jonas Brothers. But, when the Jonas Brothers Family Roast dropped, I was intrigued, to say the least. The brothers were definitely seduced by Netflix with big bucks to get roasted, not just by seasoned comedians, but also their better halves. Read on to find out if the show is worth a watch or not.
A solid intro
If you thought putting three brothers in a room would spell trouble, you would be right. The Jonas brothers second you on that. Right off the bat, the show starts with the Jonas brothers picking on each other. From throwing food at each other like 5-year-olds to joining the Jonas Brothers Fight Club like a bunch of teenagers. They even take you back in time to Camp Rock and right when you get nostalgic, they break the bubble with the next argument.
Hosted by Kenan Thompson, the show kicks off with much hilarity. His introduction of the brothers from the 'loneliest Jonas' Kevin, to the Mitt Romney of Jonas brothers, Joe, to Nick 'Big Dick' Jonas, the show starts off on a promising foot.
A star-studded cast with not a lot of shine
The show boasts of popular comedians like Lilly Singh, Pete Davidson, John Legend, and Jack Whitehall with cameos by Niall Horan, Blake Shelton, and even Dr Phil.
Lilly Singh managed to get in a few good punches but continued to be largely repetitive. She was stuck on the white supremacy of the Jonas Brothers and Kevin's 'barely there' stardom.
While not a lot of it was memorable, Pete Davidson stood out with his bits, even as the 'fourth Jonas Brother,' Bonus Jonas. Dr Phil and Blake Shelton's appearance was unnecessary as it added nothing to the show apart from boredom. It was just plain and drab.
The supremacy of Priyanka Chopra Jonas
The real star of the show was undoubtedly our very own PeeCee. If anyone knows the art of grabbing the bull by the horns, it's PeeCee. From talking about the 10-year age gap between her and Nick to addressing their "publicity stunt" of a marriage, and her global popularity, she did it all. PeeCee was an absolute firecracker and the highlight of the show.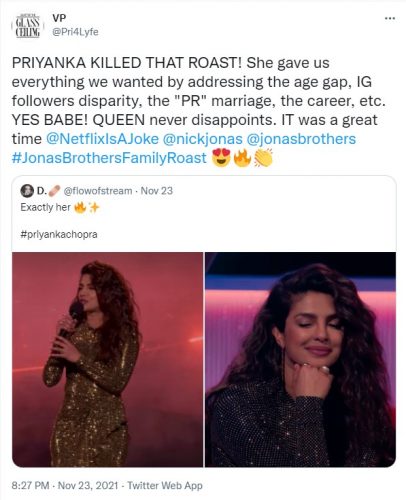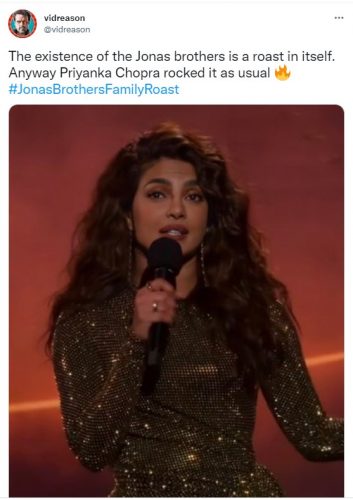 Related: Inside Scoop From A Guest At #PCKiShaadi: So Much Drama And No Gulab Jamuns!
The Jonas sisters shone brightly
Apart from PeeCee roasting Nick Jonas, Danielle Jonas and Sophie Turner roasted their respective husbands too. While Danielle took a jab at Kevin's ignored stardom, that not even their kids know about, Sophie didn't forget to take a dig at Joe's "long-list of ex-lovers". Danielle managed to have the floor in splits without uttering a word, but Sophie was a bit of a downer with only a few good punches.
An unsatisfying conclusion
As the show went on, the boredom also increased. The jokes got increasingly repetitive, there wasn't a lot of funny jokes and it seemed like a chore to sit through the rest. The skits that were interspersed in between like the football segment, or the workout segment with Niall Horan were far from hilarious.
I had hoped that the Jonas brothers roasting each other would have been delightful, unfortunately even that was just tolerable. Though all three of them managed to get in a few sassy digs at each other, on the whole Kevin and Nick were pretty dull. Joe still managed to hold his own. His deep voice definitely made it more exciting to watch and hear.
Twitter user @vesperspush has summarised the entire show pretty well. Everybody basically talks about how much Nick loves Nick, Joe is white, and Kevin is not famous.
It is not the most hilarious and witty roast show out there, but it isn't the worst either. So, if you want a few good laughs, go stream it now on Netflix.
Feature Image Source
Related: Dhamaka Review: What Happens When Dramatic News Anchors Go Too Far