The wedding season can be frightfully expensive, even as a guest. If you have a lot of weddings and Diwali parties to attend, you can't keep wearing the same suits and sarees over and over again, can you? And one can't really keep buying new clothes for every wedding. The solution here is quite simple. Stop buying, start renting. Renting wedding outfits isn't a new phenomenon, but it still warrants being spoken about. When the first wedding invites start coming in, our first thought goes to what we're going to wear. And in Delhi, you have to think about how the harsh cold weather can creep up on you suddenly. So you may not be able to repeat an October wedding's outfits in November. Even if it is a brand new designer saree. To rent wedding clothes in Delhi is a much better option than buying new clothes for every wedding. And you know what the best part is? You can rent wedding clothes from some of the top designers in India including Sabyasachi, Manish Malhotra, Anju Modi, Anamika Khanna, Ridhi Mehra, Anushree Reddy and many, many more.
Here's where you can rent wedding clothes in Delhi.
1. Stage3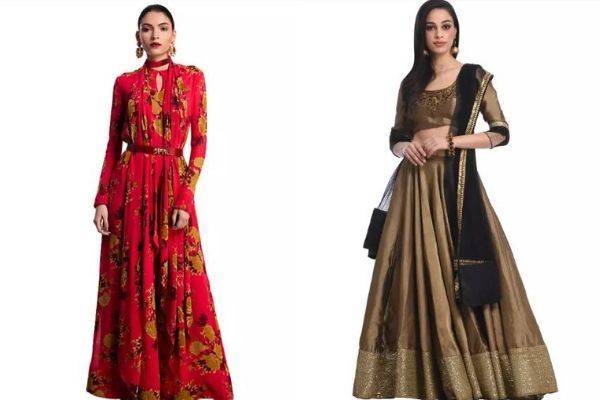 With outfits from some of the best designers in India, you have a wide variety of luxury wedding clothes available on Stage3. You can book a free session with their stylist to figure out your measurements and what kind of outfit will look the best on you.
Click here to check out their collection.
2. Flyrobe
Flyrobe has two stores in Delhi, one in Rajouri Garden and one in Lajpat Nagar, so you can check out a part of their collection in person. While all the styles may not be available in stores, you can get expert advice from their stylists and choose an outfit online. If you've seen an outfit on a fashion influencer on Instagram, you can also have a look at their influencer section to see if they have the same one.
Click here to check out their online collection for men and women.
3. Rentitbae
Rentitbae offers a fashion subscription in which you can keep swapping clothes and renting unlimited products on rotation. This lets you wear different designer outfits for different occasions. They also have a 3-hour delivery option which you can use for all your fashion emergencies.
Click here to rent from Rentitbae.
4. Wrapd
Apart from renting lehengas and sherwanis, Wrapd can also design customised outfits for you. You can upload a picture of the outfit on their website or drop into one of their stores, located in Lajpat Nagar, Patel Nagar and Laxmi Nagar.
Click here to check out their collection.
5. Rent An Attire
With a vast collection of lehengas, anarkalis, and more, you can find outfits for all your wedding functions at Rent An Attire. You can even rent outfits for a pre-wedding shoot here. You can rent online or at their store located in Shahpur Jat.
Click here to browse through their collection.
If you're looking for designer outfits for some style inspiration, click here for the latest wedding collections from the top designers of the country. If you need inspiration for wedding or Diwali looks, check out our comprehensive style guides. Whether you're looking for sangeet, mehendi, engagement or cocktail looks, you'll find all the inspiration you need. Click here for wedding jewellery inspiration.