Turtlenecks may look simple and plain, but this is one of the most versatile pieces of clothing in your wardrobe. They are super comfortable and look stunning with the right styling. A turtleneck can give you a street style look or a high-end fashionista vibe with minimal effort. Knowing what works for you and how to pair it with the right kind of outfit goes a long way in styling turtlenecks. But if you can't figure it out, don't worry. We're here to sort out your styling woes. Here's how to style a turtleneck for any kind of occasion.
1. Throw on a trench coat
One of the easiest and most effortless looks to pull off for the office is to wear a turtleneck and throw on a trench coat. You can pair a striped, knitted or plain turtleneck with a trench coat in a similar or contrasting colour to pull your outfit together. It looks super chic, and it's just the right amount of formal for a regular day.
Trench coat and pants: Dhruv Kapoor
2. Tuck it into high-waisted jeans
If you are not in the mood to do much, just tuck in your turtleneck into a pair of high-waisted jeans. You can never go wrong with this classic style. You can rock this look anywhere from a brunch to a movie date night.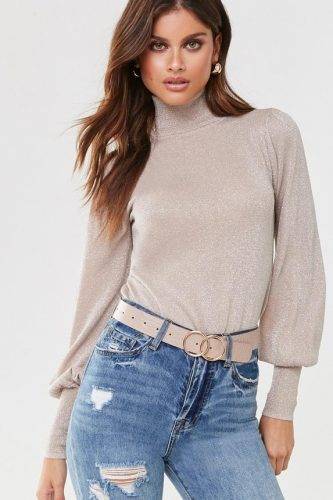 Metallic turtleneck sweater: Forever 21
3. Wear a slip dress over it
Slip dresses are chic and look very elegant. Wearing a turtleneck under a slip dress makes for a light, fun and winter-appropriate look. You can always add on some accessories to make it a cute date night outfit.
Dress: Taaka Clothing
4. Replace the shirt with a turtleneck
What speaks power and elegance in one outfit? A turtleneck paired with a pantsuit. This outfit gives you a classy look and adds oomph to your ensemble. Rock the boss lady look with this outfit.
Pantsuit: Basque
5. Style it with plaid skirts
Plaid skirts look adorable and give you a sophisticated, high fashion look. Styled with a plain turtleneck, plaid skirts can instantly upgrade your look. It's fun, comfortable and easy to style. You can add minimalist jewellery to take it up a notch.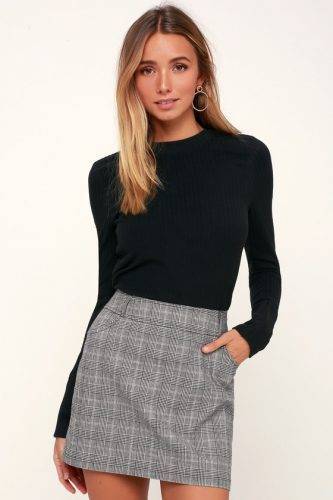 Plaid skirt: Zaful
6. Pair it with joggers
If you are an athletic person, or love track pants and joggers, here is how you can add turtlenecks to your look. Pairing a cropped turtleneck with joggers will give you the most comfortable and stylish airport look ever. If you're aiming for an edgy look, this is the style for you.
Joggers: Forever 21
7. Wear it with denim overalls
Denim overalls give you a very cool and casual look. For the perfect weekend look, pair a turtleneck with denim overalls, and you are good to go. From a casual day out to grocery shopping, this super cute look can be pulled off for several occasions.
Denim overalls: Shein
8. Tie a belt on your oversized turtleneck sweater
If you have an oversized, baggy turtleneck sweater which stays in the back of your closet, you need to get it out. Add a statement belt to cinch the waist and voila! Your baggy, ill-fitting sweater will turn into a cute dress. You can add more oomph to it by adding accessories and the right shoes, depending on the occasion.
Knitted turtleneck dress: H&M
9. Add an embellished coat
For a formal party or a night out with the girls, try pairing your turtleneck with an embellished coat. A coat, like the one below, can transform a plain, old turtleneck and make it one of the most treasured pieces in your wardrobe.
Embroidered coat: Kanika Goyal Label
10. Wrap around a handwoven stole
Adding a pretty handwoven stole is one of the easiest ways to style a turtleneck. Choose bright colours and intricate details to wear over a plain turtleneck, and without any effort, you are ready for a day out.
Stole: Vilasa Cashmere
Looking for more styling tips? Click here to know how to layer winter clothes for a chic, stylish look.