Winter season has us all wrapped up in blankets which help us stay cozy indoors. But, what about the times when you have to venture out in the biting weather? Staying warm outdoors can be a task, unless you get the trick of layering winter clothes. Adding layers the right way is an essential part of staying warm and not turning into a fashion disaster. Here are some tips and tricks for layering winter outfits that can help you stay effortlessly smart and snug.
1. Layer it the right way
The most basic way of layering winter clothes is to start small. Start off with an inner, followed by a long sleeve top, a sweater, and add a cardigan or coat. You can even add both a cardigan and a coat, in the same order, to get a complete and polished look. While you're at it, don't forget bottoms. Try a pair of tights under your pants. Adding a warm base layer is essential in the harsh winter and helps you avoid those unnecessary extra layers.
2. Choose the right proportions for the right silhouette
Even though people tend to wear what keeps them warm, it is important to find the right proportions to enhance your silhouette. Don't pair a baggy sweater with a pair of baggy pants. If you opt for an over sized sweater, add a belt to make your waist look more defined. Pair it with either fitted pants or trousers to finish off the look. You can also tuck in your sweater if you don't want to wear a belt. Always chose a baggy piece for either your top or your bottoms, but never both.
3. Opt for closed footwear
No matter how much you love your stilettos and open heels, it's time to ditch them for something warmer and practical. This is the right time to showcase all the faux fur, leather and suede shoes in your collection. Not only are they snug, they're also practical and look gorgeous! You can always add over-the-knee socks or tights to your ankle length footwear to get a more put together look. What's better than looking chic and also staying warm? It's a win-win scenario.
4. Follow similar colours or pattern schemes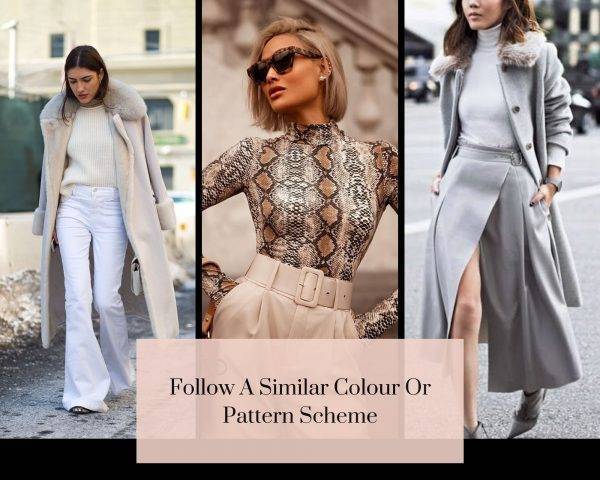 Some people like to add a different colour or pattern for each layer, but this should be avoided. Too many colours and patterns in one outfit can make it look flashy and unflattering. Try and pick a colour and pattern scheme which is similar looking to give you a more defined and non-fussy look. If it gets too confusing, just pick a colour and stick to layering your ensemble in similar shades of that colour.
5. Faux fur, velvet, suede and leather statement pieces
Want to add instant oomph and drama to your outfit? Bring out those faux fur, leather, suede and velvet pieces. These extra layers give you an instant wardrobe upgrade. Coats, fur mittens, leather jackets, velvet gloves, fur scarfs and many more statement pieces can be added to your outfit to give it an elegant look. So throw over a fur coat and channel your inner Miranda Priestly, because it's fur season!
6. Style shorts, skirts and dresses for the perfect party outfit
Going to a party and can't figure out what to wear in this cold weather? Don't worry, you can still wear that cute summer dress after a bit of layering. Add high neck sweaters under sleeveless dresses, and put on a long coat or jacket for that extra layer of warmth. Pair your skirts and shorts with warm stockings and knee length boots to fight off the chill. You can also pick velvet dresses or tops for the perfect party ensemble.
7. Accessorise, because why not?
Layering winter clothes is not limited to coats and jackets. You can add scarves, bags, mufflers, hats, beanies, gloves and tons of other accessories, just not all together. Adding chunky bracelets, watches, layered neck pieces, and earrings always does the trick to give you an appealing and finished look. So, don't shy away from adding accessories to your ensemble, and slay your layering game with these final touches.
For more shopping tips and tricks, click here.